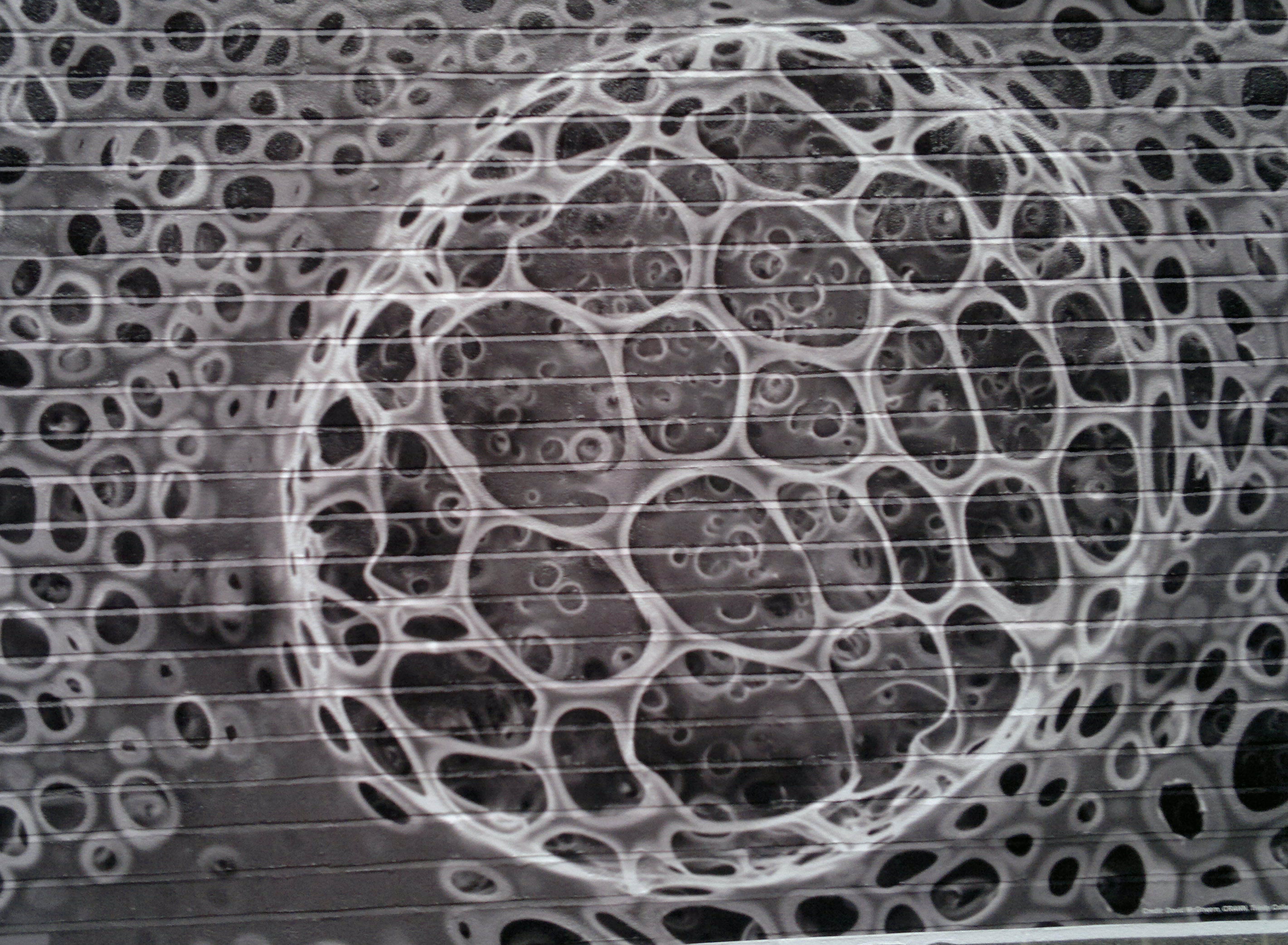 Art is something that I enjoy with the following principle: whatever it might be, if it evokes a feeling, a thought, a memory or just makes you stop, it has intrinsic value.
I cannot say that I would have more than an average knowledge about art in any aspect. On the contrary I believe that enjoying art requires that the art speaks to a person – this doesn't have to include a thorough analytical dissemination of the real or imagined values of the piece in question. Perhaps I am an esthetic?
aes•thet•ic or es•thet•ic (ɛsˈθɛt ɪk) 
adj.
1. pertaining to a sense of beauty or to aesthetics.
2. having a love of beauty.
3. concerned with emotion and sensation as opposed to intellectuality.
I recently visited Kunstdagen in Leiden with my S.O. and neighbors. It is a delightful concept: the city has 60+ places one can visit, ranging from art galleries, shops, studios and ateliers to private homes. My dear neighbor flicked through the booklet provided by the always helpful Leiden Visitor Centre at the central station, shouted out a dozen numbers which we then marked on the map and were on our way to enjoy the last days of Dutch summer.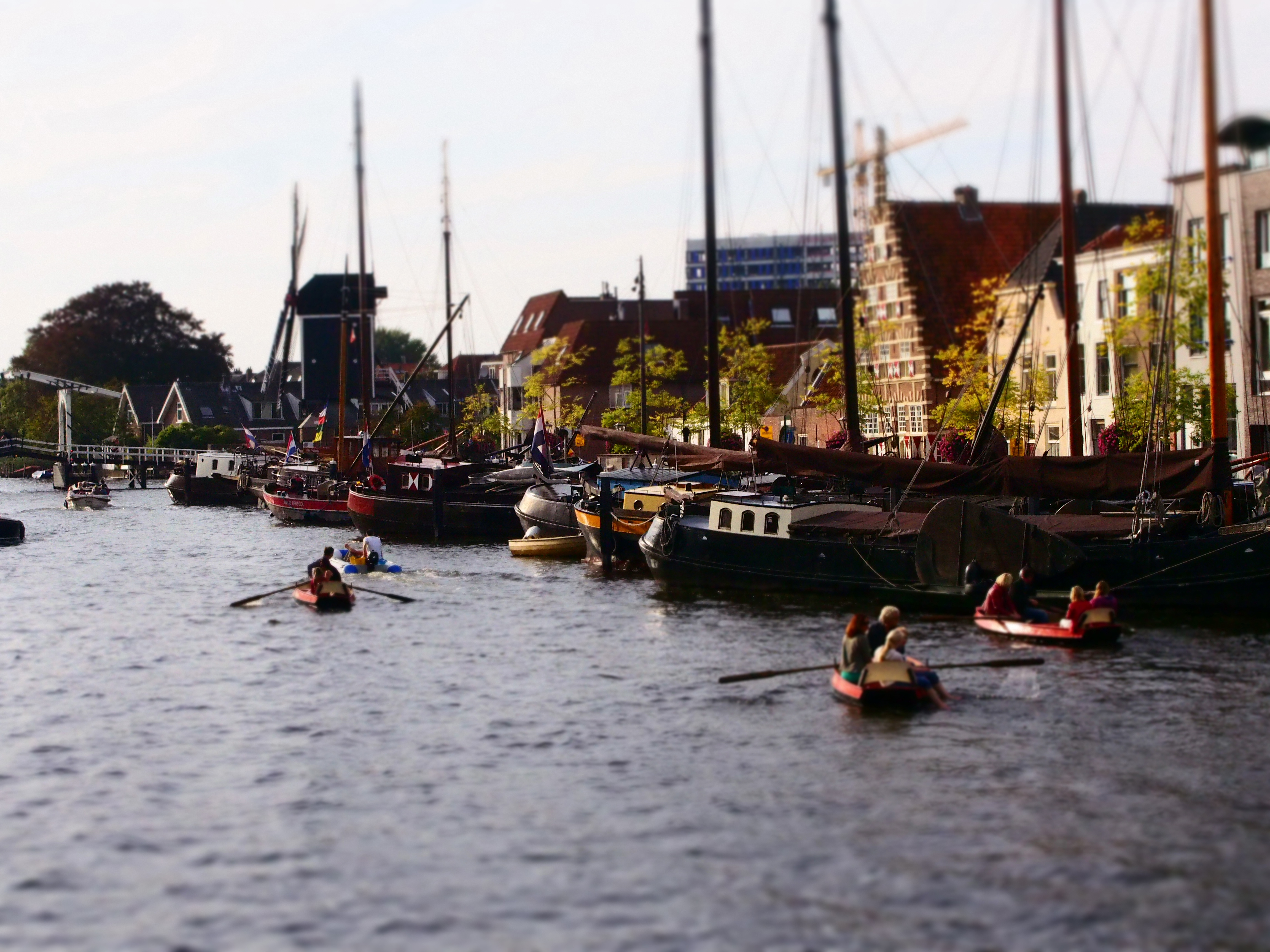 And what a day it proved to be! Not only the city and the little channels were full of people enjoying the sunshine and the slow Sunday feel, the art was both of high quality and diverse.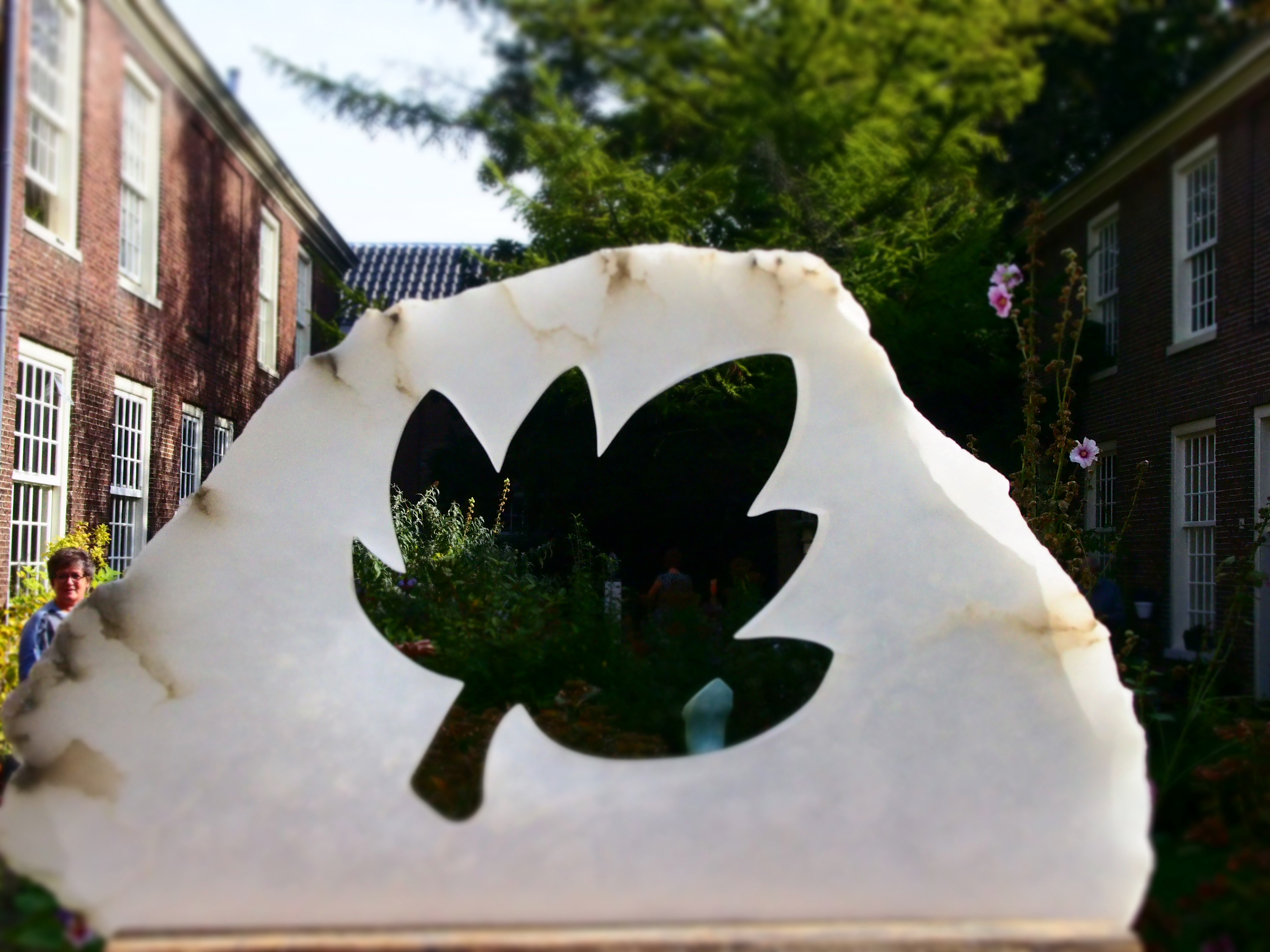 The sculpture above is from our first stop, a delightful little inner court which I expect all the Dutch cities hold out of sight and access, except in days like this. The art was scattered within the garden on little pedastals for everyone to appreciate, and if interested, to buy. This exhibition like almost all we visited included a chance to freshen up with coffee and other necessities.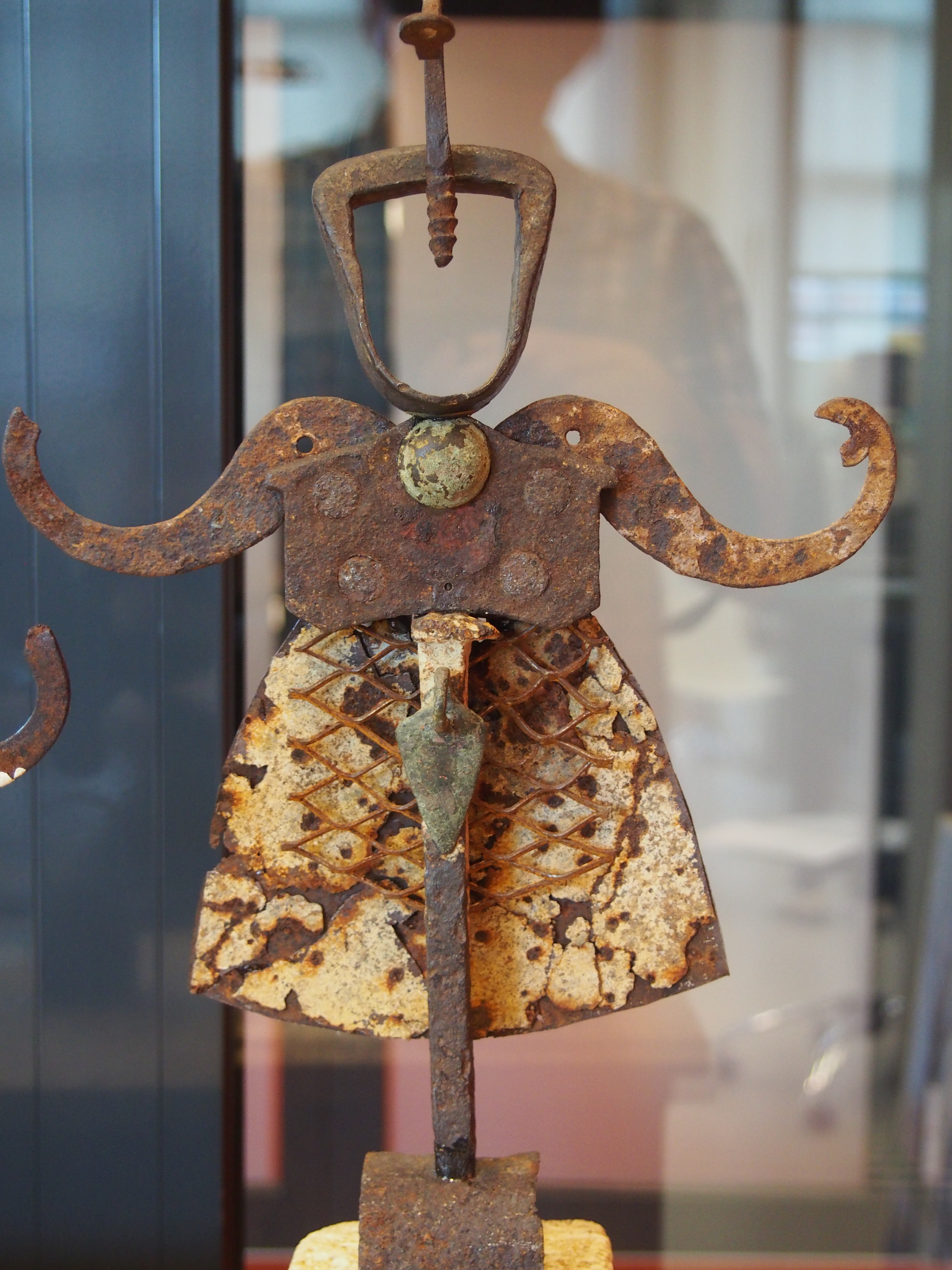 The "trash" art reminded me of an exhibit we recently saw in Scheveningen.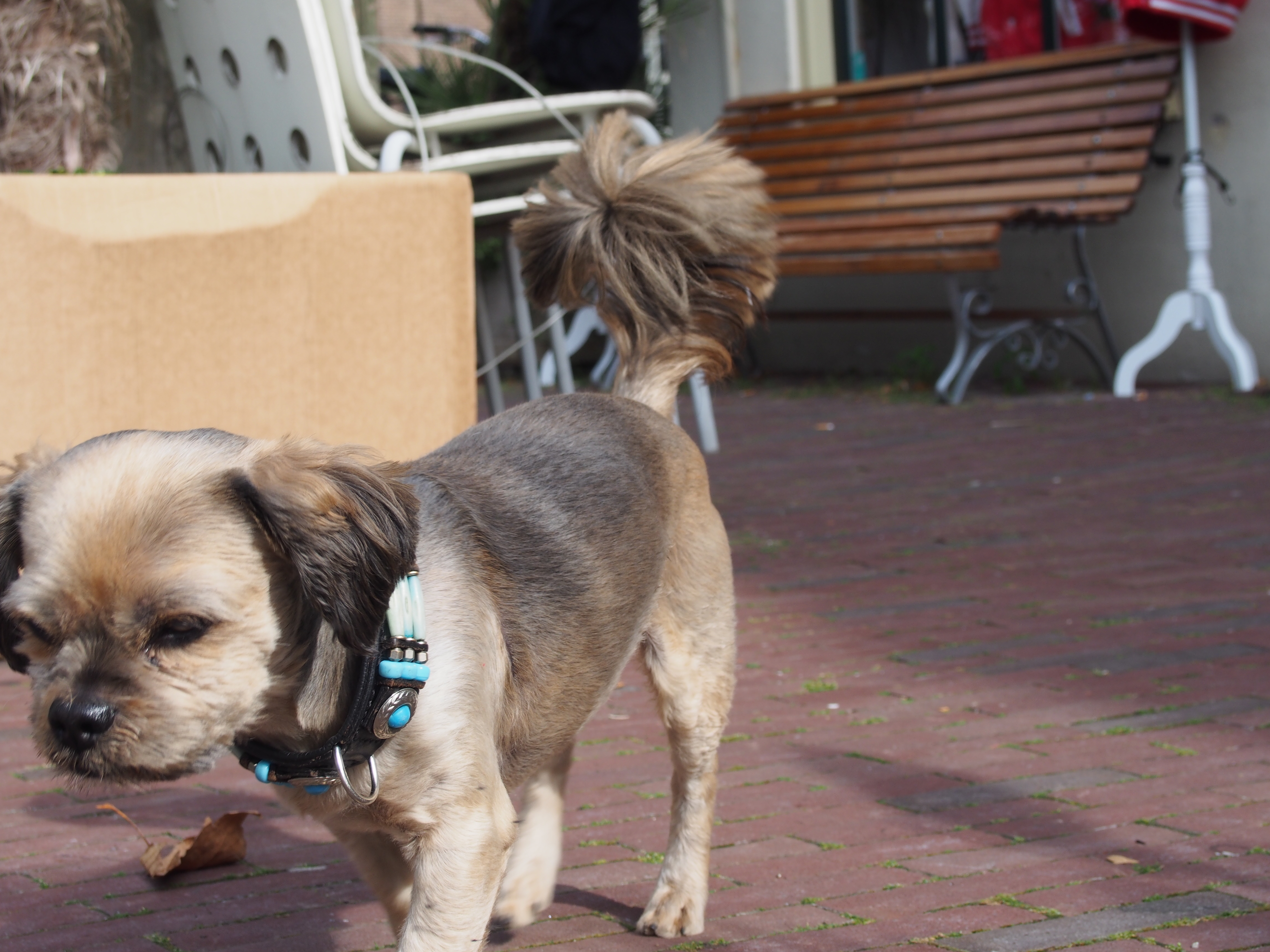 Perhaps I'm a simple minded person, but I think the road between main attractions can be more than just a route between points, if you keep your eyes open. Slow pace and looking up and down can show a lot in details and sometimes in living things. This fella came from the local shop selling all things "Leiden" to greet us, and of course to beg some scratches on the way.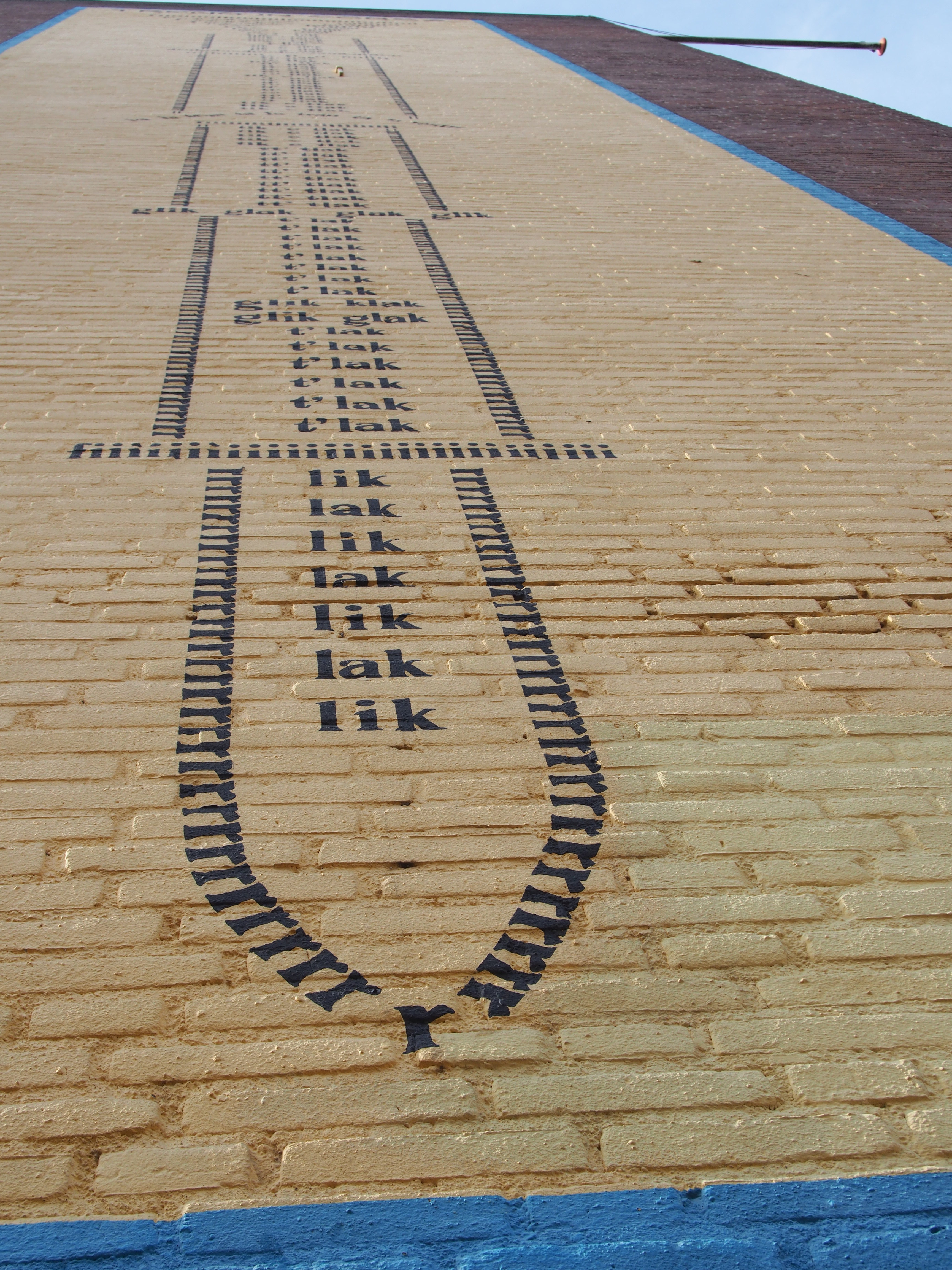 Leiden, like most Dutch cities I have had the chance to visit, has a healthy degree of institutionalised wall art on display. Therefore you can spot poems, graffitti, conventional art and just random acts of randomness if you keep your eyes open. This is a train song/poem/art of some 8 meters tall.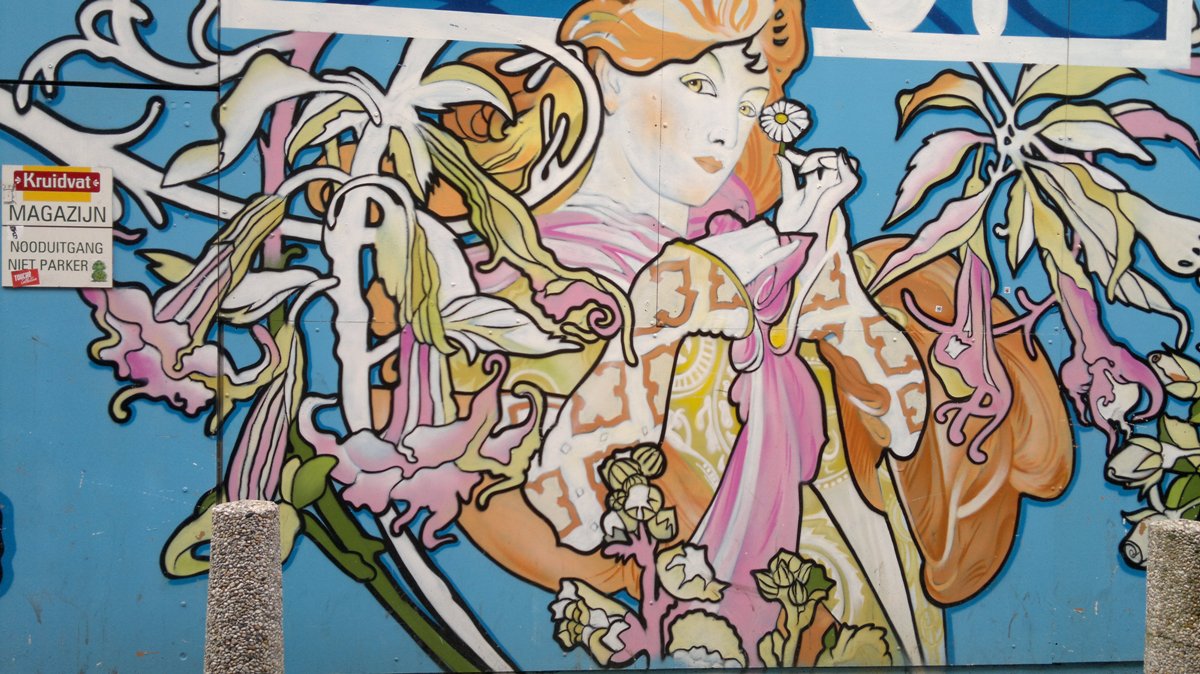 Dutchies are wonderfully open for temporary art pieces. More often than not, construction sites are boarded out from view, and instead of bureucratic barf-green paintwork, local artists can liven up the environment, as is the case with this art deco piece.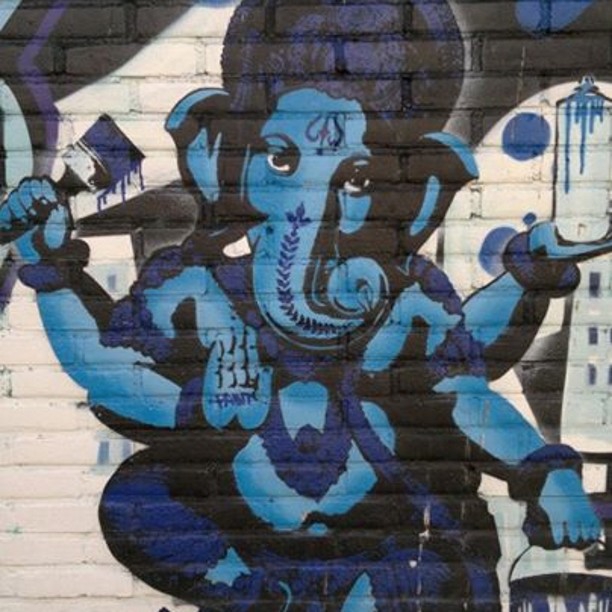 I am going to get derailed from Leiden for a while… This is a small 50 x 50 cm detail of my favourite piece in Rotterdam, a mural some 2 x 8 meters in size found in a rather unassuming side street we stumbled on very randomly during our first visit. I took photos of the piece on three separate occasions, and lost the photo every time (corrupted file, stolen phone, reset phone). This picture has been distributed in so many places that now it will never be lost, I hope.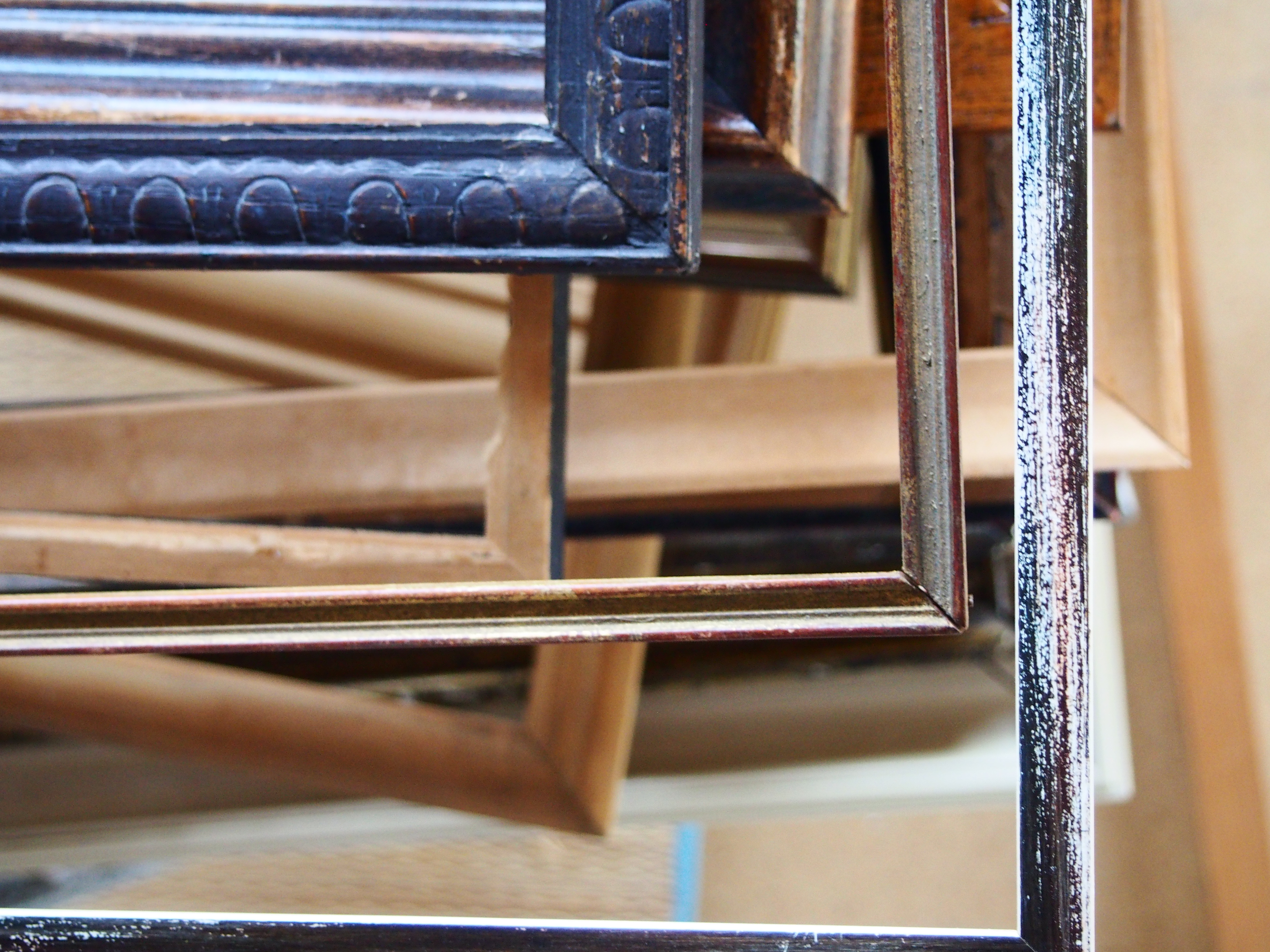 Back to the kunstdag. The beauty of the day was the visits in the ateliers and studios of professional and amateur artists. Of course they had tidied up a bit, but nonetheless, one could sense the individual artists' souls in the room.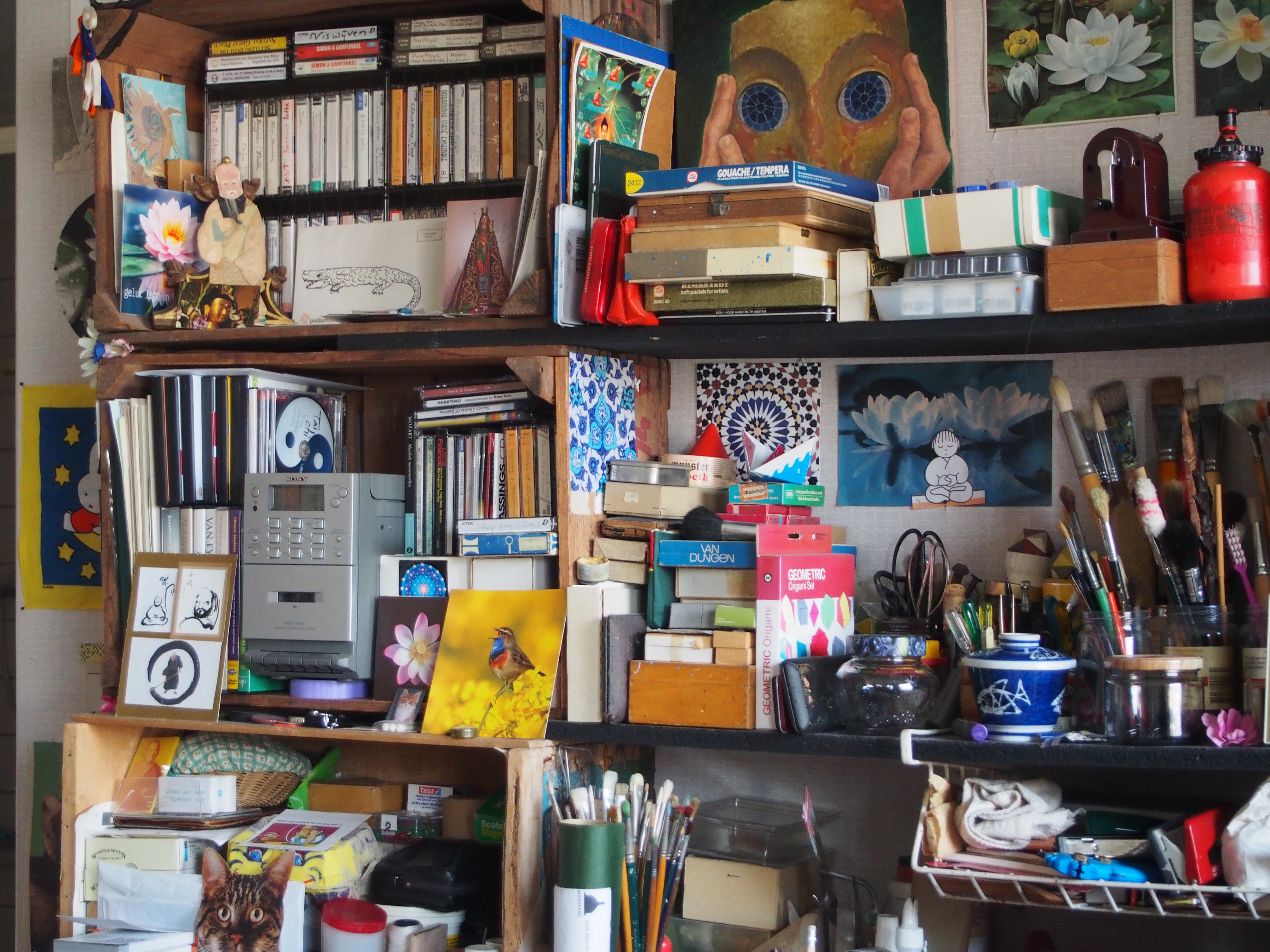 This was from a private home of a wonderful Leidener, a lady who took her inspiration both from the orient, mandalas and repeating patterns in the spirit of Escher.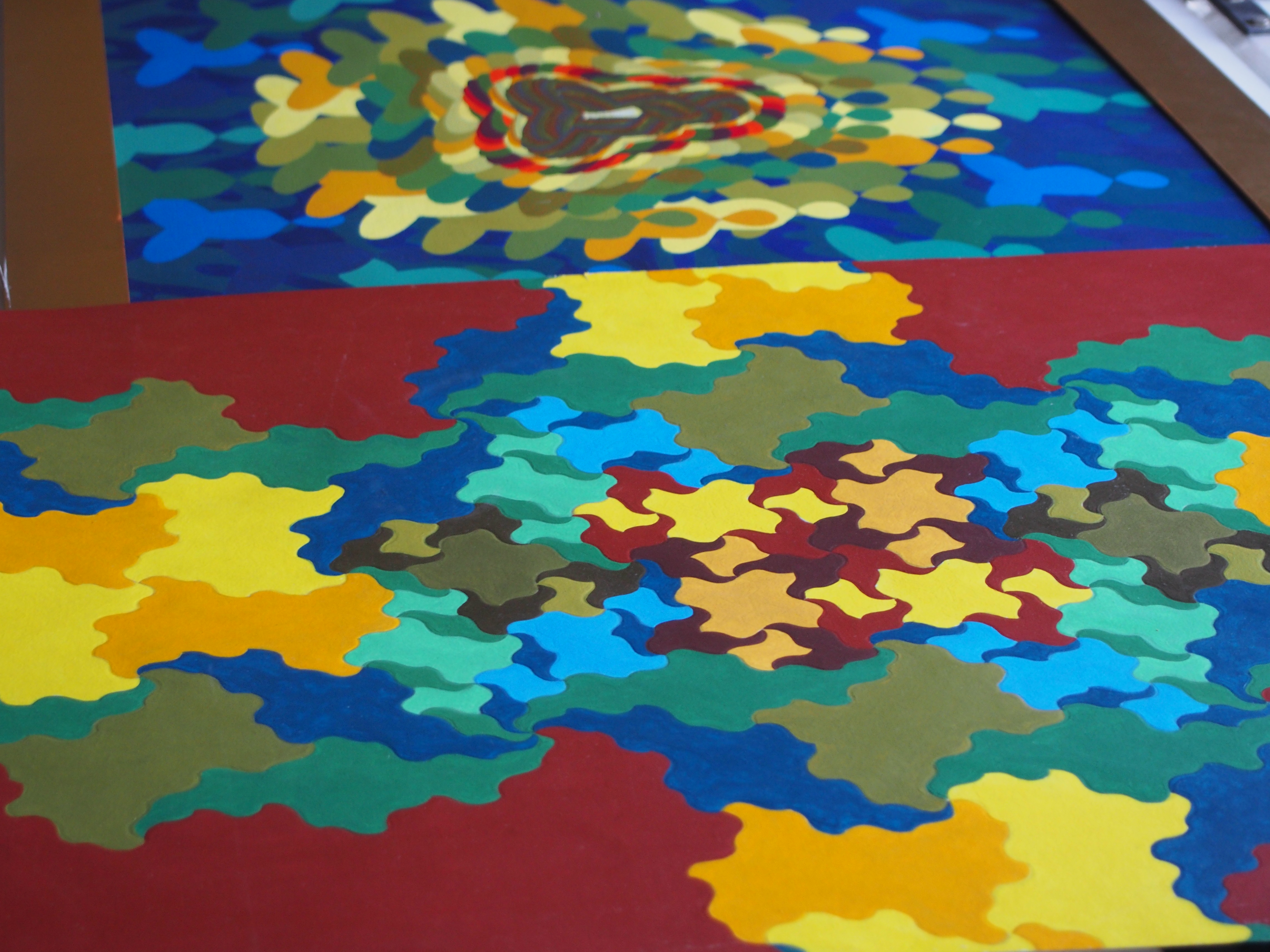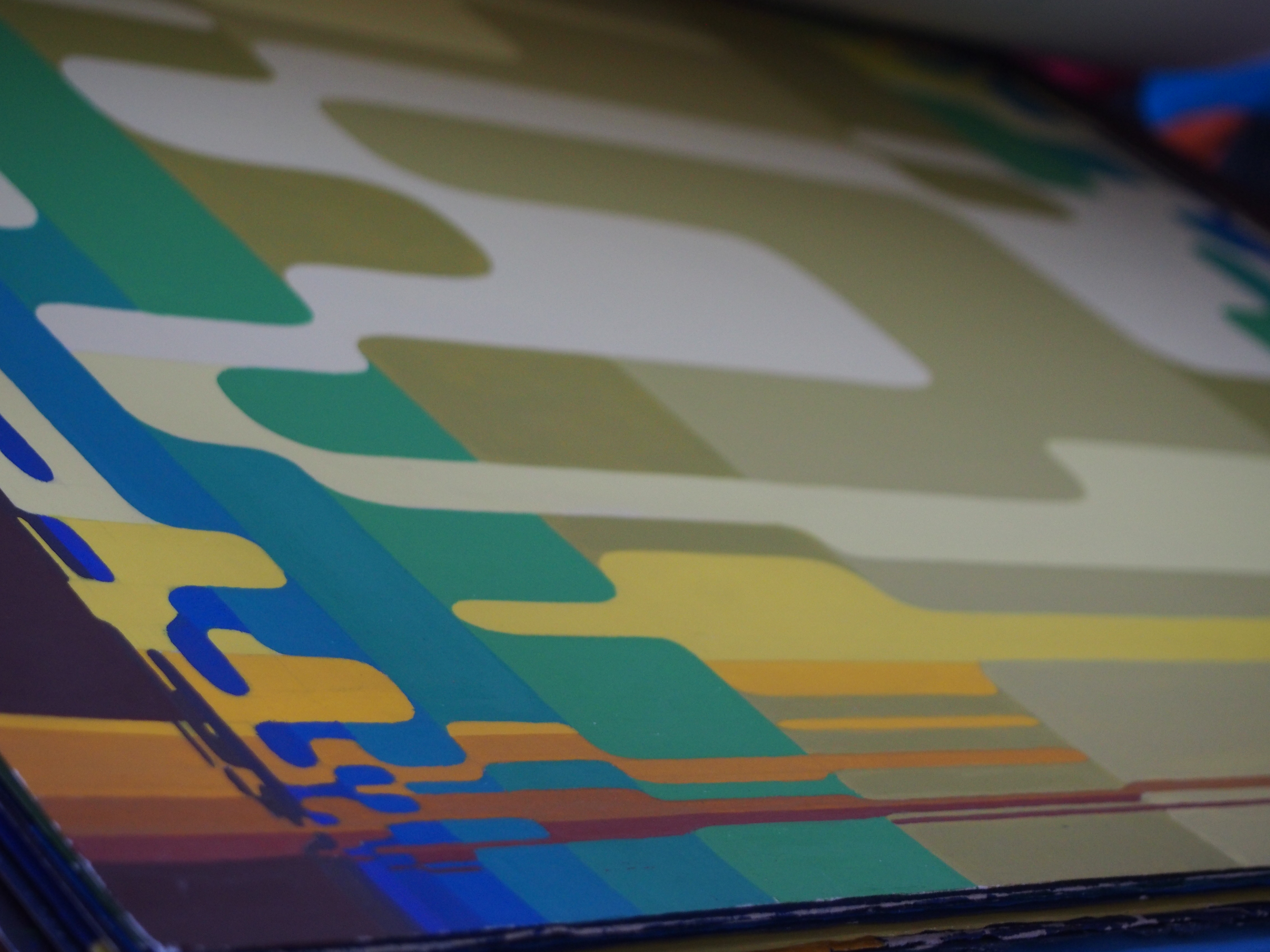 Her art had many of the qualities of Escher, except for the vivid colours. I admire Escher's work, they are intriguing due to their depth and complexity. They often lack feel of life and have a feel of a mathematical excercise. These works by an unknown Leiden artist (for me), shown at her home, were often very pleasing in composition of shapes and colours.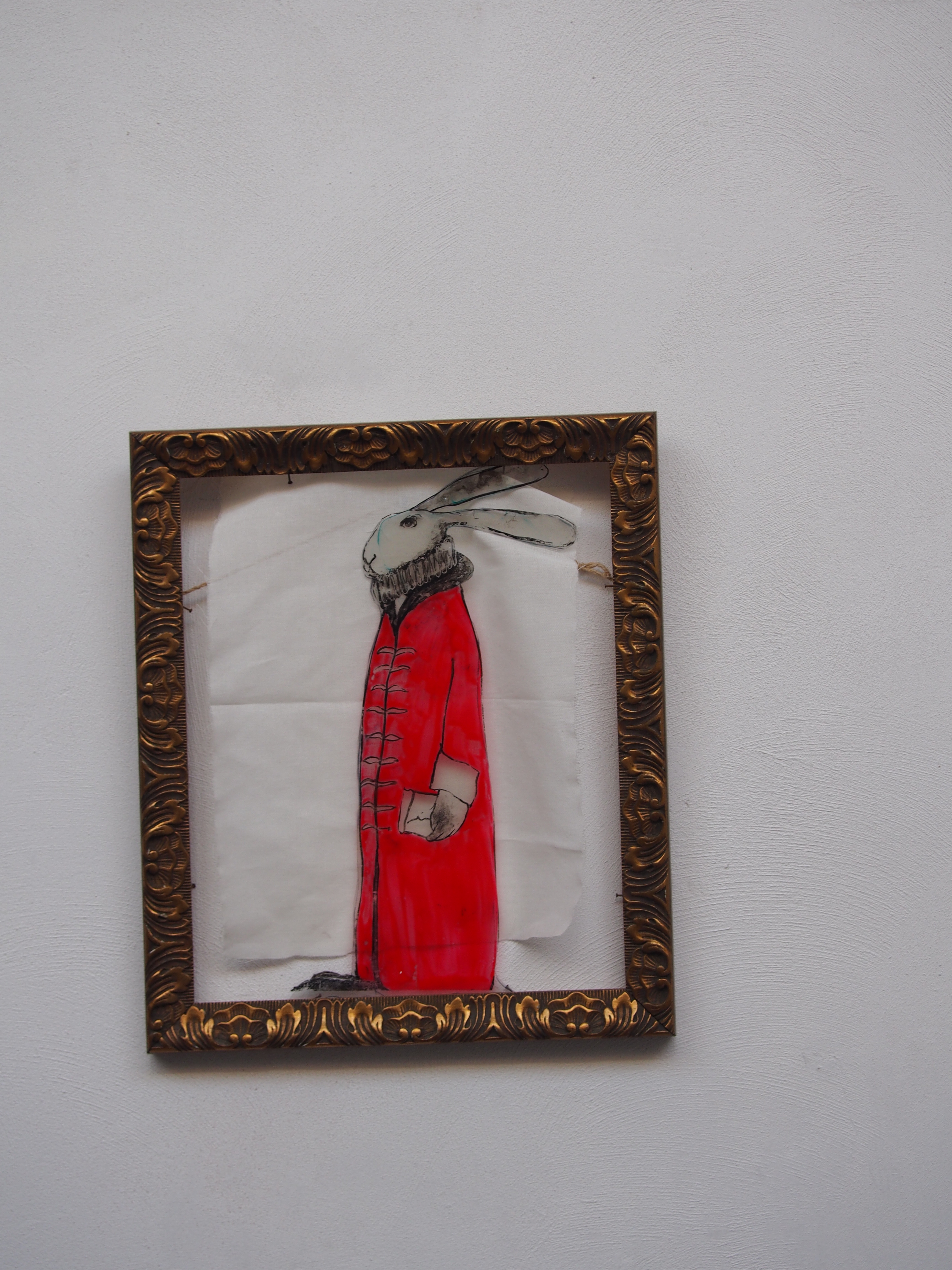 Stepping out of my comfort zone was a house with adjoining galleries of artists with common theme of printing. We could see the typesets, etching plates, missprints and extempore art pieces, such as this red bunny in frames. In my mind this hastily (?) put out piece is as good as a thoroughly planned piece of art.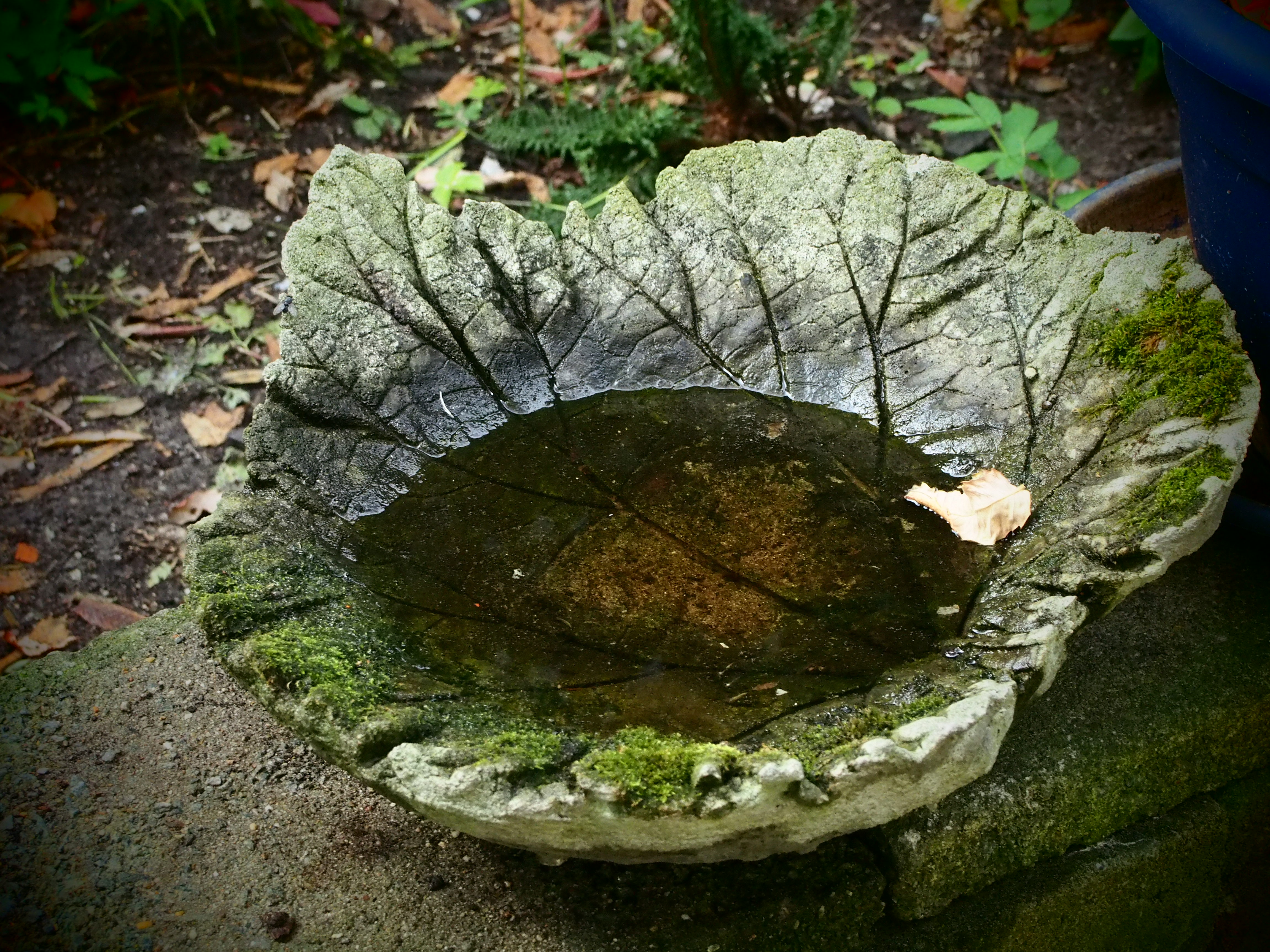 And back to my favourite theme, random encounters. This leaf-shaped bowl was not an intended piece of art. Instead it was at the yard amongst the "real" art and I considered it to be the best piece on display.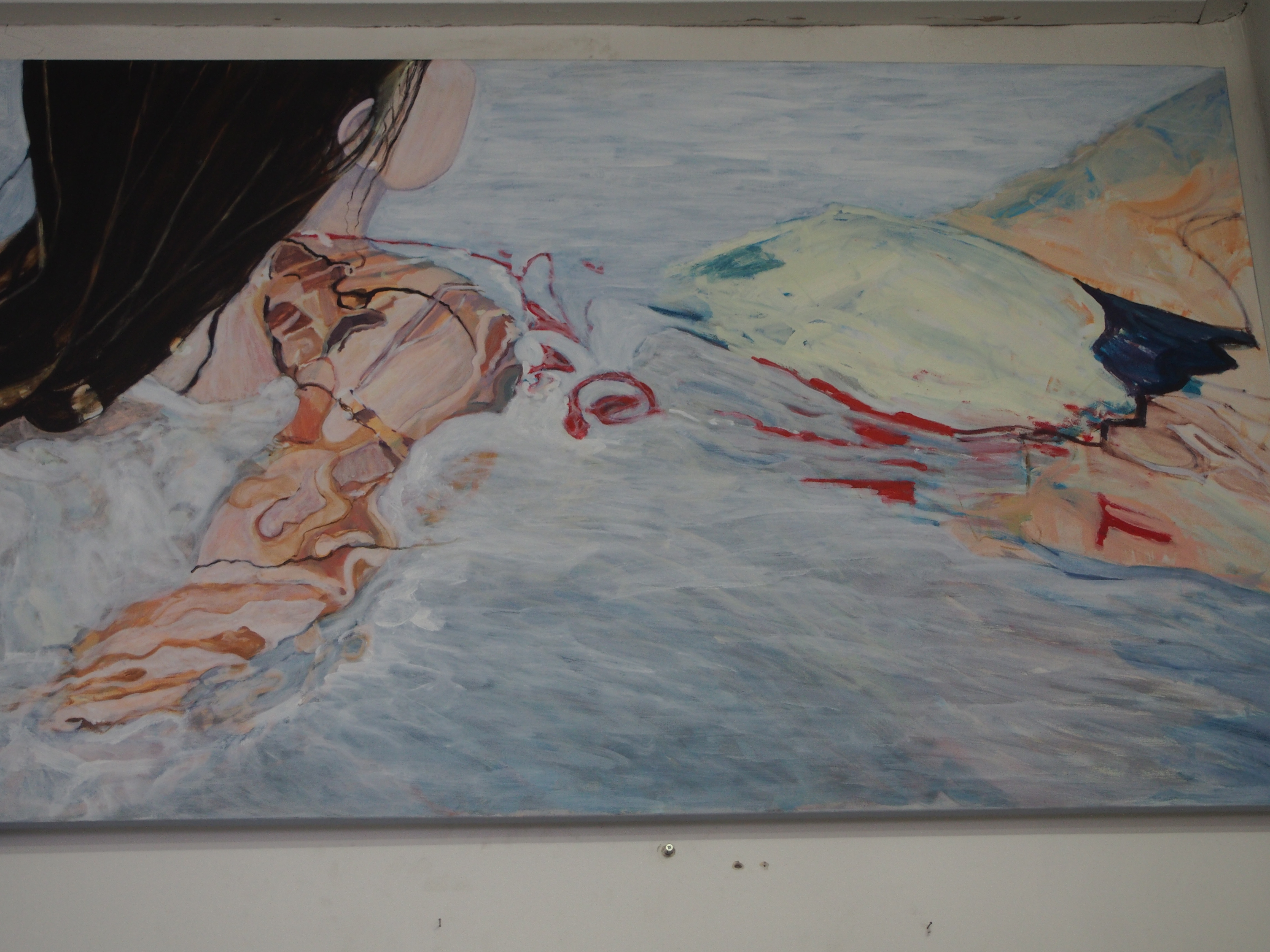 This painting was one of the two pieces that made me stop during the day. The artist specialised in studying the distorting effect of water on the human body within. Through some innate association her paintings reminded me of  Gustav Klimt.  A good friend of mine has a print of one of G.K.'s ladies on her wall, which I find pleasing.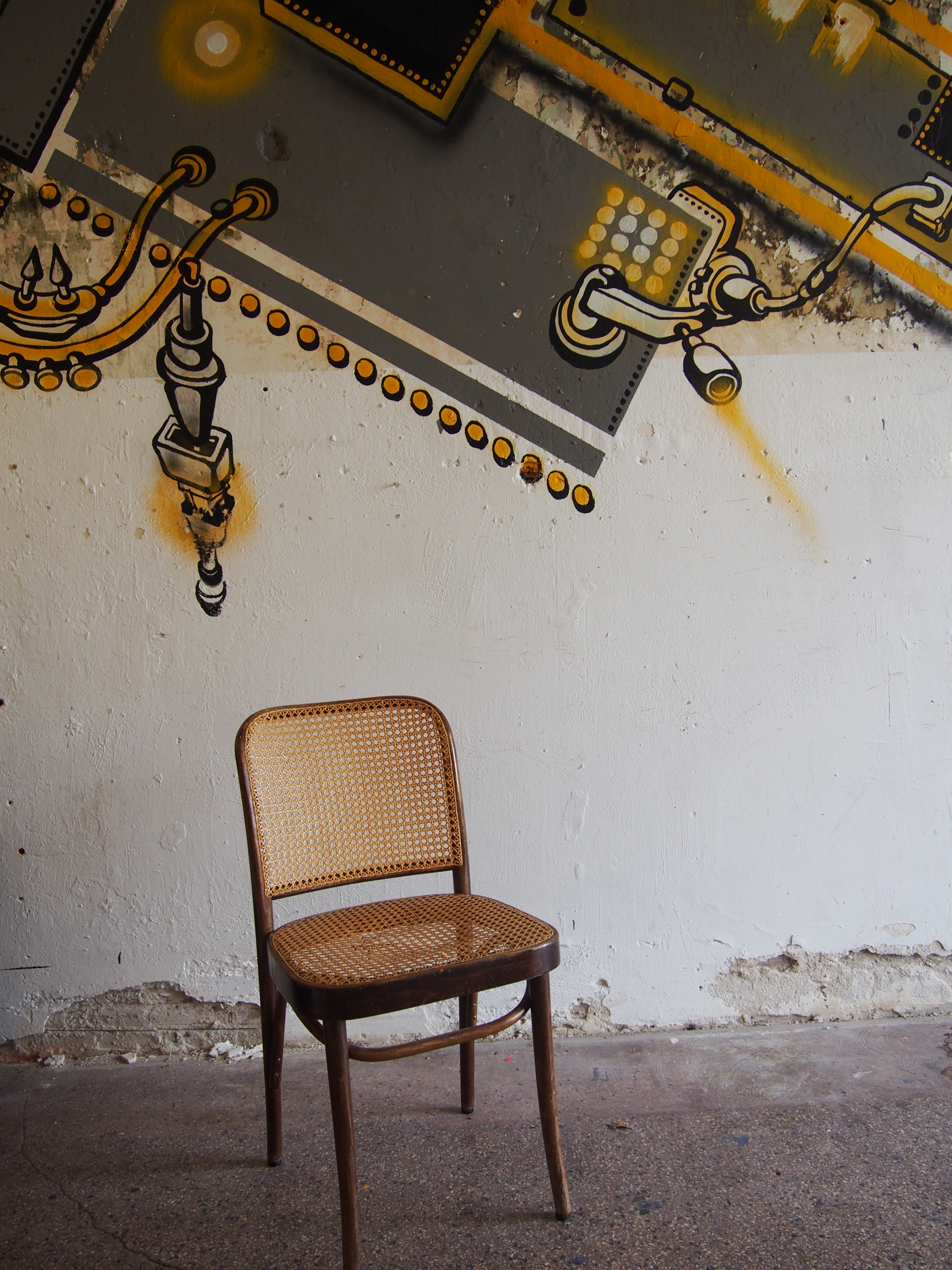 Art by accidental composition of random objects in opportunistic environment, aka life. Friends'  hulahoop studio had a special atmosphere and a nice looking graffitti on the wall. The chair was just waiting to be photographed.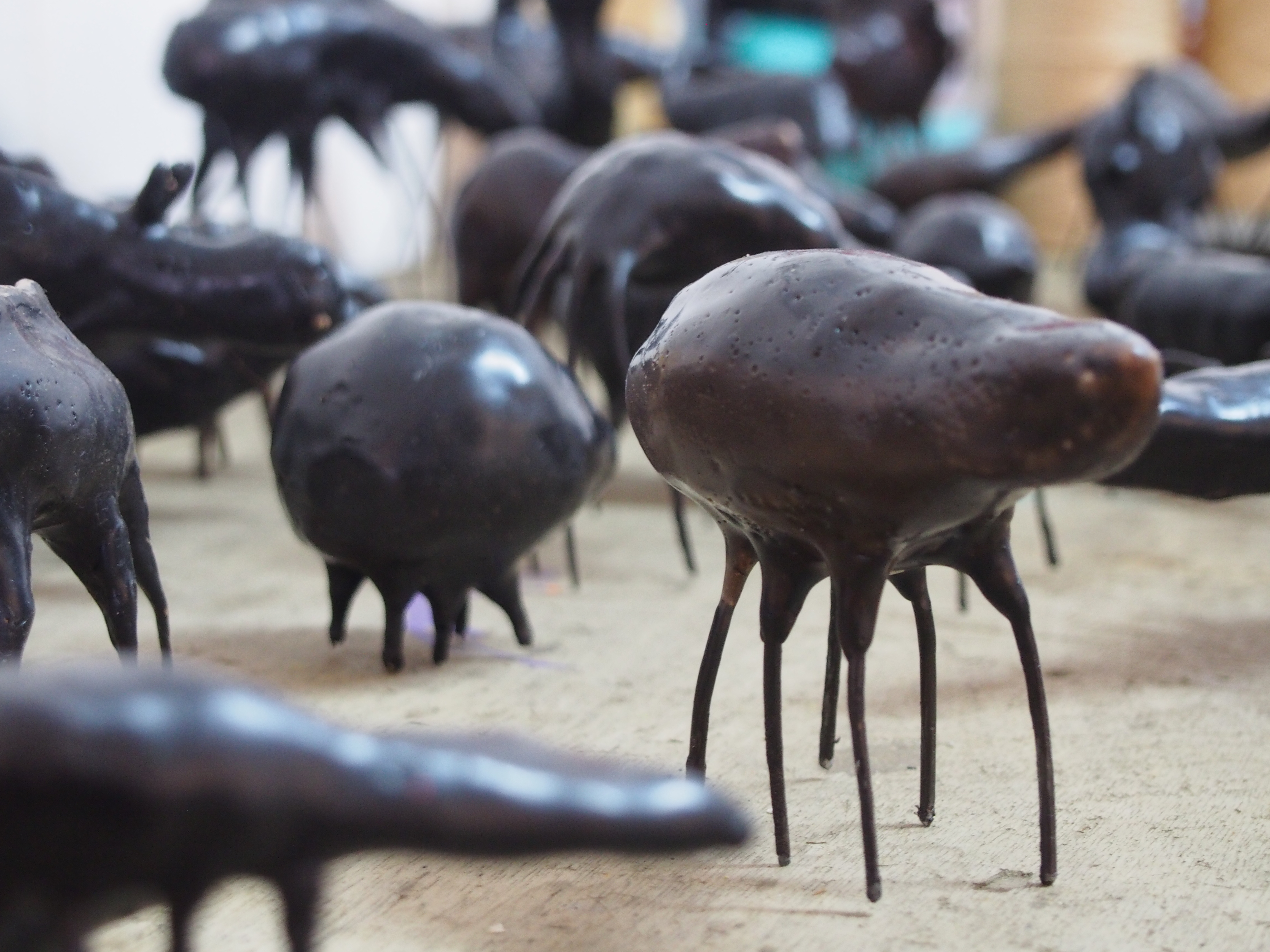 Sometimes the actual piece/structure/pattern becomes more interesting with a different point of view. These odd looking pieces of art were about 5 cm in size and had a charming (to me not to S.O.) quirkiness to them. She thought they were a bit too alien and spiderlike.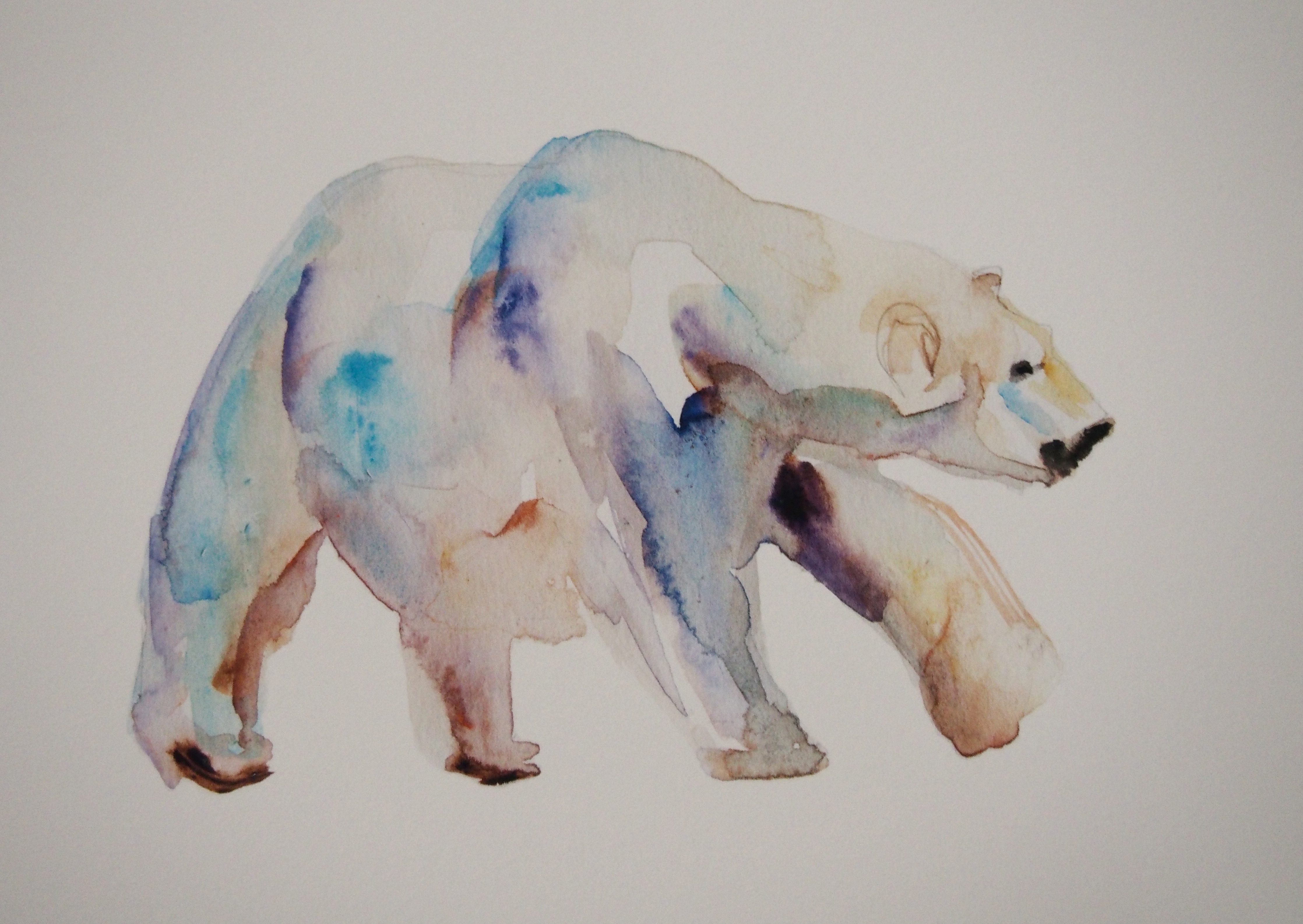 This was the second piece of the day that made me stop. And I did not have any intention of stopping for more than the minimum time that one spends at an exhibition when the artist is present.
I do not usually care for watercolours as a rule, so I did not have high expectations for this exhibit. However, I am delighted to say that Michelle Dujardin has changed my mind (or she's the exception to the rule). Her composition of various animals was simplistic and vivid. Her style captured the essence and soul of the animal perfectly.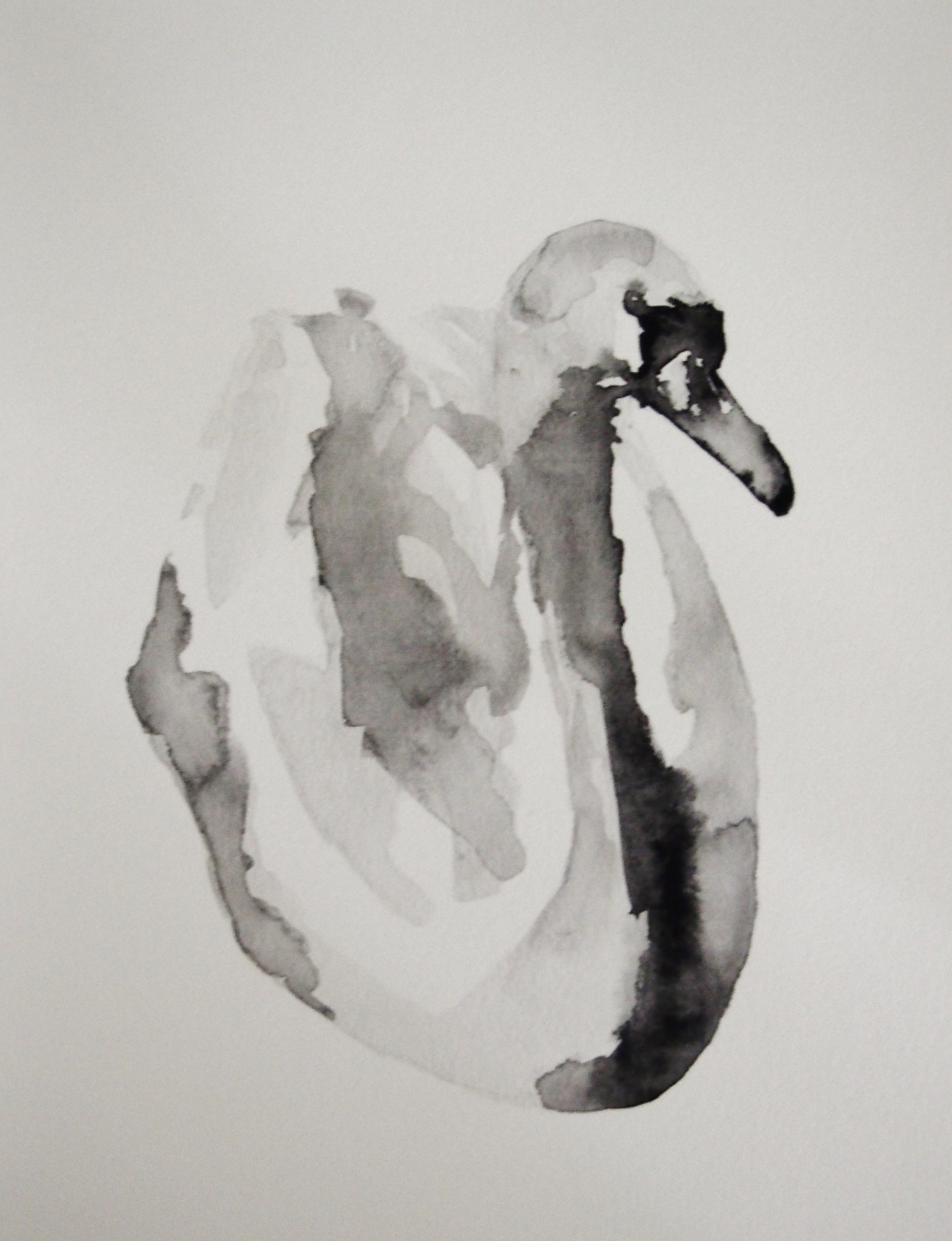 The swan was the second of many that caught my eye due to its sheer simplicity. 
As it happened she had a nice stock of prints of the originals for sale…Which resulted in me starting to burn my modest "funny fund" rather quickly. A trio of prints found its way quickly to our possession, and I am happy to be the owner of the number 1 polar bear print (the original went on the previous day). While browsing the prints I thought they would make good cards for example to celebrate a wedding or some other jubilant occasion. Now… I think I will have them framed, and enjoy them at home. I have Michelle's e-newsletter a-coming and her contact information. I can always order more if I have an urge to delight my nearest with some art.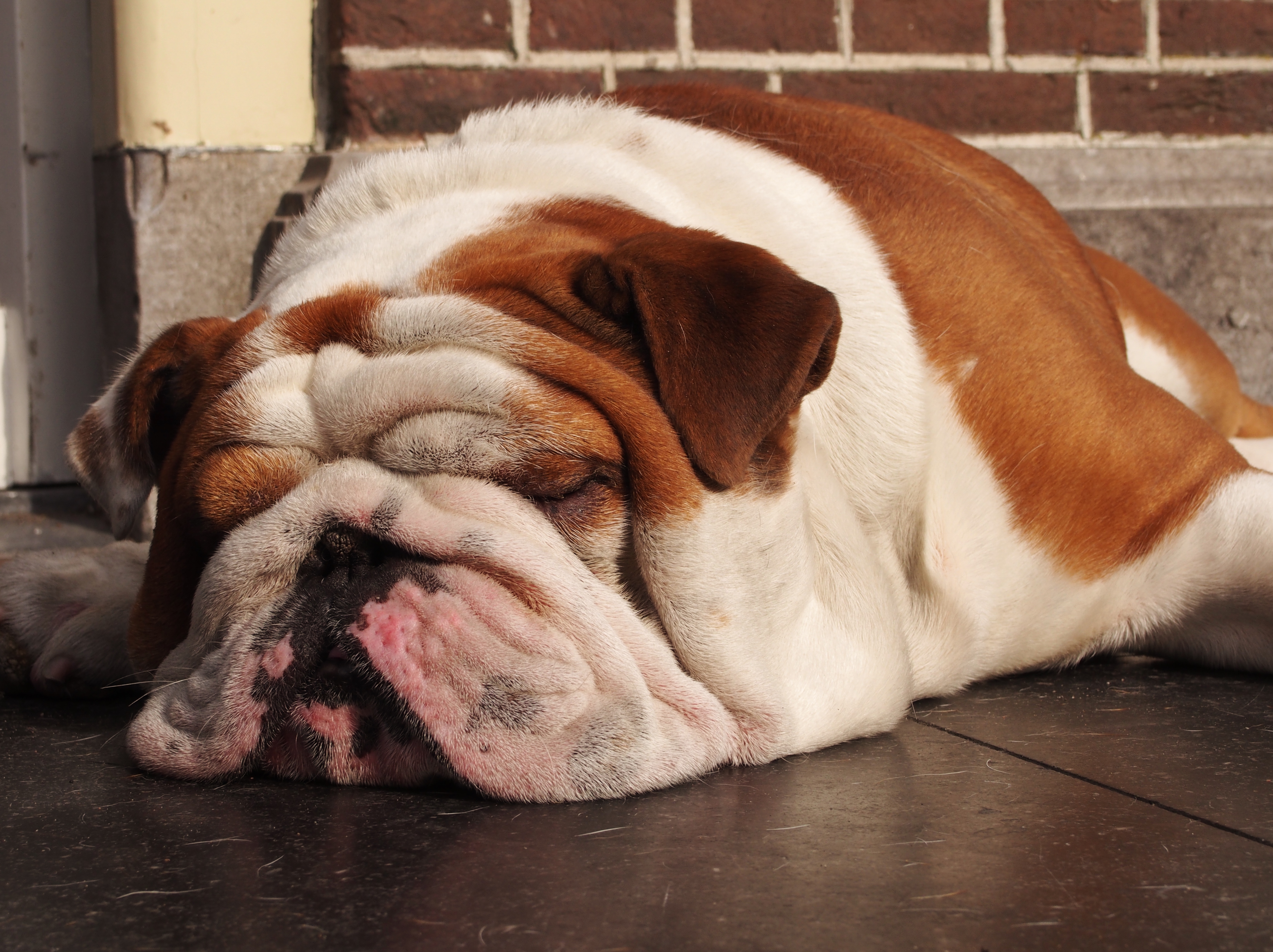 Concluding remarks: take it like this Leiden gentleman while browsing for art. Just let it happen and see if it does something for you or not. You only need an open mind and see where it takes you! 
Post Scriptum:
The first picture of the post in black/white on a brick wall is from Dublin. It depicts a pollen under electron microscope, one of a series of four or five similar beautiful pieces near Trinity College. If there is one thing I always enjoy, it is the details of nature, such as the one below: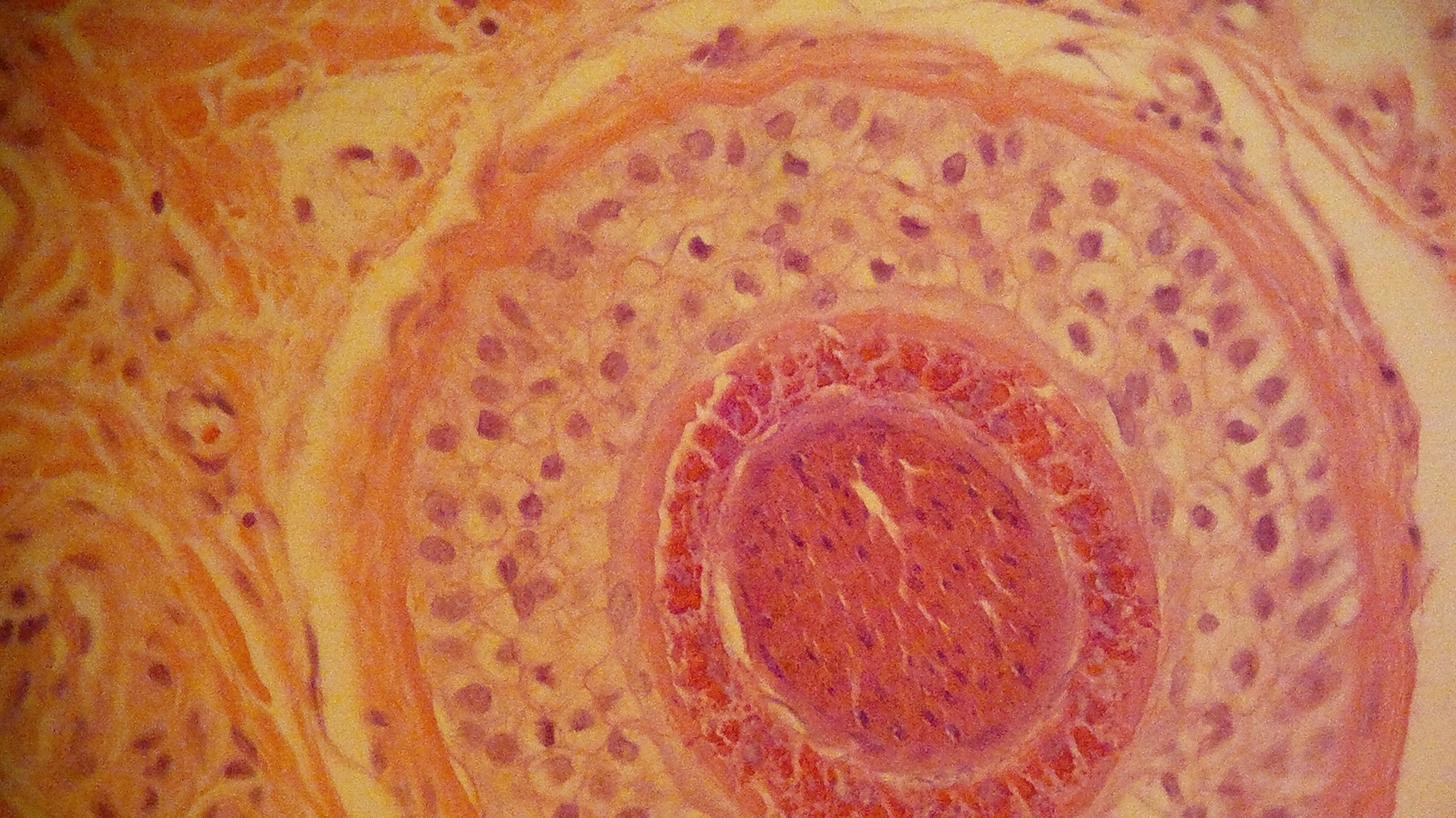 This is a microscopic look on a stained section of a skin. If I remember correctly, the blue dots are mainly cell nucleai and the red is either collagen or ceratin. The round structure is a cross section of a hair follicle: the innermost circle is actually the hair and the round structure around that is the follicle. I try to avoid microscopes because I have a tendency to lose myself and look for hours on end…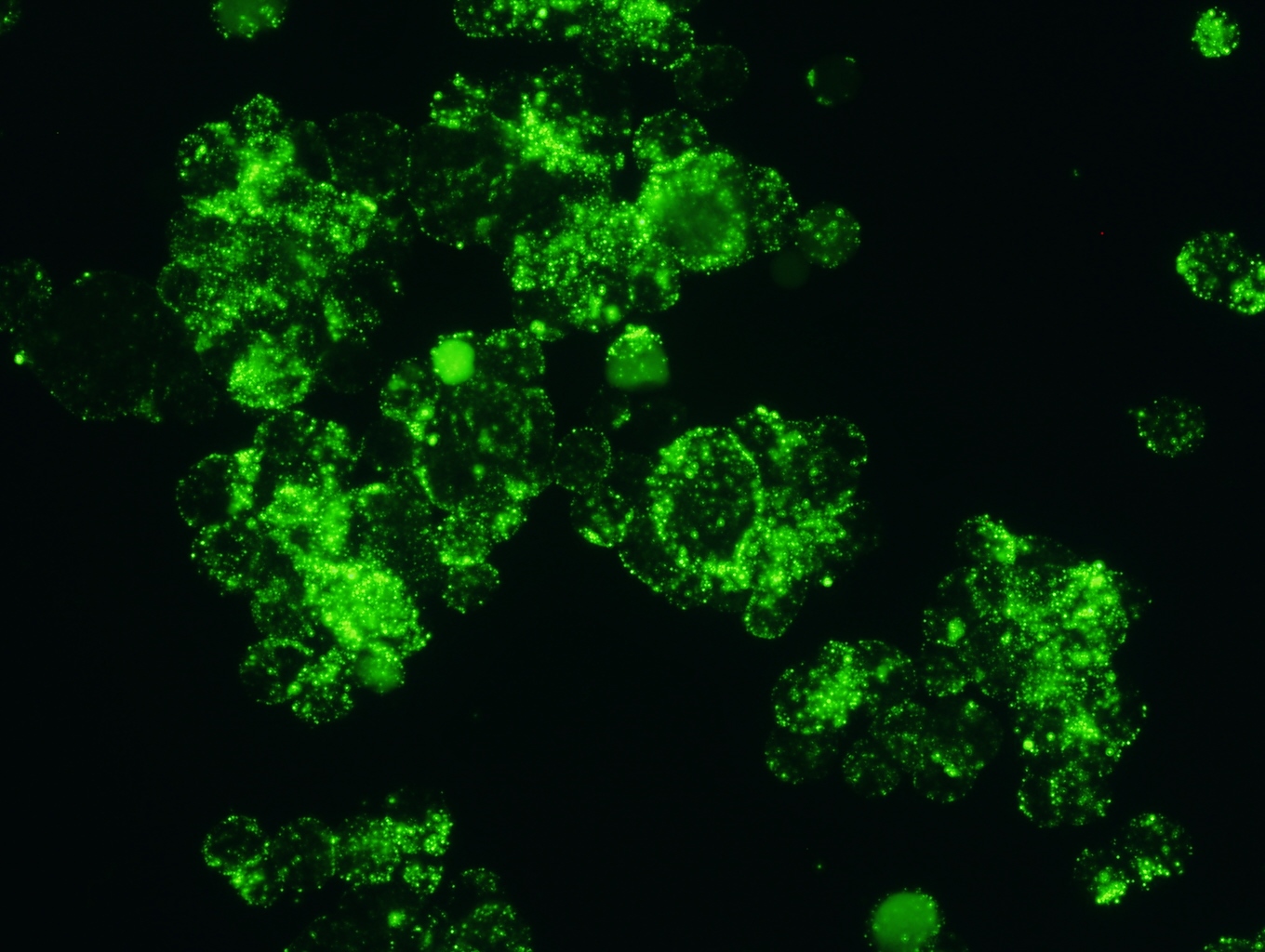 …especially in a dark room looking at fluorescence stains of anything. Here's one of my first captures from 2008. My special little antibody construct carried a fluorescently labeled nucleotide into cells. These fluroescent little fluorescent nucleotides then visualised as little green dots within and on the cells and cell clusters.