Katse aurinkoon / Back to the sunlight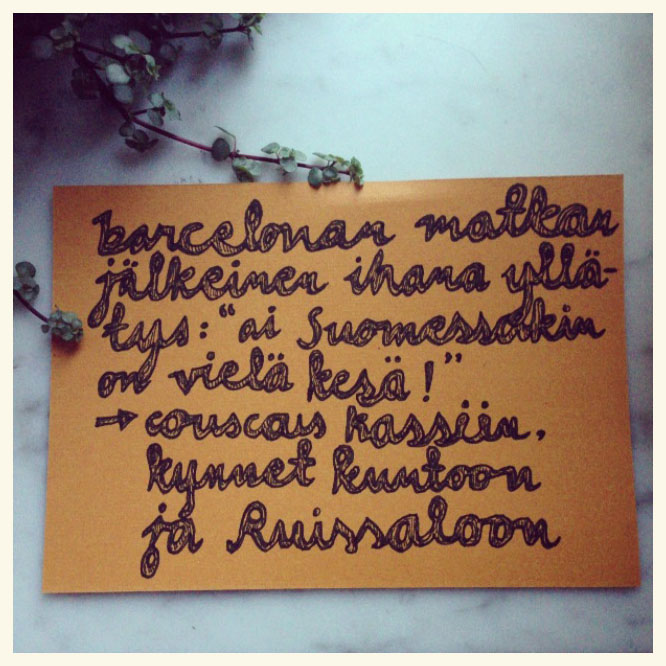 I had posted this on the 4th of August and it still brings a lot of summerish memories to me, I can almost bring myself back to that day on the beach with the sun warming my face and my friends making the day perfect.
What a surprise it was to us, after coming back from BCN, to discover it was still summer in Finland. Using the data collected from the native pros in Torredembarra, we gave it our best: bicycling to the beach, packing couscous in tupperware boxes and adding some hasty theme-appropriate nailpolish.
The couscous recipe goes something like this:
Couscous
Red peppers 2-3
1 zucchini
1 aubergine
Red onion
Sunflower seeds, pumpkin seeds
Marinated tofu (for example in Finland Oy Soya Ab: Jalotofu marinoitu)
Fresh coriander
Spices
1. Place some cleaned and roughly chopped red peppers, aubergines and zucchinis on a oven pan and sprinkle olive oil and maldon salt on top of them. Put them in the oven in 225 degrees celcius and let them stay there for 10-15 minutes (during which turn them once). Then put the blackened red peppers in to a plastic bag/box/folio to cool down and remove their skins after that. Chop the vegetables to the size you prefer them.
2. Chop 2 small red onions and place them in a bowl with some olive oil, vinegar, a small drop of honey and a hint of maldon salt. Mix them with the liquid, place them in the fridge and let them marinate there for an hour.
3. Boil water. Add couscous and take the kettle of the stove placing the lid on. Leave the couscous to soak the water in and after 10 minutes whip it nicely around with a spoon. Mix the veggies with the couscous. Add some dried ginger, lime & pepper mix (what spices you prefer). No need to add more salt due to the salt in the oven vegetables. 
4. Remove excess liquid from the onions and combine the marinated onions with the couscousmix.
5. Add pieces of marinated tofu, sunflower seeds and/or pumpkin seeds and A LOT of fresh coriander. Mix everything evenly together, put it into the fridge and let it get even tastier over night.
Please, if you happen to have a great VEGAN spread/paste/dip recipe stashed in your drawer/head/cook-book: POST IT in the comment section!