Paikka ja epäpaikka / (Pseudo-)public Space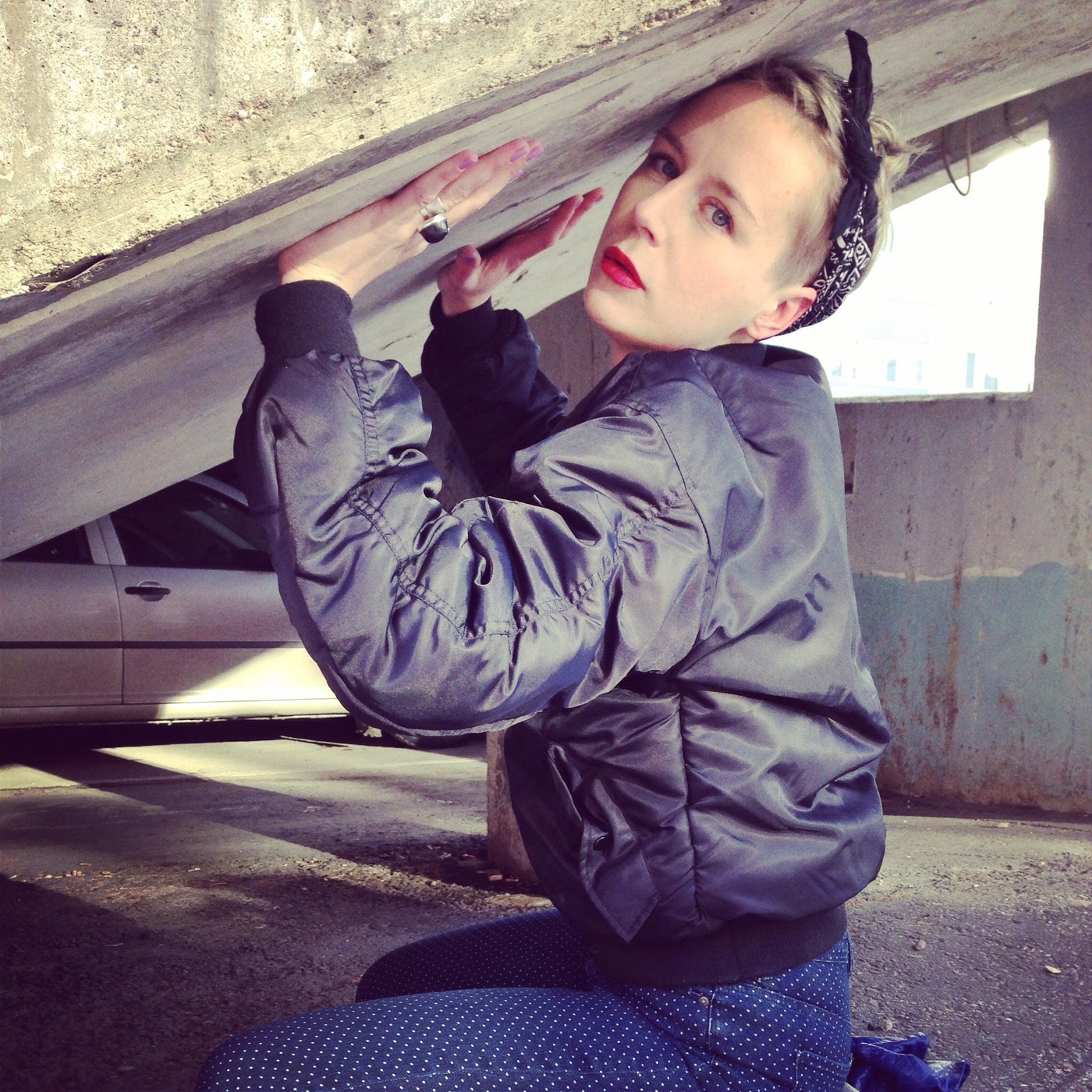 In February, I finished my teacher training and a hell of a lot other stuff as well. My credit points are just piling up and I feel accomplished. I have done two different projects concerning environmental art education: the other one was for Turku University's department of teacher's training and the other one for a local high school. I did a lot of preparing for the university course (check my library-selfie below) and as going in-debth, took great interest in the field of environmental art.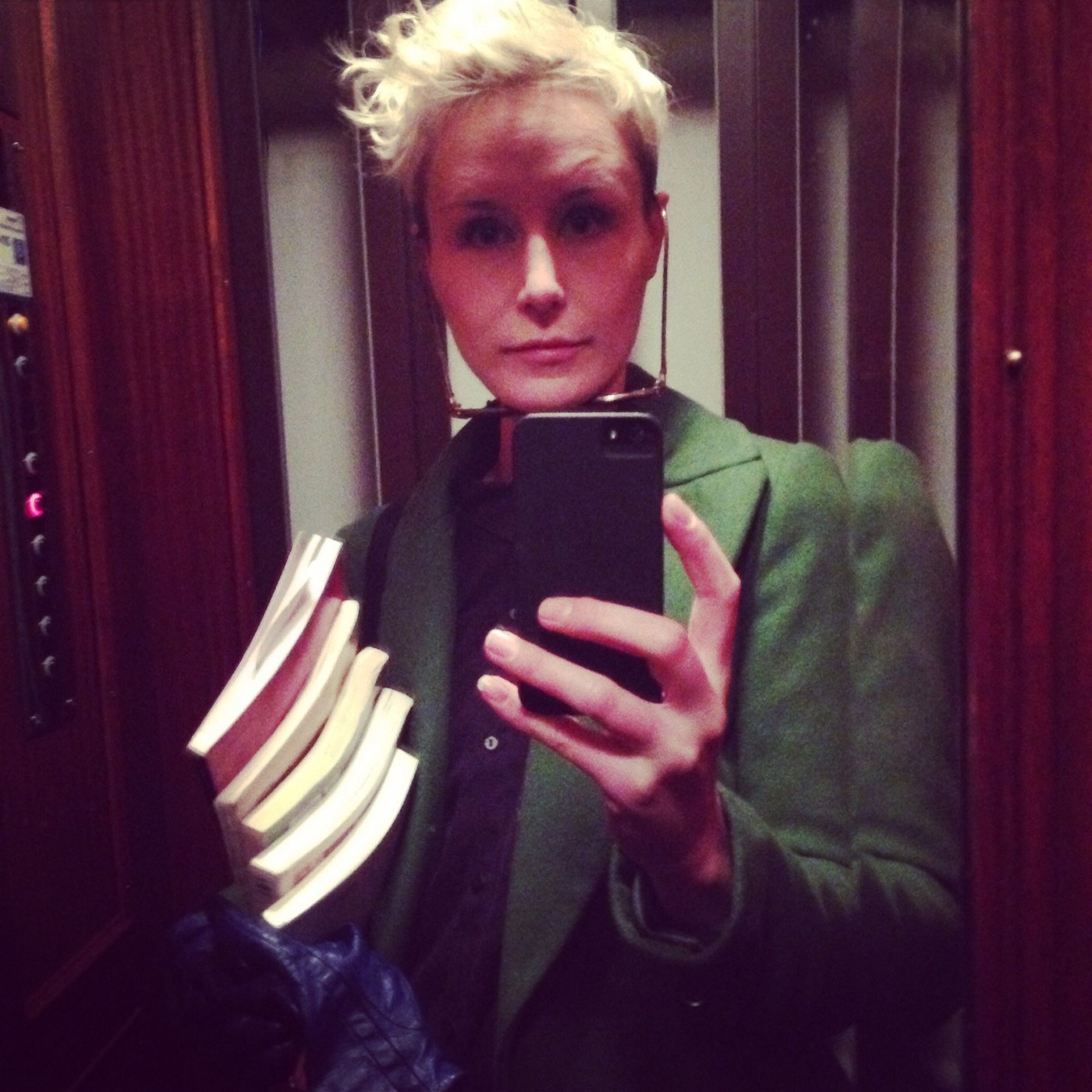 During my stay in Turku on the tenth week of this year, I had the final course meeting with the university students, and they were truly able to blow my mind with the works that they had done. I gave them two lenghty lectures and tasks concerning the history of environmental art & participatory/community art, and ways of affecting one's surroundings/environment/space. Their task was to work in groups and make a statement in the surrounding space of their choosing.
The latter project that I mentioned earlier was of the same topic: my collegue Jenna and I, were to plan an environmental route for the local high school. They have one day during a semester where they get acquainted with the space, environment and places of Rovaniemi, and we were to plan a map/route/tasks for them to perform. Of course, we had a lot of fun while preparing it, and as you can see from the photos below that we took of ourselves meanwhile scouting the route. The topic on how the space we accommodate becomes a place that rules us, is specially important to me; the fact that we become very self-regulated in any environment is an invisible feature to many of us.
Studying the theory concerning space, both private and public, the term pseudo-public brings up interesting notions of our surroundings.  Pseudo-public space refers to these spaces where public actions are controlled by the private sector and the aspect of profit is forever present, like in the malls. The thought of spaces that we perceive as transitory, i.e highways, airports and such, is also very intriguing; they are places that we share with others and they have a very spesific purpose and meaning to us.
For me, place is something not fixed in its meaning but rather under constant negoatiation between its users, and they are formed from shared social interaction and through shared understanding. The concept of place and its related special features are renewed constantly. This renewal offers a chance to question these rules of conduct and behavioral patterns that we easily assume as a norm when interacting in our surroundings. An excellent example of this intervention in the environment is Akay's Interaction project, where they placed white boards in the shape of a text on the ground, which you were able to see when crossing a bridge. Their intervention called for a dialogue: either people moving by saw the text and atleast on thought-level had a some sort of notion of the work, or then, after seeing it, climbed down to leave their own message. So the text was anyone's possible message board to intervene and voice their thoughts, love declarations, political debate or apologies. The photos below are from Akay's webpage.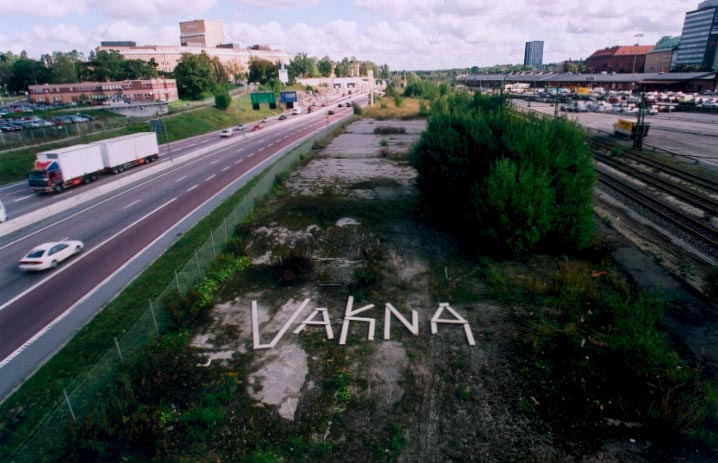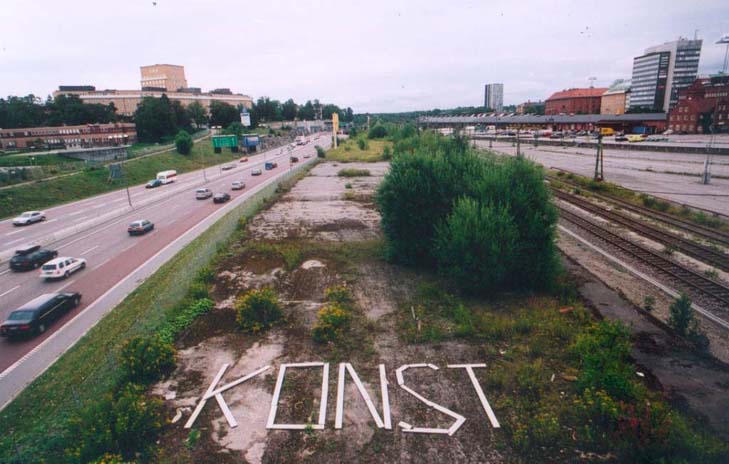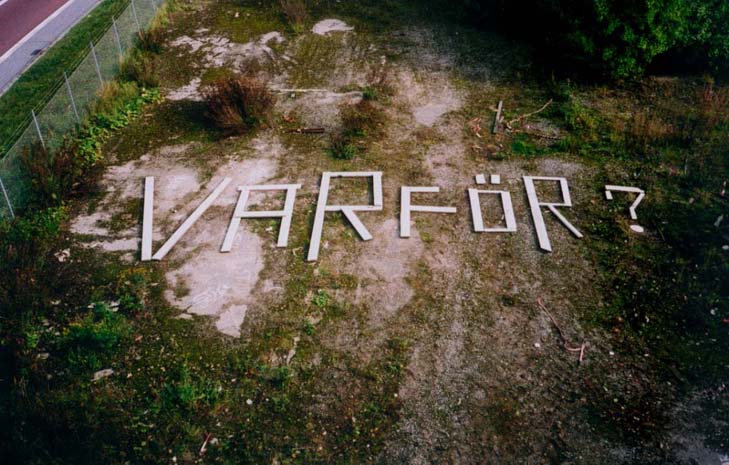 Photos above: Akay Interaction-project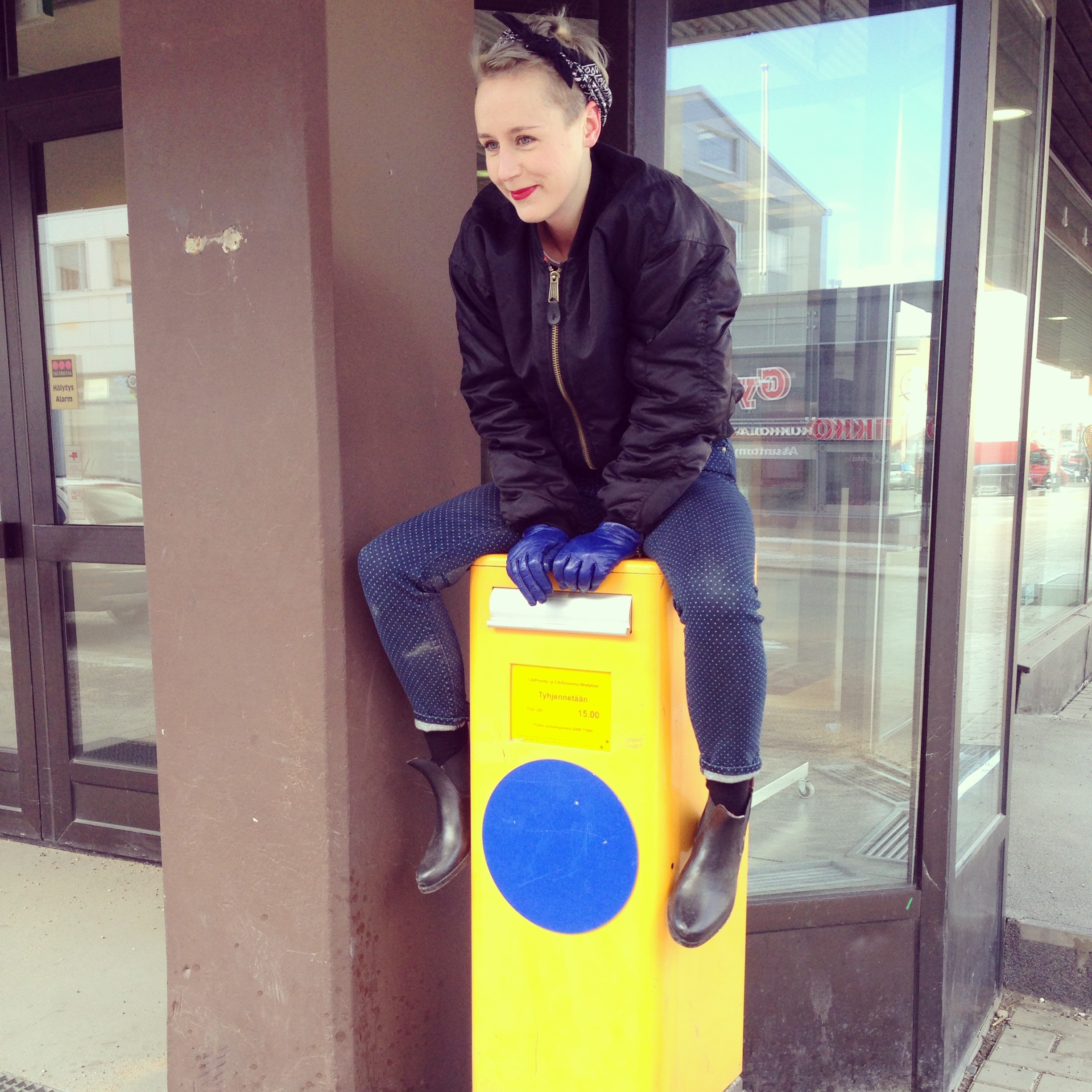 I find it intriguing how little people feel like challenging the rules of normativity when interacting with the public space. It is governed by rules of acceptable conduct and only after pushing those boundaries, you start seeing your position within them as artificial – which gives you ideas on how to make the shared space and environment more personalized. It can be just something as simple as a snow graffiti that states something important to you that you feel like sharing; taking part in the spaces of our own surroundings gives us a sense of our right to have an impact on the public domain.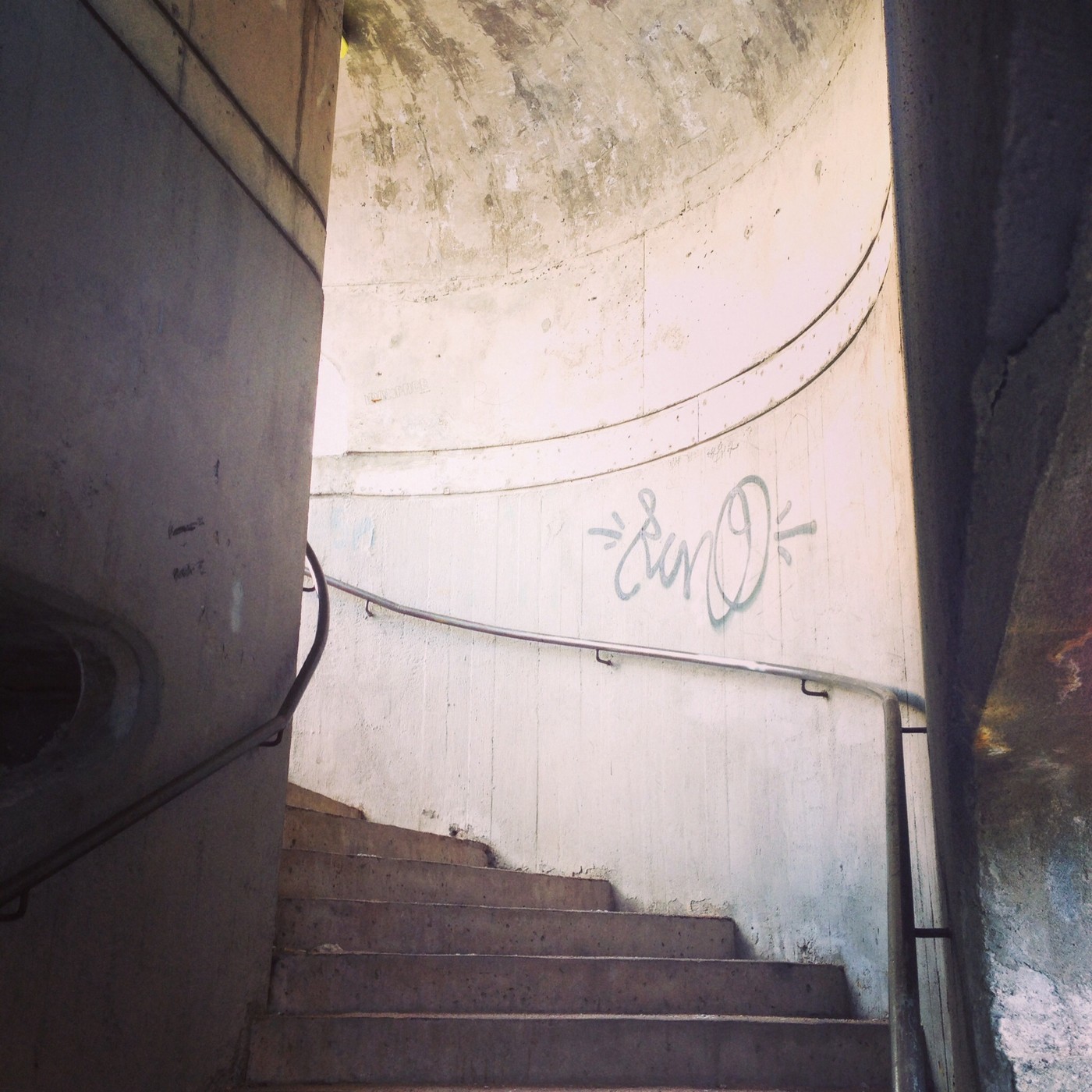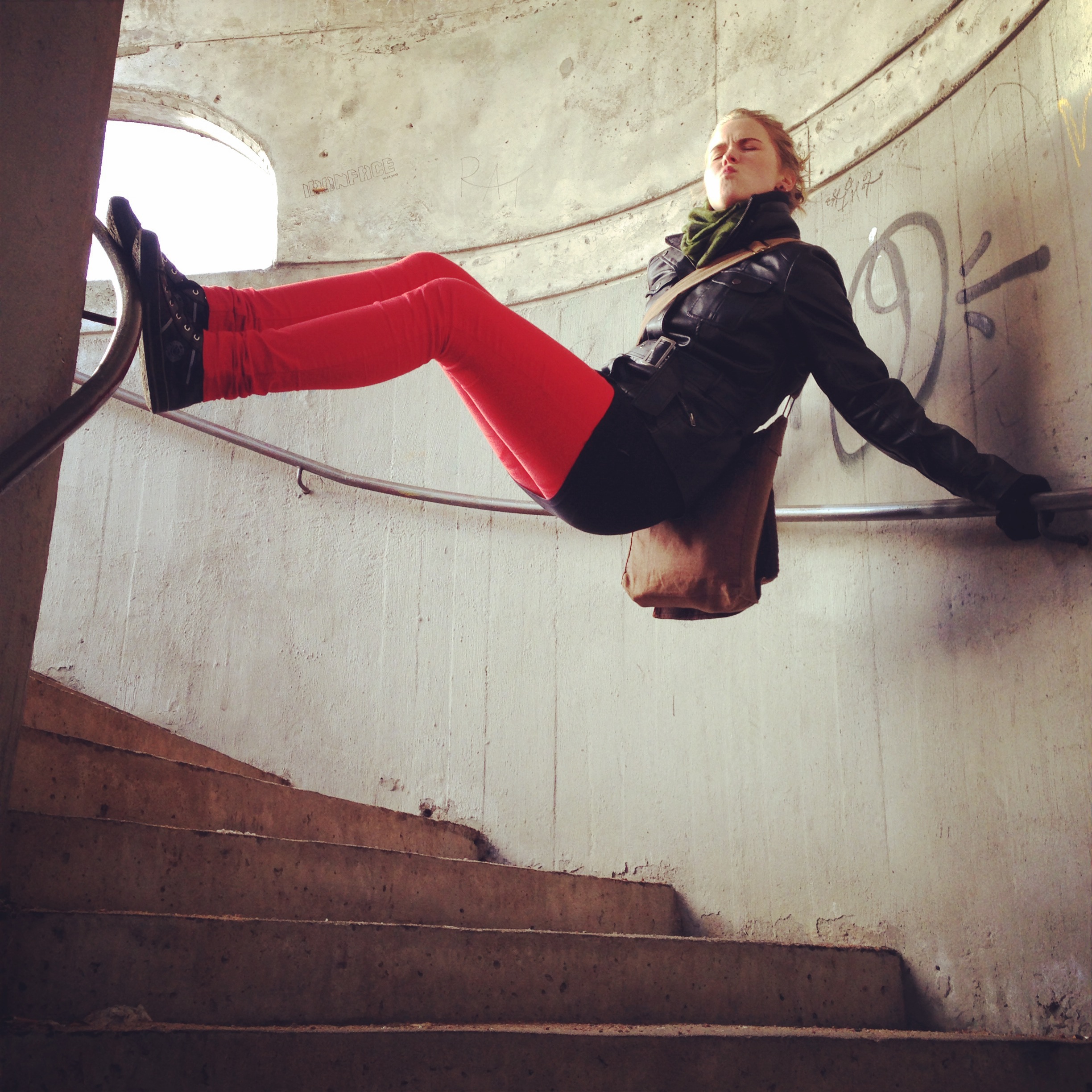 We had a lot of fun with Jenna (Jenna is in the above photo and she also took all the other photos of me in this post) when we were planning the environmental walk for the local high school, and of course were tempted to intervene with the surroundings ourselves – oh how people look at you when you stretch the boundaries of normative behavior, a lot of side-way glances! The way we self-regulate each other in the society, concerning really everything (dressing, sexual orientation, gender roles, consumerism) is downright scary when you stop, step back and re-examine the normative for a while. Okay enough with the space, environment and surroundings.  We celebrated Gon's birthday when I was visiting and received such a beautiful flowers that bloomed on the window sill a very long time, bathing themselves in the spring sun. Friends came over to our place and I prepared for the first time (!) vegan sushi. Preapring sushi suits me, it is meditative and pretty straightforward.  And of course, the visual outcome of the food is always a meaningful thing for me, so sushi and I are compatible. The makis that I made contained mixtures that I have found to complement each other well and some that I had in a sushi place when visiting Copenhagen: 1) red beetroot & horseraddish paste instead of wasabi, mango, carrot, smoked tofu, scallion. 2) wasabi, marinated eggplant (which turned out soooo good), cucumber and avocado, peanuts. 3) mixing all the above. I got carried away.  Recipe for the marinated eggplant that was mostly improvised: One eggplant in thin slices. Place the slices on a plate and spread salt on them. Dry the salt with a kitchen towel. Mix one onion, garlic gloves, soy sauce, rice vinegar, sesame oil, some seaweed, fresh ginger, fresh daikon, honey, scallion and then miso paste with a blender. Press kitchen paper on top of the eggplants and let it absorb the moist from them. Then clean the salt away. Place eggplants ino the marinate and let marinate for hours (I think I put them into the fridge for fourish hours). After marinating, fry them on a pan with sesame/olive/your-personal-favorite oil.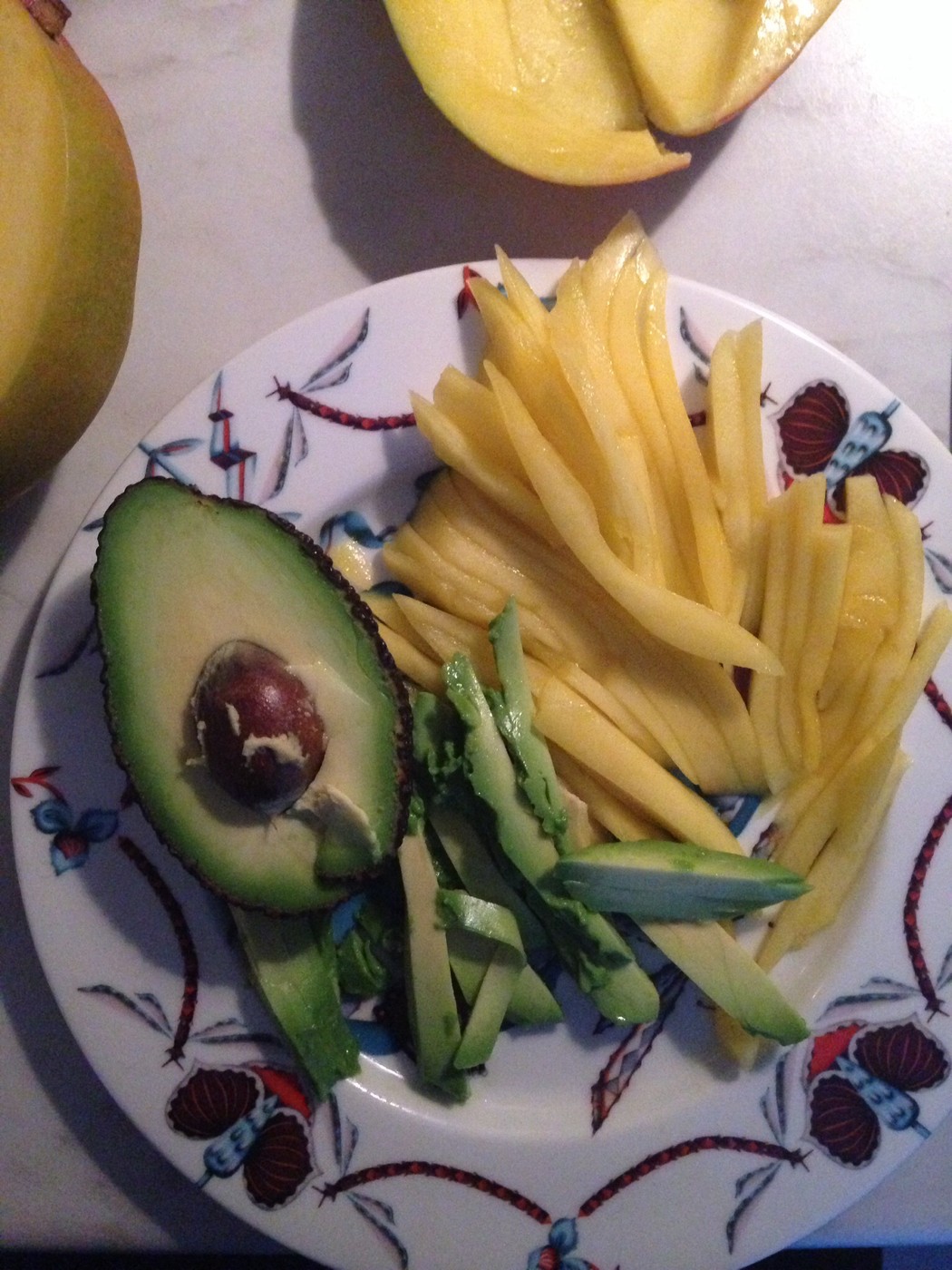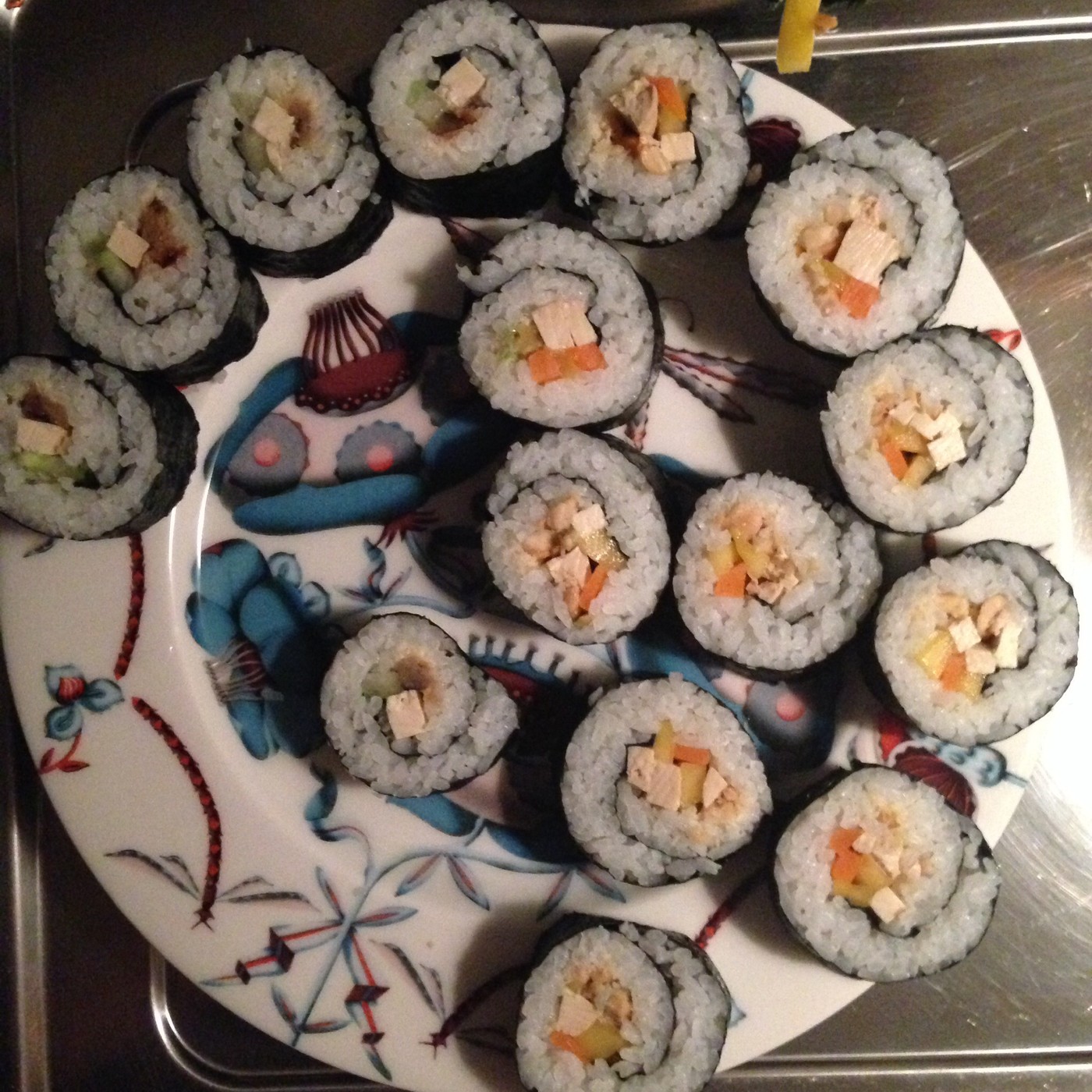 And last but not least, we visited the Art Museum Korundi that has now a new changing exhibition: SÁMI Contemporary, where they present contemporary Sámi artists from the nordic countries. Like almost always, seeing art gives very emotional feelings and thoughts, both mundane and then those that are unusual and unexpected. The photo below, where I am standing inside the Halo by Outi Pieski was one of those rare moments of profound piece and calm. Entering the center of the piece felt just euphoric ans sacred.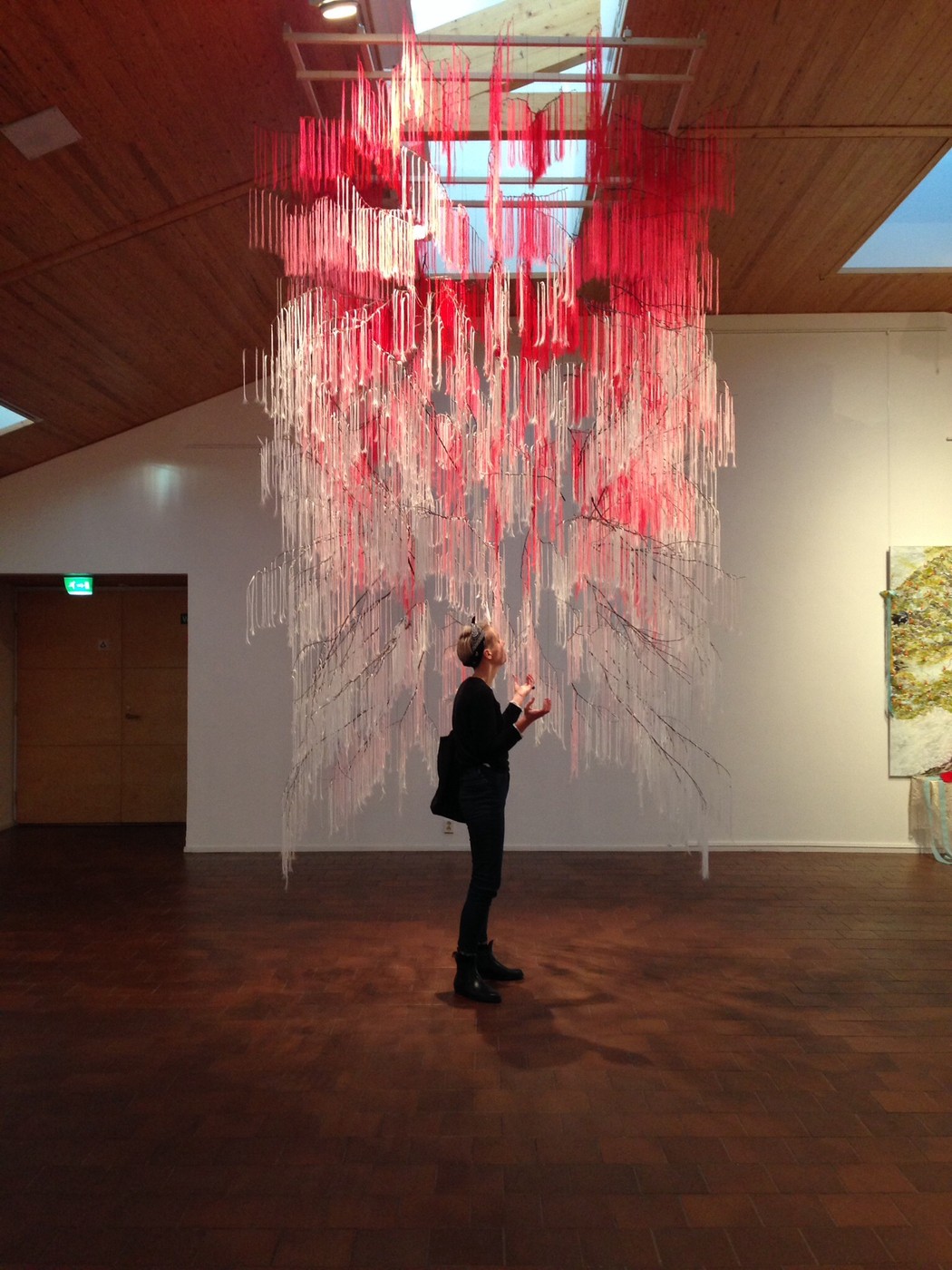 Well music to go with the marching March: 
Ailu Valle – Bággu geargat  – Sámi rap-artist!
Markus Perttula – Vallat ja väet
Russian Red – Girls Just Want To Have Fun