The phrase — 'futuristic fashion' has become a bit of a cliche over the years. The very mention of it springs to mind visuals of Hussein Chalayan's high-octane runway shows or Amit Aggarwal's artisanal gowns. One usually tends to associate fabric experimentation, industrial material upcycling and never-seen-before silhouettes when this matter is broached. As After Hrs turns 10 this month, we ask some of the leading designers to predict the direction of fashion a decade later. Will we see the organic movement going strong or gender-less dressing petering out? What style will fade into oblivion and what trends will re-emerge? Let's hear out fashion's leading lights…
Shivan & Narresh
Monochromes have come to define the modern age colour palette and it going to continue for the next 10 years. As we progress further in technology, this colour palette will dominate our runways and wardrobes! More streamlined and body conscious silhouettes will lead to body-conscious clothing. The look is only going to become sharper. Lately, we have seen a large advancement in the usage of new age technologically-advanced fabrics. This marriage of technology and textile will be seen in more abundance in future. Performance linked fabrics are here to stay! The time for superfluous in fashion will fade away. Whether it is in hemlines, surfaces or silhouettes. Intelligence in fashion through functionality, performance and minimalism will take over the industry. Excessive layering and heavy surfaces will give way to a language of soft textures in textiles and embellishing will flourish.
Anushree Reddy
In the future, I see people developing a very strong sense of personal style which is dictated by the kind of personality they are; bold, fearless and willing will be the direction. Basically heavy and embellished garments will become redundant. Fashion will become more global with functional clothing being the keyword. In terms of fabrics, I see pure organic and natural textiles ruling the roost. Silhouette will be clean cutting-edge and blend of structure meets fluid. Big volume will be back with a bang for hair and make-up will on the other hand go back to being minimalist and natural.
Rajesh Pratap Singh
I wouldn't like to conjecture or to be so presumptuous as to predict the future of fashion. However, having said that, there are some structural shifts that I do believe are taking place in the eco-system we operate in. Backward integration and fabric innovations are what will differentiate a brand in the future. In this world of fast fashion and immediate access to everything that's created, there is often a certain commonality that can creep in. Each one is following the other. Luxury and timelessness will come to be defined by a certain exclusivity and creations that are not easily replicated.
Monisha Jaising
I see the kurti going global, like any other classic which is global for example. The kurti is a versatile ensemble and has always been and will continue to be an Indian woman's wardrobe staple. It will mark a tremendous evolution. The kurti will be made in fabrics you cannot even imagine, for instance leather, space suit fabric etc. It will continue to have embellishments, but with more 3-D techniques. Silhouettes will be more structured and well-crafted to accentuate any body type.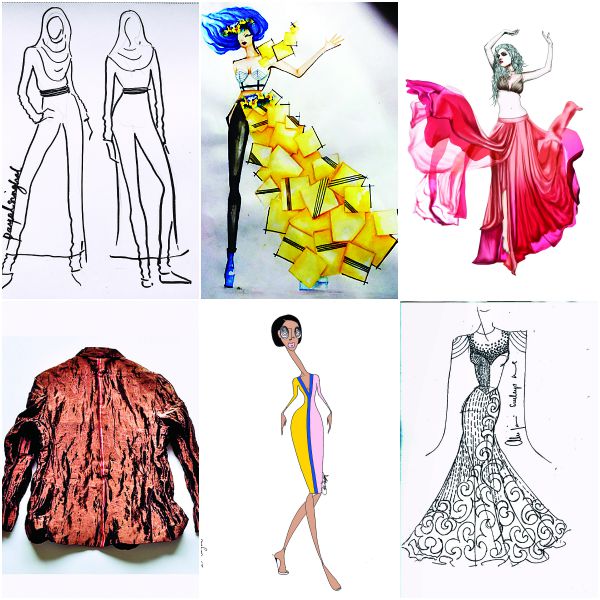 Image: wedding dress uk
Anupama Dayal
In 10 years fashion will be more democratic. Less about elitism and dictates. More about clothes. Fashion journalism too will change. Instead of in-depth independent fashion journalism we are seeing bloggers who often tie up with brands and provide writing which is not high quality. A lot of textile textures as the high tech generation miss the sense of touch. Clothes that are much more about fitting in than standing apart. In that sense global uniforms. Make-up and hair will also follow the same trend of fitting in over standing out.
Abu Jani Sandeep Khosla
It's impossible to predict what will be in a decade's time. Creativity is all about expression and it can neither be tethered nor controlled, much less follow a plan or be a slave to it. Not if its expression is to be free and fabulous. So let's ditch the predictions and concentrate on a wish list. More Original. Because plagiarism sucks. Less trendy because style is about creating that which will transcend the vagaries of time. Global because Brand India must go beyond India. An end to control because fashion should serve every body, every shape, every size. It must liberate, not cage. Celebrate, not punish. Include, not exclude. Beauty is a spectrum. Go for the Rainbow.
Ritu Kumar
We are becoming a country with a strong, individualistic handwriting which is evolving in an organic way like no other country has done. I see the rooting of this idiom, which will perhaps go three ways. The bridal route with a mixture of classical traditional wear, the European aesthetic with gowns with ornamentation, dresses, and high street clothing and the evolution of layered clothes of Indo chic layering, kurtis, tops with a strong indigenous feel, a mix of the trousers, read salwar, tights, read churidars. The revival of handloom fabrics to form a handwriting, which is purely in the Indian fashion.
Tarun Tahiliani
We are on the cusp of a new way, which is a fusion of the two worlds our mind space inhabits. This for me is the next big thing — where a true confluence in ideas results in a contemporary Indian style that is not ethnic or western but is a true synthesis and has a global identity and relevance. The dhoti drape has been a great hit, because we have taken structured draping to a whole new level, this has enabled men and women to wear silhouettes like never before. The last time I wore a dhoti was about 15-18 years ago which came off and now I am wearing it again because thanks to the draping expertise, one can wear pre-draped pants and dhotis and keep the elegance of another time but again in a contemporary way. Also, we have interesting new drapes in saris like the dhoti sari, concept saris, cocktail saris and now the jumpsuit sari, which is for the modern Indian woman who is aware of traditions, yet very strong in her individual style statement. So we will keep experimenting with that and the silhouettes will be updated and modulated to change with the times and what my eyes see at that time.
Varun Bahl
It would be hard to say as fashion changes from season to season. But, it is amazing to see how different events in history have influenced the way people have dressed and this will also be the case 10 years down the line. Some of the most popular fashions are classic, they can stand the test of time and hardly ever go out of style, only experiencing minor changes to keep up with the trends. While classics are evergreen and see minor changes over time, there are other styles and designs that could be considered fads, styles that are only popular for a short season and then never worn again. In fact, certain trends are dependent on the tastes of particular groups of people or cliques and are usually associated with social status or cultural preferences. Fashion can also be influenced by world events or the economy. However, one look that you can never go wrong with at any point of time is minimalist make up, clean cuts and classic silhouettes.
Nikasha
Ten years down the line I feel we would see a revival of the classics after a peak of experimentation. I have always believed that comfort is one factor one should never overlook while designing. It goes without saying novelty is a dream we all look forward to! Hopefully, in the next 10 years, the fashion industry will have an absolute fresh take on everything from hair, make-up to garments, by fresh I mean something extraordinary that would be a revolution in itself internationally while uplifting and enhancing our culture! We can never tell for sure which styles would be discarded and which would be re-invented to take a dominant place but we can hope that Indian designers experiment more with fabrics, silhouettes or detailing that stays true to our roots and take it to the next level! How exciting would it be if each individual could hold on to their original personal style instead of following trends. That way we would see inspiration all around us and we all will have something to give and take!
Payal Singhal
Organic and locally-grown fabrics will become more in focus in the future and garments that require less sewing and can be worn in multiple ways will be the future of fashion. I think pure ethnic Indian clothes will become redundant and more global and fusion clothes will be more accepted.
Kallol Datta
My imagination does not stretch as far as to say what will be worn 10 years down the line. If history is referenced, it has been known that change is gradual and that corporations and agencies get on the bandwagon to bring forth a look or looks that define a decade. Fashion transitions beautifully due to social movements, revolutions etc. I do hope, however, that in the next 10 years people in our country realise the power clothing has to express, define and supplement one's point of view.
More Info: vintage wedding dresses