Erika kuvittelee liikoja / I Make Things (Up)!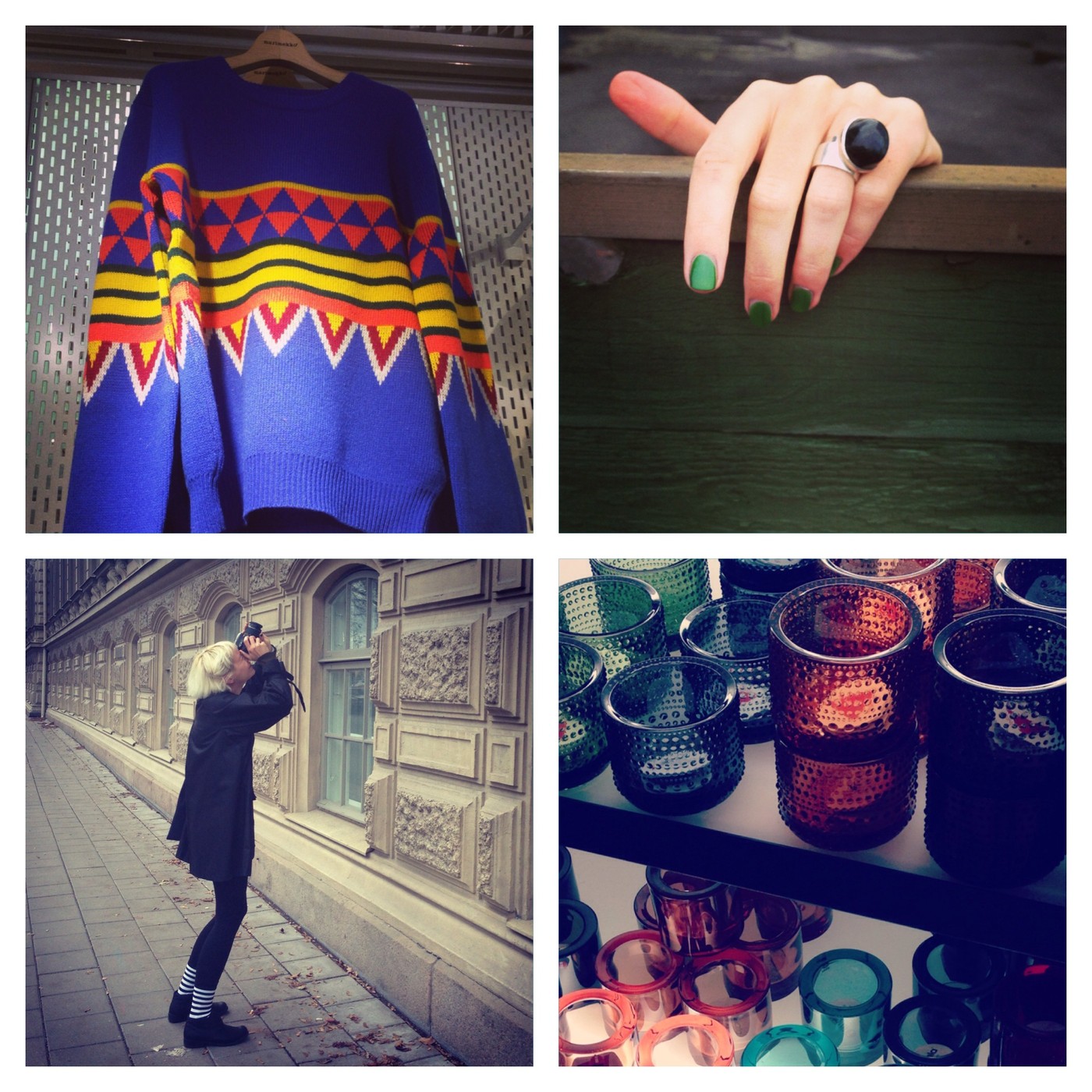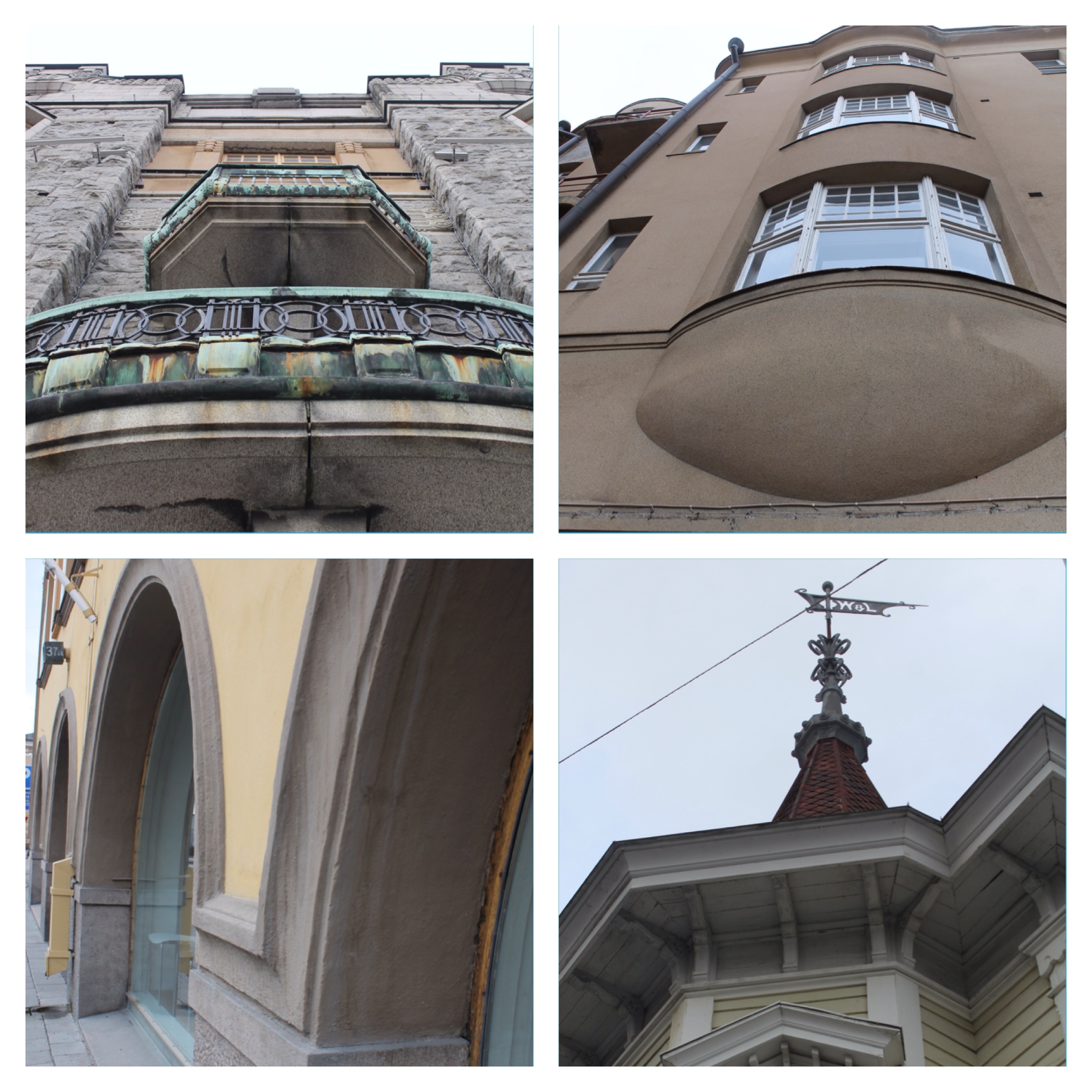 If you were to ask me how am I doing, I would not go for the polite angloamerican way and answer you as expected ("Just fine, and you?") – instead you would have to listen a long list of stuff that I have been up to the past two weeks, starting from my trip to Turku, which made me feel euphoric, due to the overwhelming green all around the city. I did only things that pleased me and avoided intentionally meeting anyone just for the sake of being there – it has become a sort of burden to be expected to meet everyone during three-four days that I am staying there, when all I want to do is rid myself of all obligations and spend time with my El Macho Fantastico (Oh, Gon detests the nickname that I gave him during the first months of our dating). So this time around, I managed to be resolute and stick with not meeting anyone no matter how obligatory, and we were able to just enjoy each others company, and to do things that we felt like doing: we took long walks, had late lunch (from the finnish perspective), early dinner (from the spanish persepctive), a couple of glasses of good wine, and spend a lot of time just cuddling.
(Oh yes, as seen on the upper left-hand photo of the frst collage: check the new Marimekko men's collection – awesome sweaters and shirts!) 
The photos in the second collage are the facades of some of the jugend houses in Turku that are so breathtakingly beautiful in their heavy use of ornaments and the use of organic forms in the architecture. Such a shame that the phase of jugend (also known as Art Nouveau) was so shortlived because of the functionalism that took dominant position soon after the first decades of 20th century. Functionalism has its strongpoints but my favourite is definitely jugend – in Turku you are luckily able to see many of these buildings just by taking a stroll in Puolalanpuisto / along the Riverside / Aurakatu / Kaskenkatu. My advice to all those that have not yet given any special attention to this architectural style, is to walk the Kaskenkatu uphill, stop at the park entrance and lift your gaze up and really absorb all the unique details in the facades, the variety of forms used in the buildings (the use of round shapes, towers, etc.). Visual orgasm!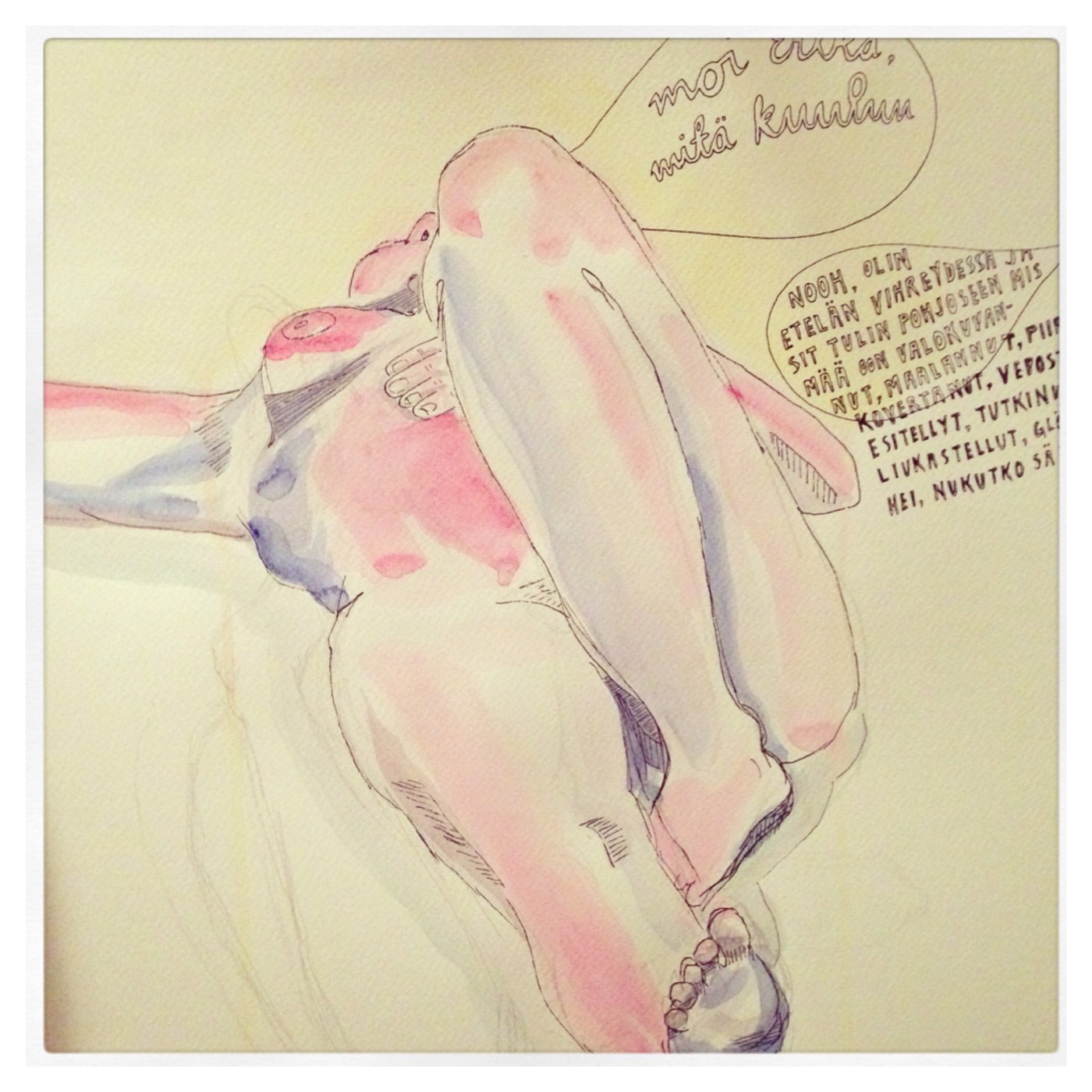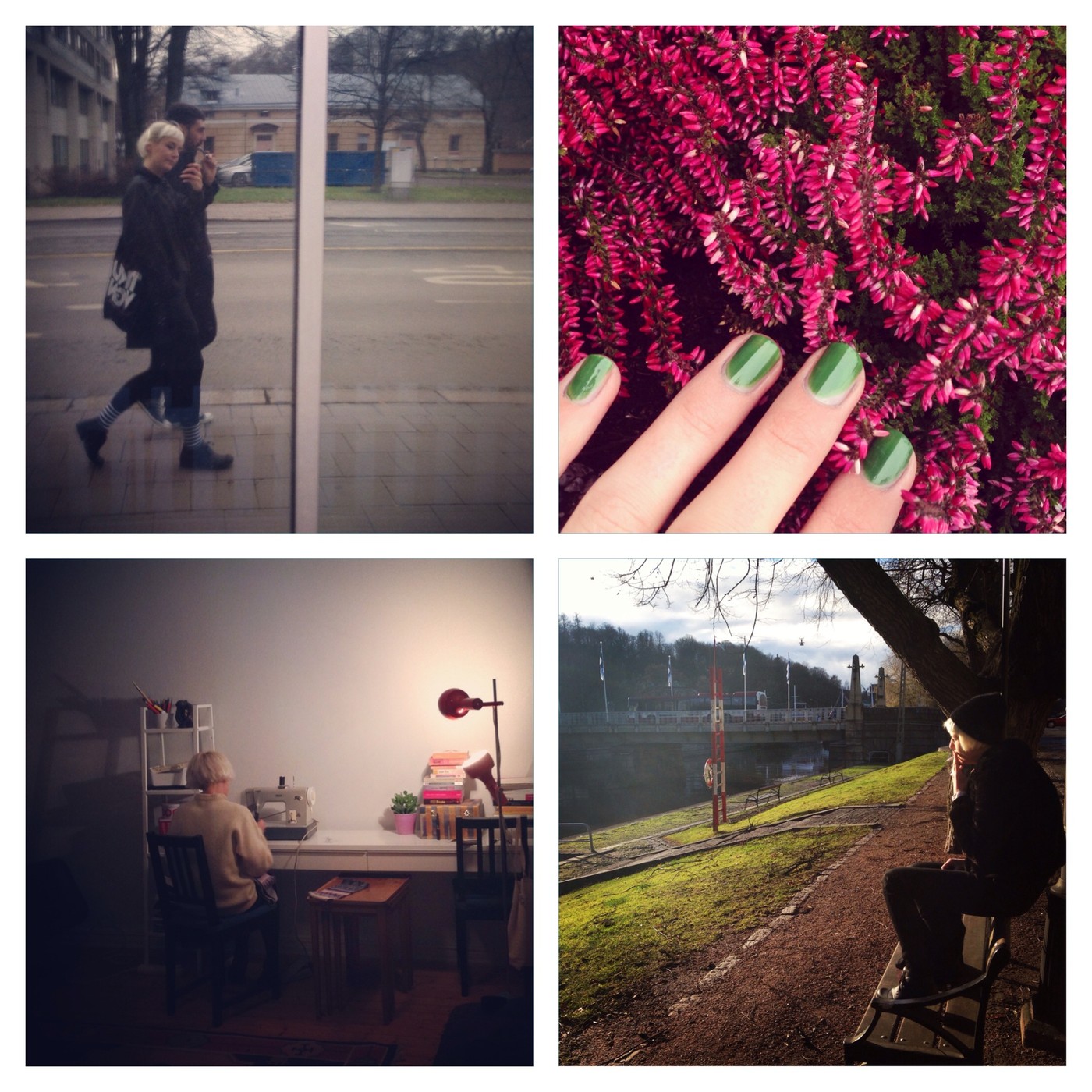 It was so green in Turku that after returning to Rovaniemi (where the 'snow' has been, more or less, covering the landscape for a month now) I realised that the spontanious choice of nail polish sprung from that spring-ish state of mind that I experienced in Turku. And oh boy, how nice it was to be able to use all those little autumn shoes that are made for the southern conditions – for the sole purpose of city strolling. In Rovaniemi, I have two pairs of shoes: Caterpillar Colorados and a pair of black boots: shoes that keep you from slipping 'n sliding and your socks warm 'n dry. 
After coming back, I have been painting, drawing, teaching, studying, photographing, reading, photoshopping, writing, carving and what-not – almost every day has become a twelve-hour stretch at the University and then some more at home. I am passionate about the stuff that I study and I am happy to have things to do here, so I would not feel as cut off / an outsider that much but at the same time, I feel my body and my mind growing weary. It is a problem for me to let anything out of my hands that I perceive as mediocre – I am a perfectionist when it comes to Art Education and my studies, so I try to take this as a chance to accept that sometimes B- is an okay grade. (Clearly I am still not there, because even the thought of making compromises brought up this expression on my face).
So after reading the previous, it might not come to you as a surprise that my wood carving project turned into a rather ambitious one. As a visual theme, I chose to express my thoughts concerning our meat concentration camps (I know, you don't want to know) and to problematize the relationship between the produced meat and the consumer in our contemporary society. In woodblock carving / woodcut (check that artist out!), the idea is that everything you do not carve away, becomes the surface where the printing color sticks and therefore turns out as the lines on the print itself, so I wanted to carve everything away except the outlines of my characters – the hard way of course. Although, it has meant a lot more working hours than just doing the opposite where you remove only the outlines (negative), I am happy with my choice and cannot wait to get to finish both sides of it and try out multiple colors. I will keep you updated on the future development.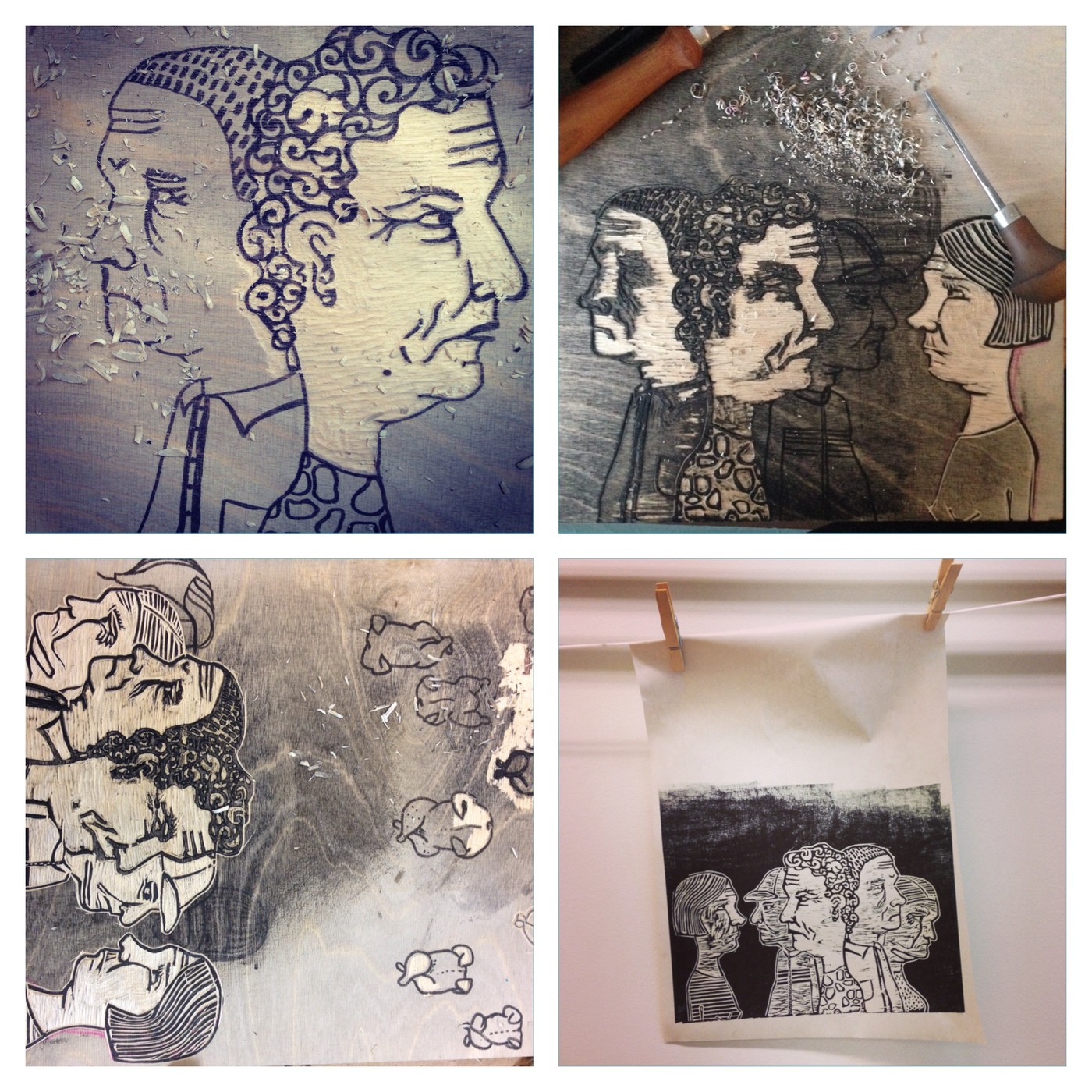 In this collage, you see some visual stuff that I have been working on this week.
1. Live model painting on Tuesday was great because she had dressed up and put on a role that affected really her posture, gestures and practically everything, compared to how I have perceived her before when she has been just naked and doing classical poses.
2. I played a bit in the dark room and developed some of my photos with a round frame that I placed on the photo paper when exposing. It works great, especially in the photo with my esposo sniffing the coriander. And hey, check out how they have used the same form in the beginning of photography!
3. & 4. My X-mas card collection is coming together! And it is going to be even more disturbing to some of my most conservative relatives – but hey, it is good to challenge, on a regular basis, the views that people hold. That is why we need art.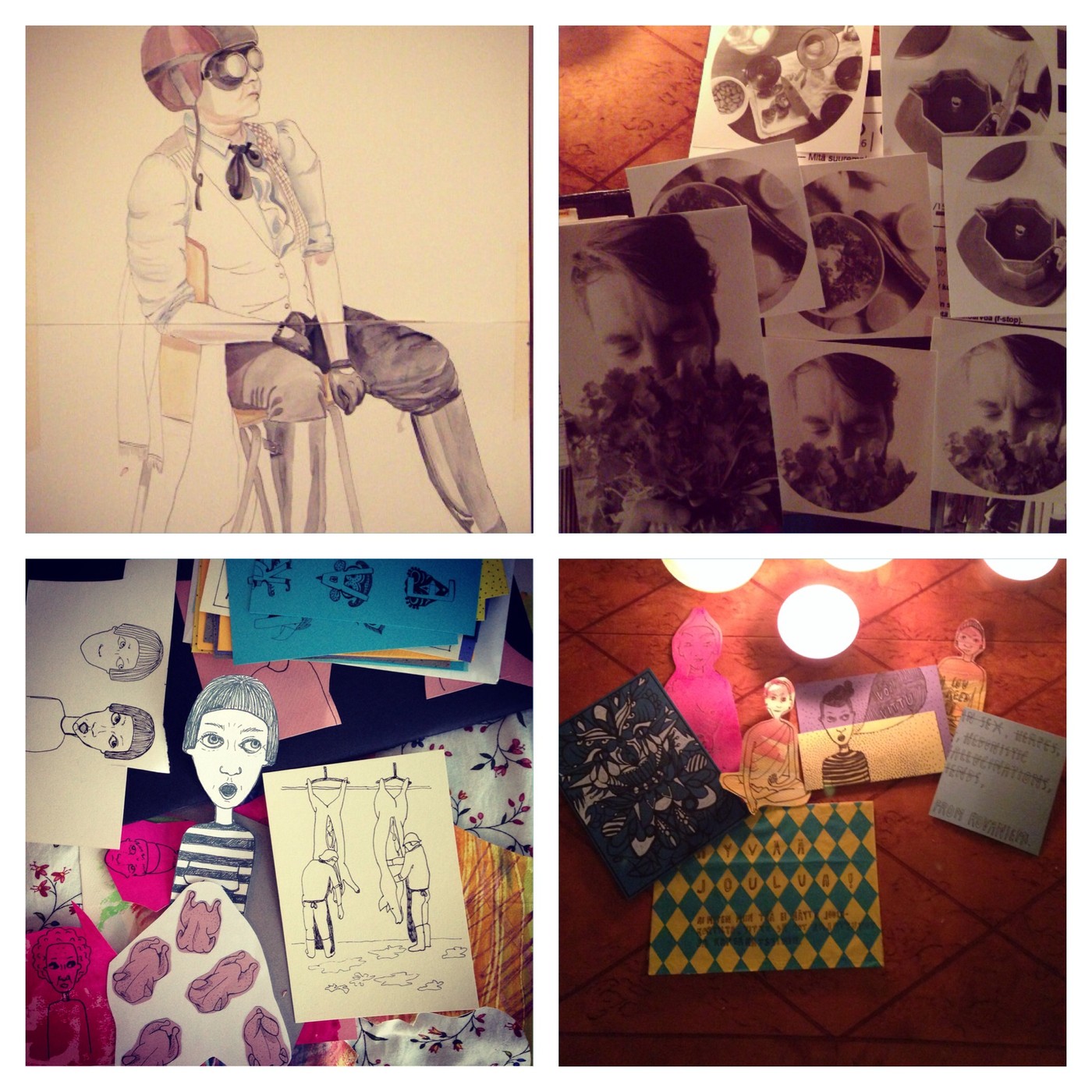 And here, my music tips: Mina Ja Ville Ahonen – Joulukuun kolmas
Andreas Schmidt – Winterreise, Op. 89, D. 911: Der Leiermann (The Hurdy-Gurdy Man)