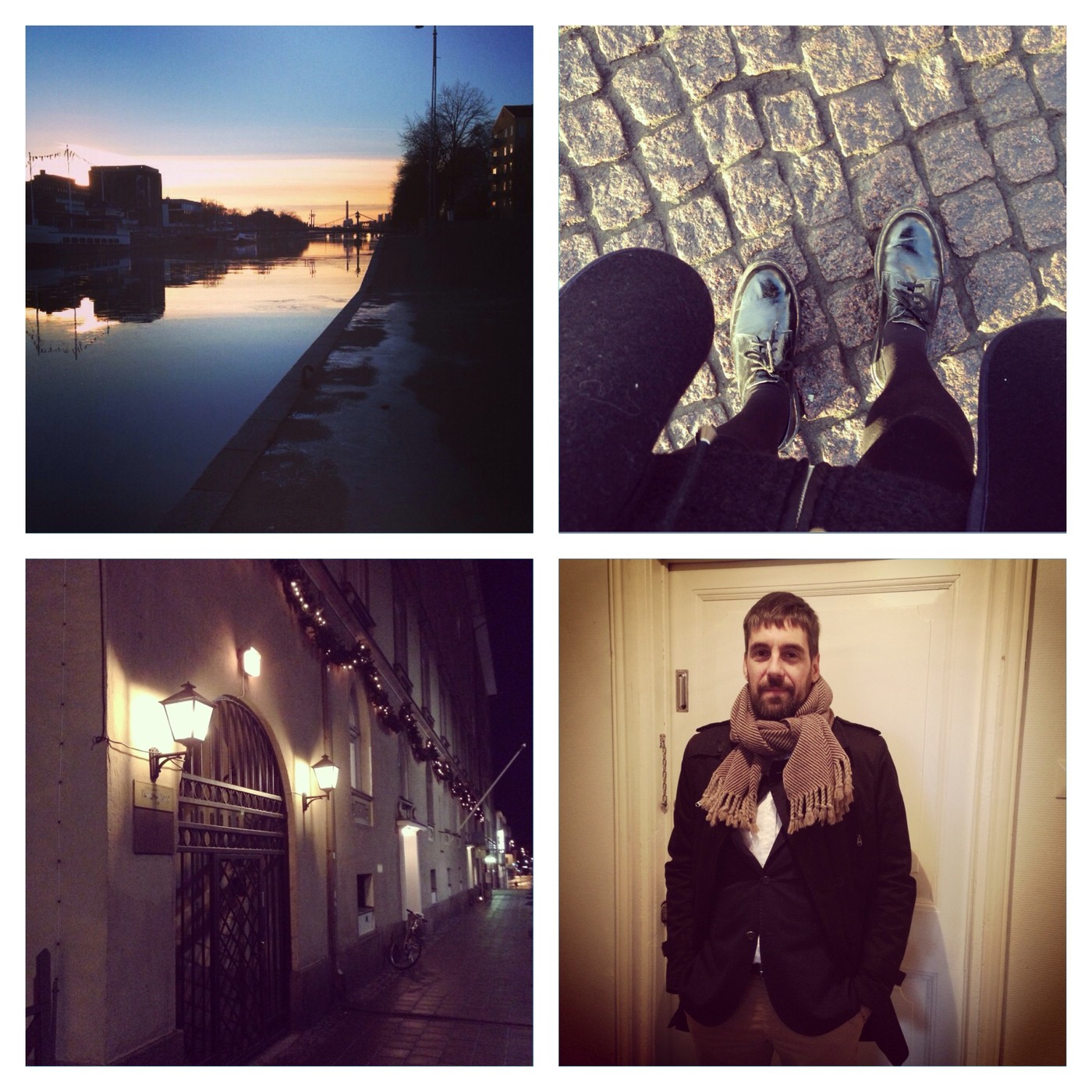 A week ago, I took the train to Helsinki, where I attended the Media Education Seminar by Finnish Society on Media Education held in Kiasma. I was eager to go, due to my general interest on the subject, but also because my thesis is related to the topic and I am in need of contacts and possible collaborators (which I found plenty there!). My thesis is an ambitious project, but I perceive the media education as the most important part of school teaching across all subjects, and therefore am willing to go to great lengths getting it viral.
Some of you might think now: why media education? We face a chaotic stream of photos every single moment of our lives, but do we have any tools to interpret them? I perceive that a majority of us take visual culture for granted and pay no attention to the way images reform our reality and how we become a continuation of those views, ideologies etc. Many of us are aware of the advertisement photos, atleast some of the time, but advertisement is a very small percentage of the visual data, we gaze upon every day. For example, newspaper footage is often perceived as a representation of some universal truth, or at least as unbiased and objective documentation, which is a load of bull. I think that there is not a single visual entity (photo, video, art, etc.) that would not in some way serve its maker's ideologies (do not take this use of the word ideologies in a narrow-minded way – I use it here to indicate an intent, a purpose, some underlying system of thinking). Of course, I do not perceive the viewer as passive but instead as an active participator, who enters into a dialogue with the visual image and produces meanings and is in constant process of (re-)forming his/hers reality – and it is just beacuse of this that I think media education to be so vital to all of us, because the active viewer constructing his/her multiple identities needs a set of tools to be able to interpret the ways images are making us want to buy/fear/consume/become/love/adore/hate/eat/kiss/be many diferent things.
Well, back to my photos, so I arrived again to a very unwinterish landscape and enjoyed myself like a tourist traipsing around in my spring shoes. The sun set later than up North (maybe half an hour later, but for me it made really a difference now that the sun light has become scarce) and made a really idyllic scenery with the sun going down in the far end of the river. And when I walked home, I noticed that the janitor had put the christmas lights and decorations on the building facade and they looked so beautiful and nicely enhanced the already beautiful appearance of our house (our building is from the 20's, when architects designed houses, and not engineers from construction companies: NCC, Hartela, etc.).
The last photo in the first collage is of my esposo-Gon, waiting me to finish my outfit, so we could get going to the baptism of my little sister's son. I am not going to tell yet any more details, I am saving them for a future post – good shit coming!  I will just give you this: oh my, it was the first time that I went inside the Naantali church and it was really worthwhile going. Just amazing (I am a sucker for church architecture and especially medieval stuff)! I think Saint-Bridget/Birgitta also adds a lot to my affection towards the church – when working in Aboa Vetus & Ars Nova museum, I really got fed up with the patriarchaic medieval society and therefore welcome all the stories of the female power figure – Saint-Bridget/Birgitta.
And yes, I am planning on borrowing Gon's new scarf that he bought in Selected Homme. Like for an eternity.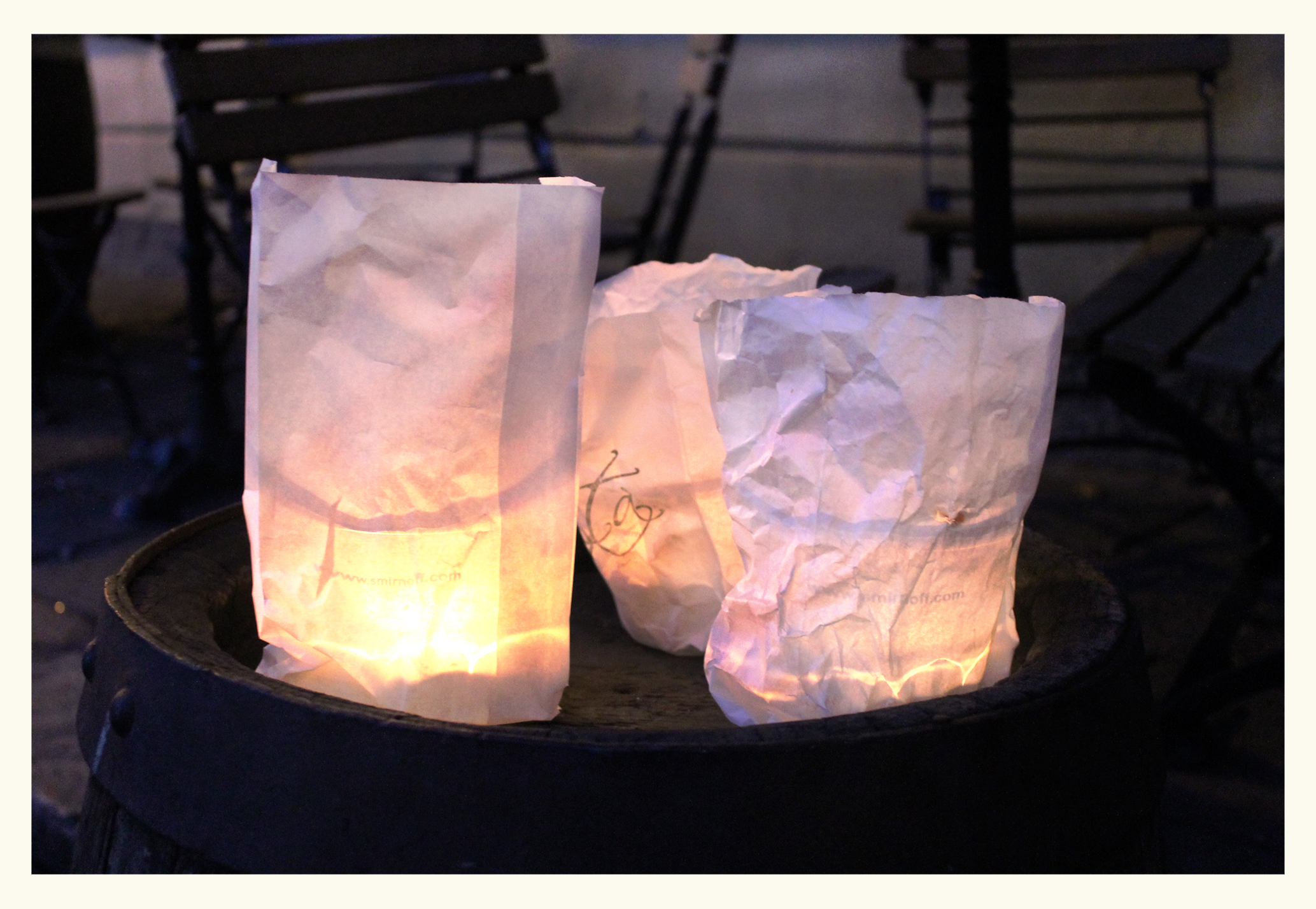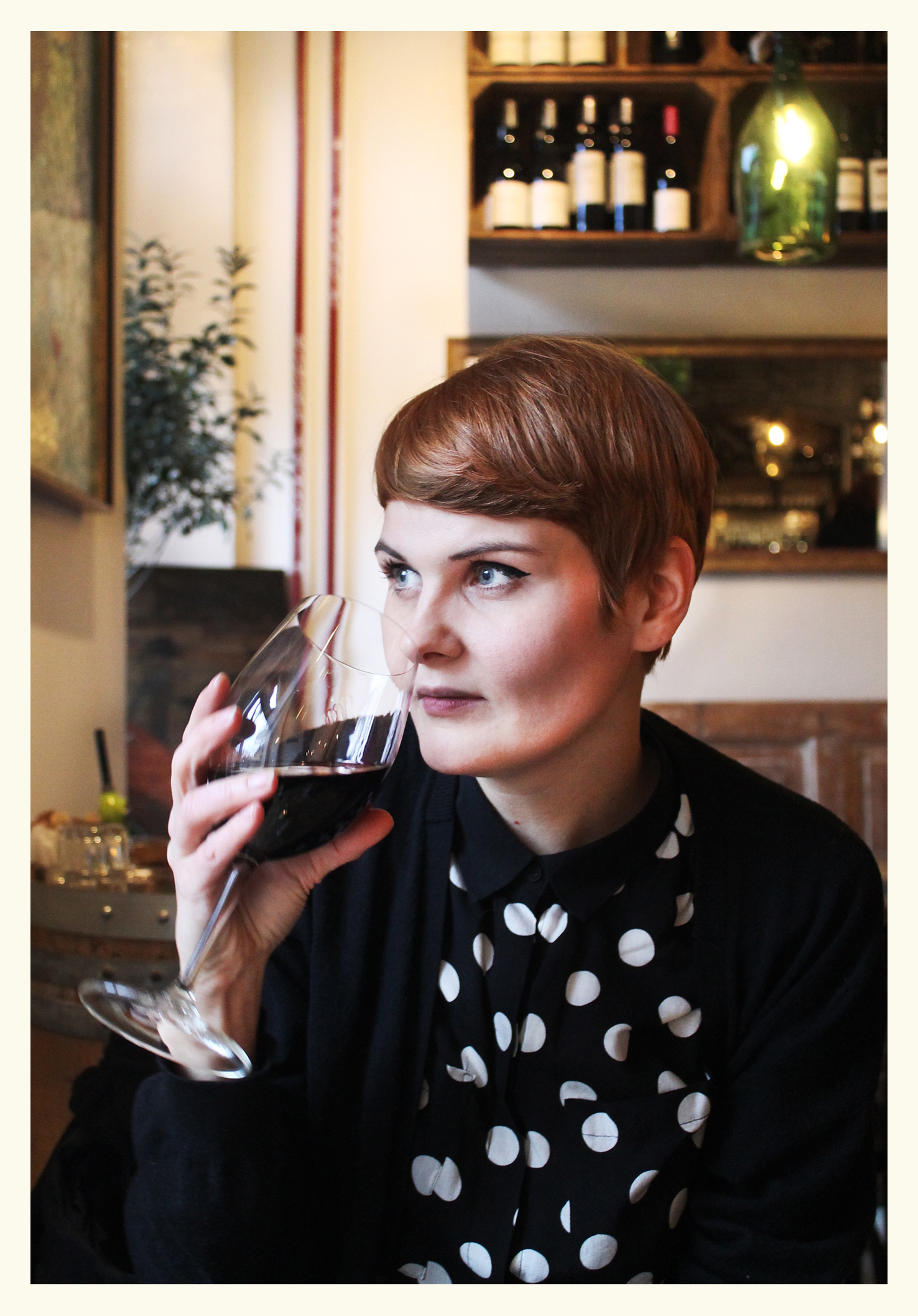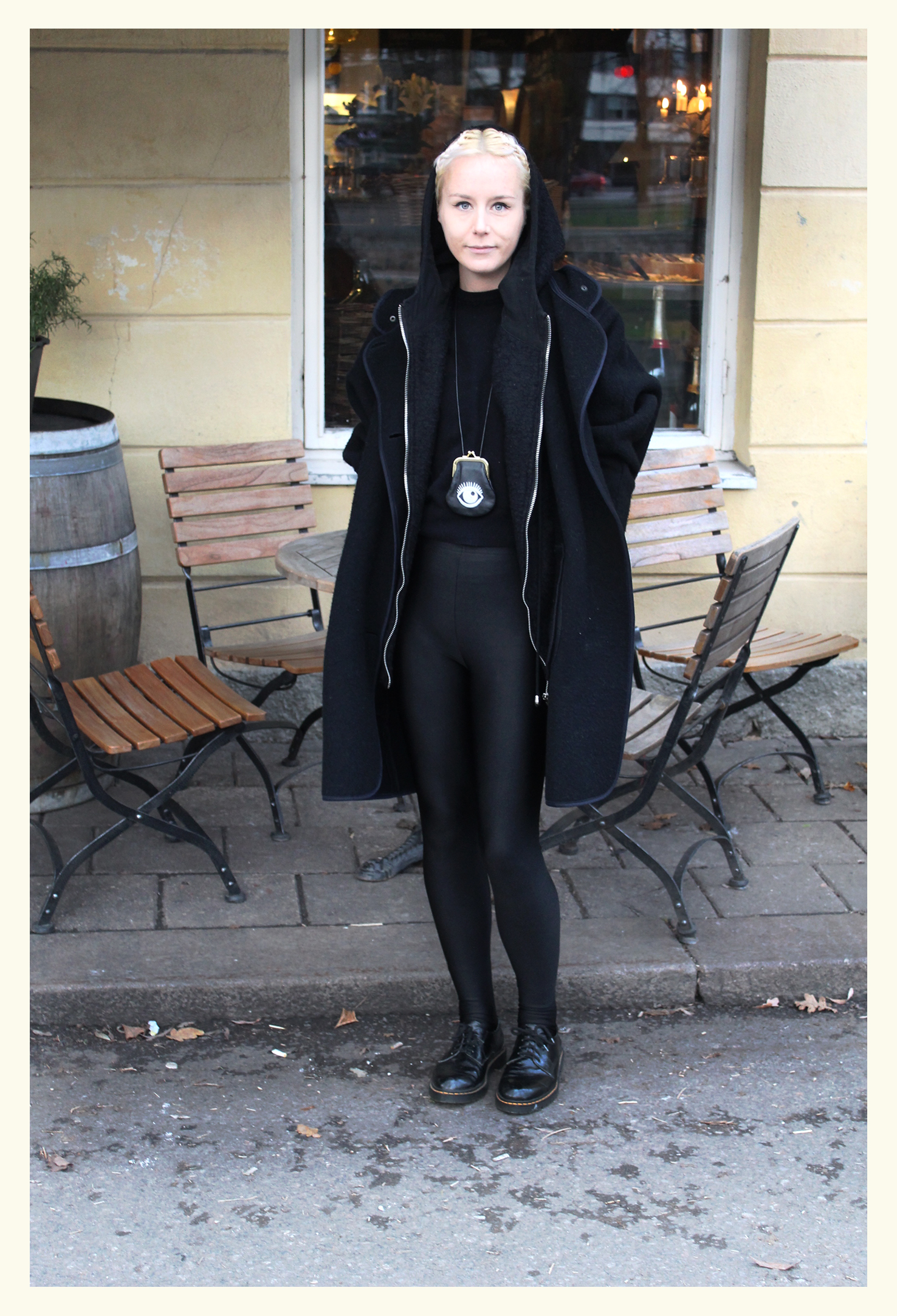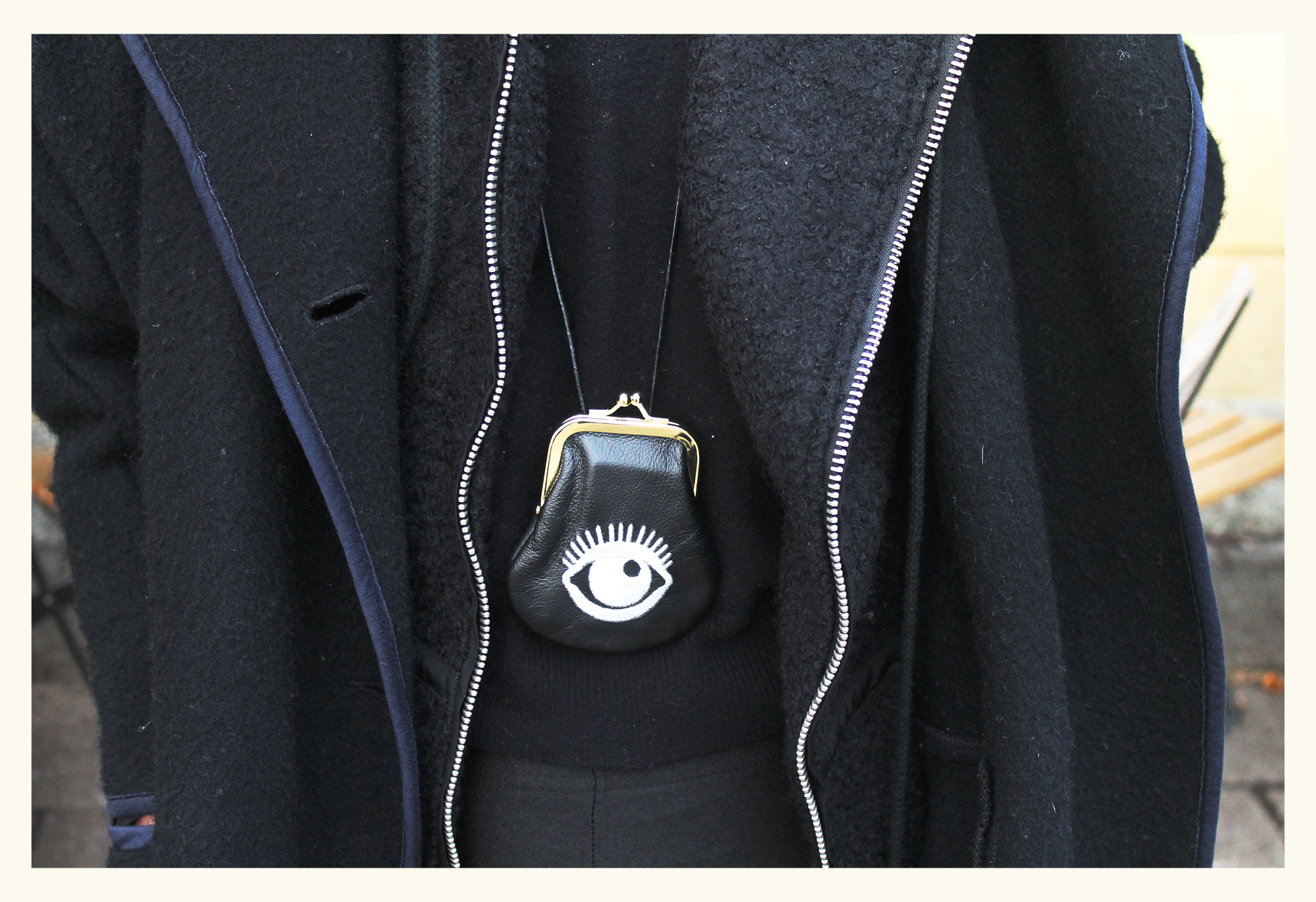 On Thursday, I had a bit of a meltdown, due to the anxiety I get when having to balance working on my university stuff (thesis, essays, raports – did I tell you that I am doing double amount of credit points this semester?) and meeting all my dearest during a couple of day's stay in the South. Well, I met Eliisa on Thursday after realizing that I just need to see my friends, no matter what the thesis and other files scream from the desktop of my laptop. We decided to have wine instead of coffee, and we had a great time and it was just the thing that I needed. I took the photos of beautiful Eliisa sipping her red wine and she returned the favor taking some outfit photos of me. The awesome Third Eye coin purse is from this great designer that I came by with in September, on one of my aimless wanderings online, and immediately knew that I was in a need of some extra eyesight. 
And The last photocollage is because we have this tradition with my esposo that before every Christmas, both of us get to choose two (or sometimes more) X-mas tree decorations from Stockmann's selection – the more corny and extravagant, the better. This year Gon chose the owl, seen in the first photo and I went with a piece of cake inside a glass container. How do you like 'em?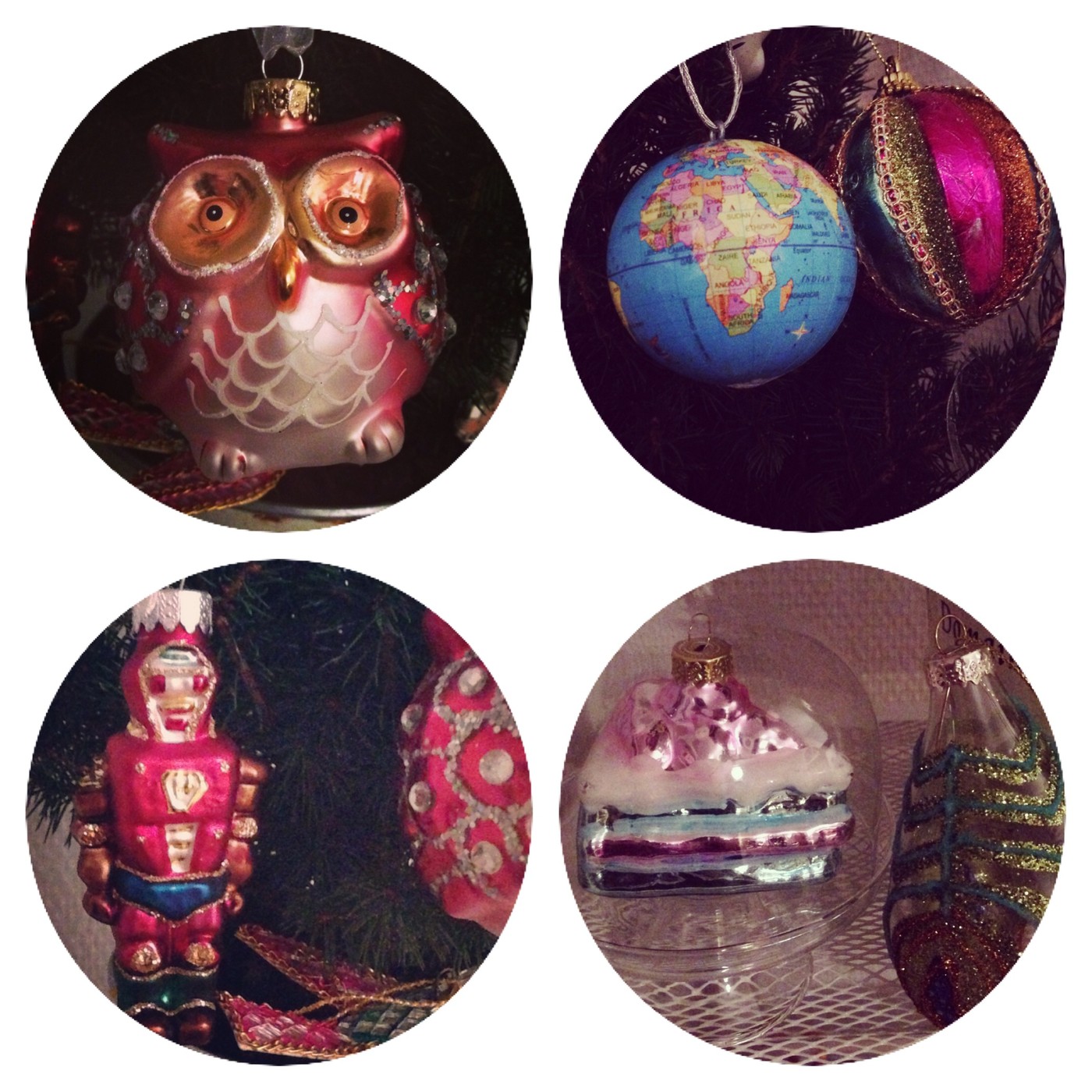 Music: A$AP Rocky – Wild For The Night
Agnes Obel – Falling, Catching