Pinkit housut kolmekymppisenä / Wear pink in your 30's, okay?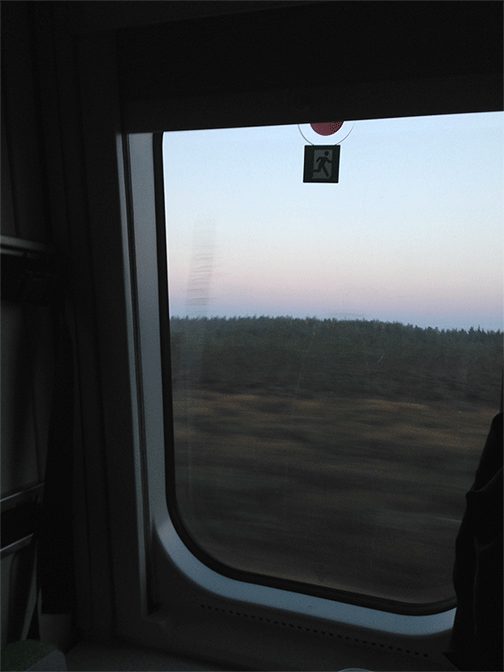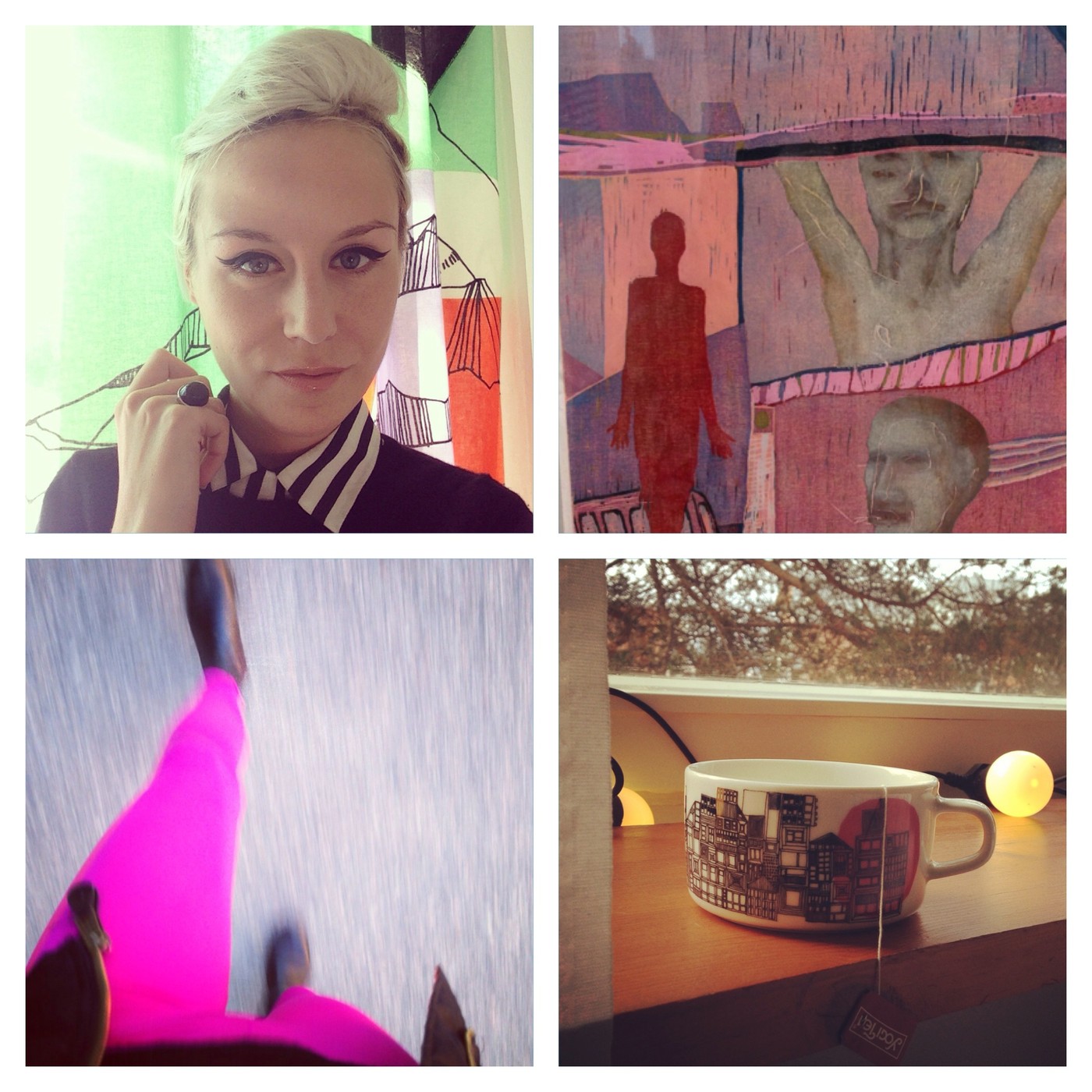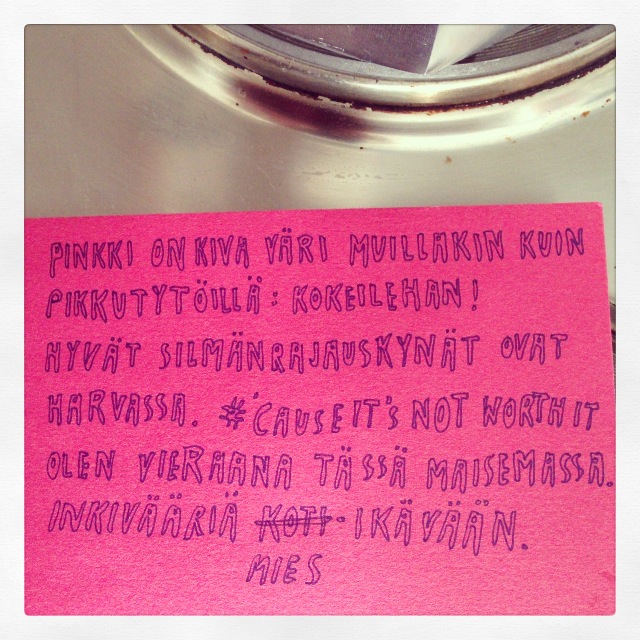 The geographical distance between Rovaniemi and Turku escapes my mind easily due to the fact that I travel always by night train. I leave from Turku and poof: wake up in Rovaniemi. The only indicator that I have traveled 700 kilometers is the change of scenery in the mornings that I see from the window. The landscape just looks different. The strong presence of nature is really evident here and a southern girl has to every once in a while stop and take snapshots of the surrounding imagery. I have also noticed that the way of dressing here is based, first and foremost, on practicality – one can go hiking on a Sunday morning and then attend a restaurant brunch in the same outfit without sticking out. This has rubbed on me and I have lately been on a look out for wool sweaters and good quality outwear that looks smart as well. 
The thing with the pink started maybe a month ago, when my friend, Marja, was wearing these extravagant feather earrings when we met. I admired them on her, knowing they would not suit me at all. After that I fell in love with this woodcut by Tuukka Peltonen, called the Morning (1999), presented at Korundi, somehow I got stuck with the pink. I bought three pink pencils that I started using in the drawing class (you can also see them being used in the illustrations here in my posts) and almost anything pink caught my eye. One morning this week, when I was dressing up, I noticed my pink running thights that I had not yet used: and I put them on. To my photography class. I think several local people took a glance or two when I passed them by at eight in the morning in my neon pink pants, which made me think why is it so normative to put pink pants on a girl around the age of 0-10 but after that it is something so very out of the ordinary (apparently), not to even mention males wearing pink pants. And it was so interesting to encounter different reactions to the pants starting from a man openly gaping at them and me in the traffic lights, to a woman from my class who looked at me when I entered the photography class and smiled wide: "really outstanding pants.". Have you ever given a thought to the fact that we perceive us to be free and without restriction but anything out of the normative is easily suppressed by the majority with their disapproval – and these were only pink pants, think of all the other stuff.
I like to play with roles and identities, so for me make-up and dressing is a game that offers me innumerous options to try on a daily basis. I like to wear showy eye make-up and I love a good eyeliner. Unfortunately, I have made a couple of mistakes with two recent purchases and now I would like to share them with you: the L'Oréal Superliner Blackbuster and Rimmel Scandaleyes Thick & Thin Eyeliner. I had hesitations when purchasing them but I played a bit with the testers and all seemed okay – but boy, was I mistaken. Almost immediately after I started using them both, I noticed that you cannot really do the eyeline in a normal position beacuse the tip of the pen dries when kept in a horizontal position, which forces the user to shake the pen and put it in a diagonal position, so the liquid would reach the tip. And I think it is pointless to say that stopping in the middle of your eye lining process does not equal in an outcome most desired: something that is infuriating to me. So now I have returned to my beloved dip-in-eyeliner and I am happy again – although I feel like returning these two pens to their respected manufacturers and asking for a refund. 
Oh, to share you the most wonderful herbal tea that has become my morning and evening indulgence: the Yogi 's Stomach Ease that has Fennel Seeds and Licorice, Cardamom, Coriander and Ginger: the aroma and the flavors are beyond words. I bought mine from Ruohonjuuri and I have seen them in Punnitse and Säästä as well. As a well-known friend of ginger, I have found a product by The Ginder People that is just made for me: Hot Coffee Chewey Ginger Candy, where they have combined the consistency of fudge to a subtle flavor of coffee and dominant flavor of ginger. I did not stack my storages last time when I was in Turku and now I feel like crying for not having them. I might as well have a cup of tea.
And this Sunday's music gives you the proper attitude: no slouching, goodybye passivity! :A$AP Rocky – Wild For The Night
Well, okay, you can also take it easy: Buena Vista Social Club – Chan Chan