Review: Mamason's Dirty Ice Cream London
Purple Yam Called Ube – That's What Makes This Filipino Café's Treats Bright Purple!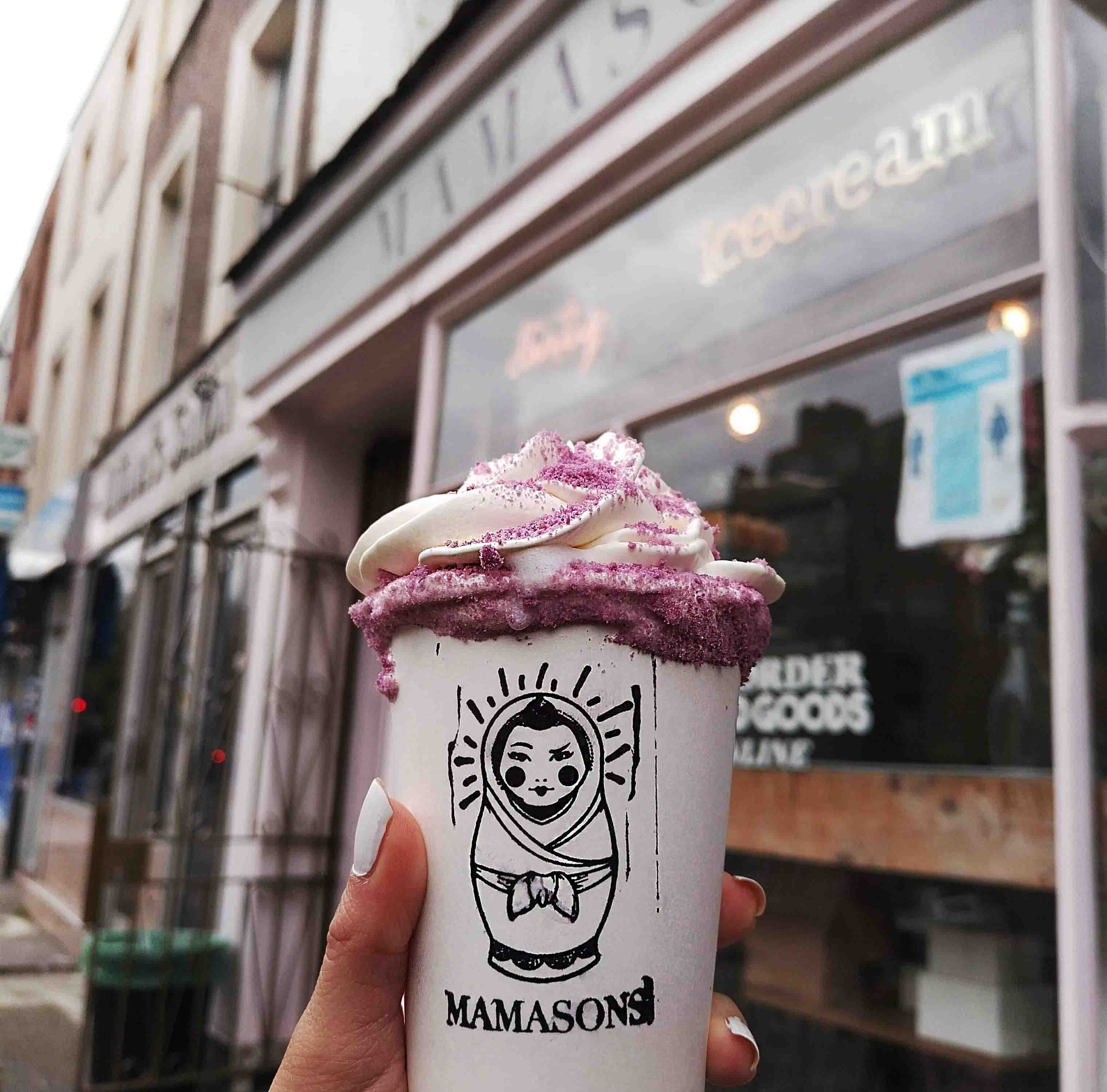 There's not much going on in London as it's been a year since our first national lockdown. Luckily, coffee shops and some restaurants are still open for takeaway. After seeing countless posts of these cute purple creations across Instagram, I decided to order and collect some Easter treats from Mamason's Dirty Ice-Cream shop in Kentish Town, London.
This Filipino ice-cream shop and bakery specialises in traditional flavours flavoured ice-cream, drinks and pastries. Ube  – a purple yam originating in the Philipines is the shining-star ingredient behind the purple colour across their products.
'Ube halaya' is a delicious variety of yams that apparently hold many health benefits including nutrients such as potassium, antioxidants and may even reduce symptoms of asthma. I'm sold!
Filipino cuisine is very intriguing as it's a refreshing fusion of many influences and cultures. There's evident Spanish influence and of course an abundance of tropical fruits.
Find out with me if this purple vegetable in pastries is here to stay, worth the hype or just another macro-trend to disappear from our feeds in 6 months.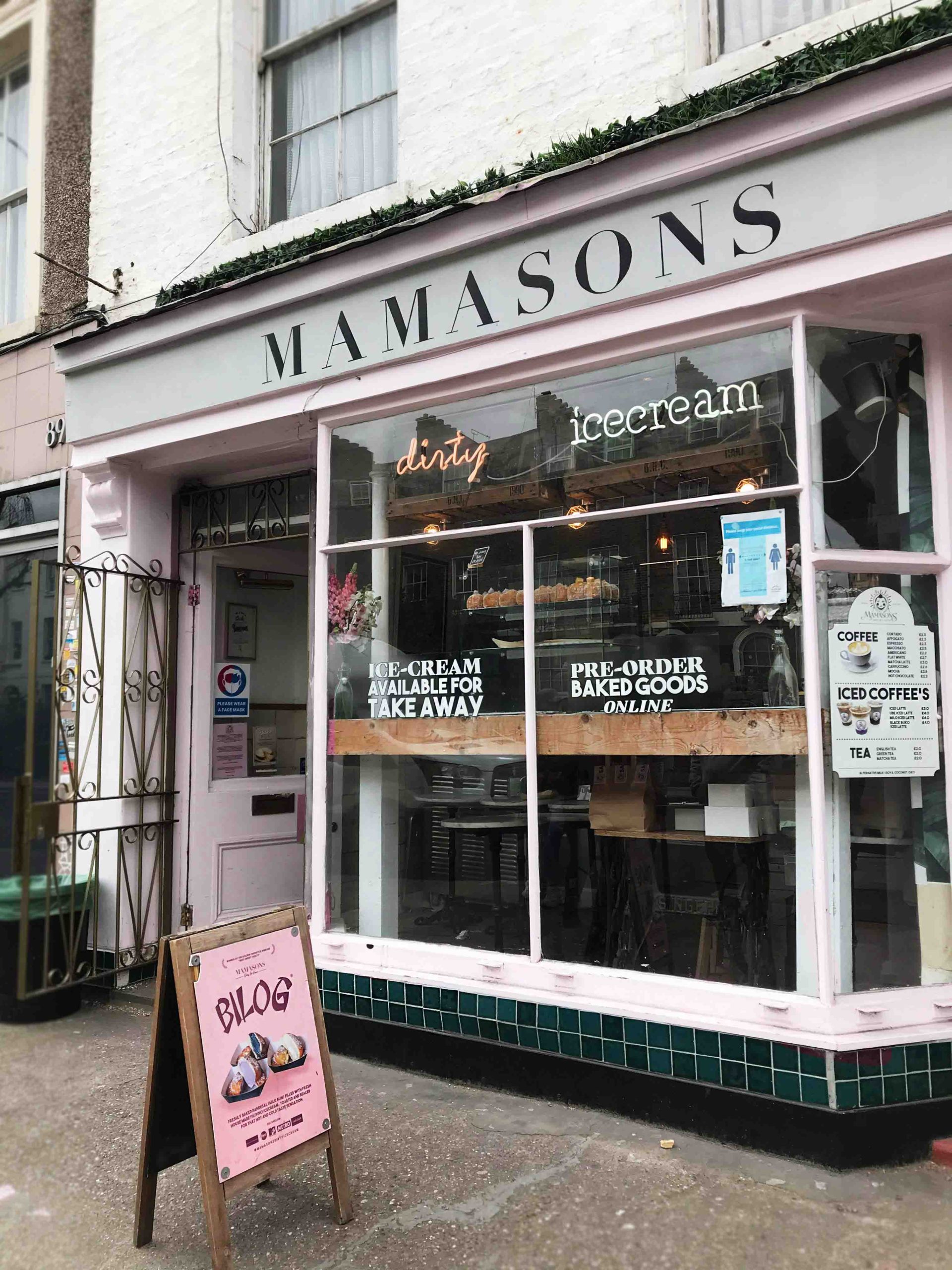 The cafe was in a smaller street just off the busy roads of Camden Town.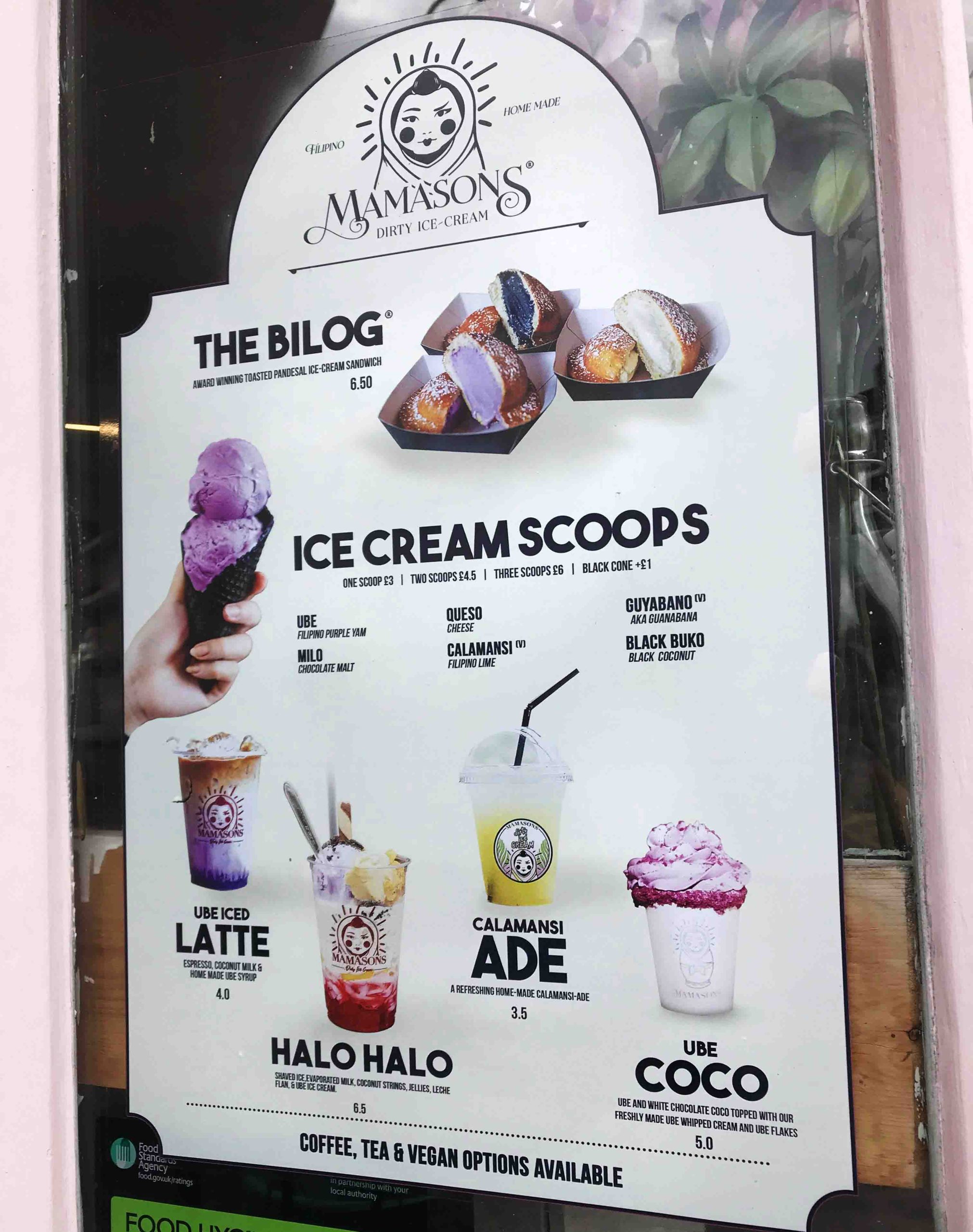 Bilog is the traditional ice-cream sandwich. Flavours range from ube, black coconut, calamasi aka Filipino lime, Soursop (some tropical fruit IDK) and queso (fermented cheese).  Not the usual flavours!
They also have the iced layered latte with ube in the bottom and of course a 'hot ube coco'.
Their biggest star of the show, the traditional Halo-halo which directly translates into mixure, which di Their take on the classic Asian shaved ice dessert with layeres of fruit, syrup and ice cream. The origin of this dessert is believed to be traced back from pre-war Japaese Filipinos, which gained popularity in the 1920s and 30s. I'm guessing it's a more rustic and tropical version of the Japanese Kakigōri dessert. Can't say until I've tried!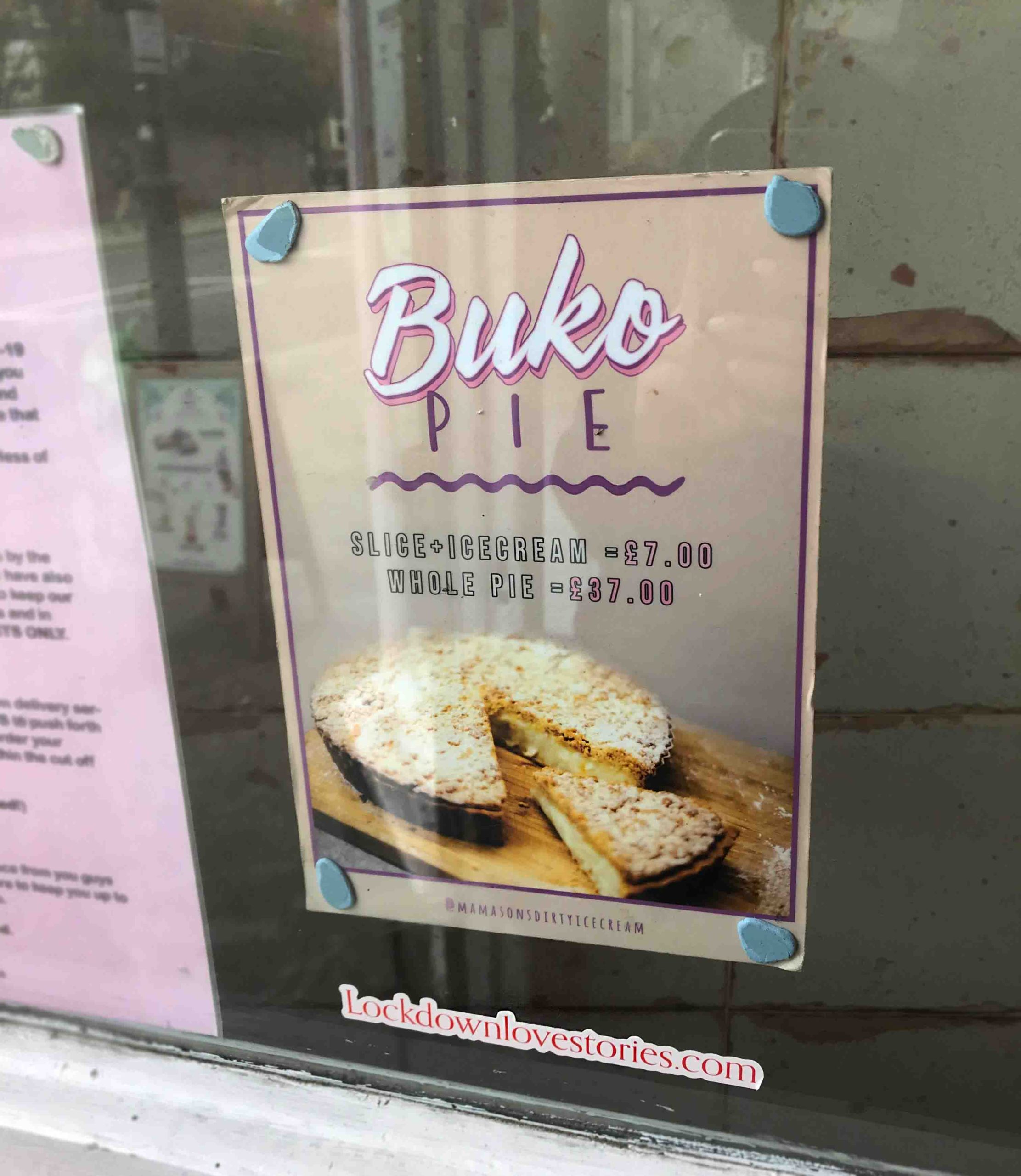 I decided to go straight for the signature drinks and order the purple brownies, some ube ice-cream and some 'buko' aka coconut pie. Loving the branding and their signs.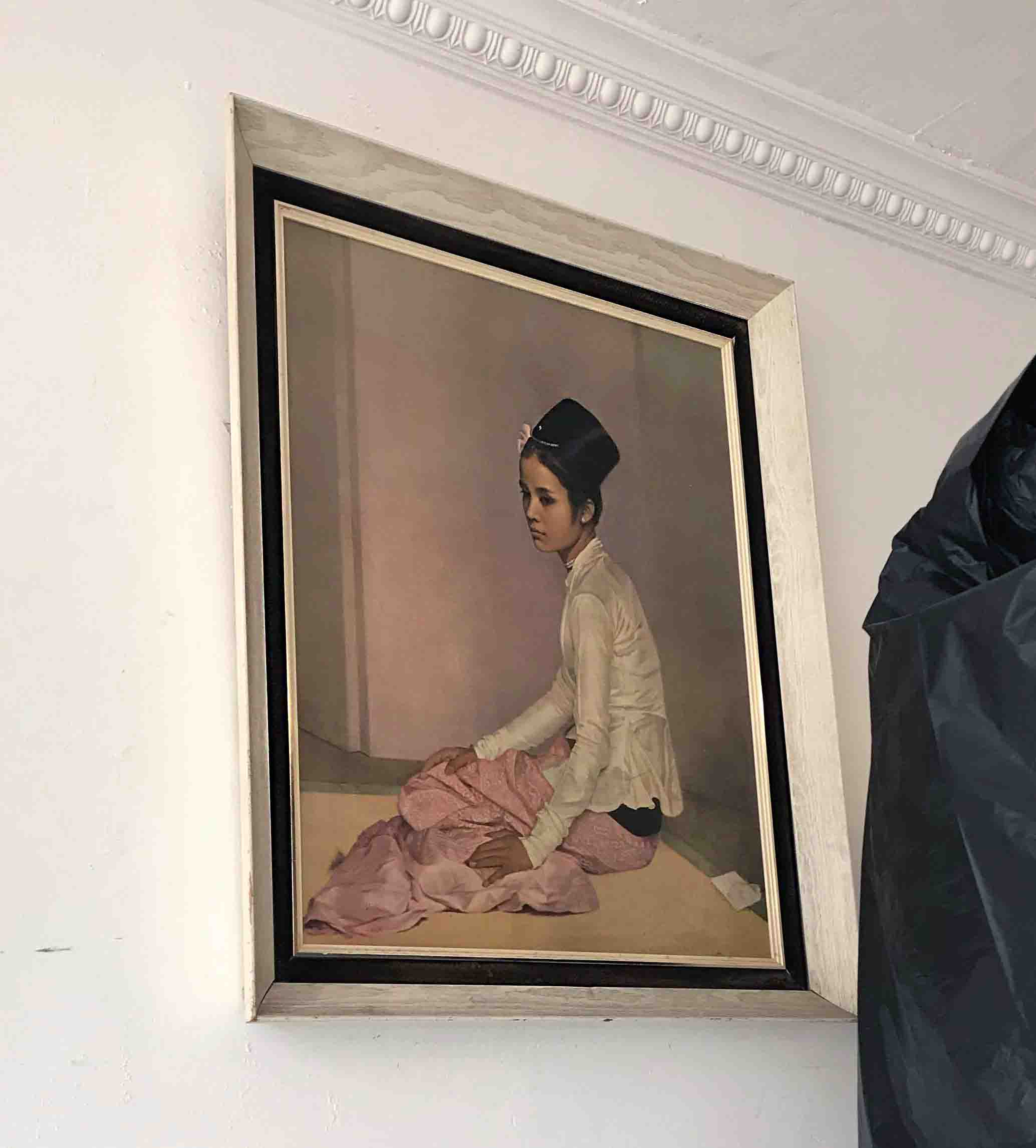 Especially in a time where identity politics and race relations is a prevalent topic in media, it's very heartwarming to see a business that embraces its' heritage proudly. It's small touches like this which makes the experience of visiting a 'national food' venue memorable.
So.. What did I order?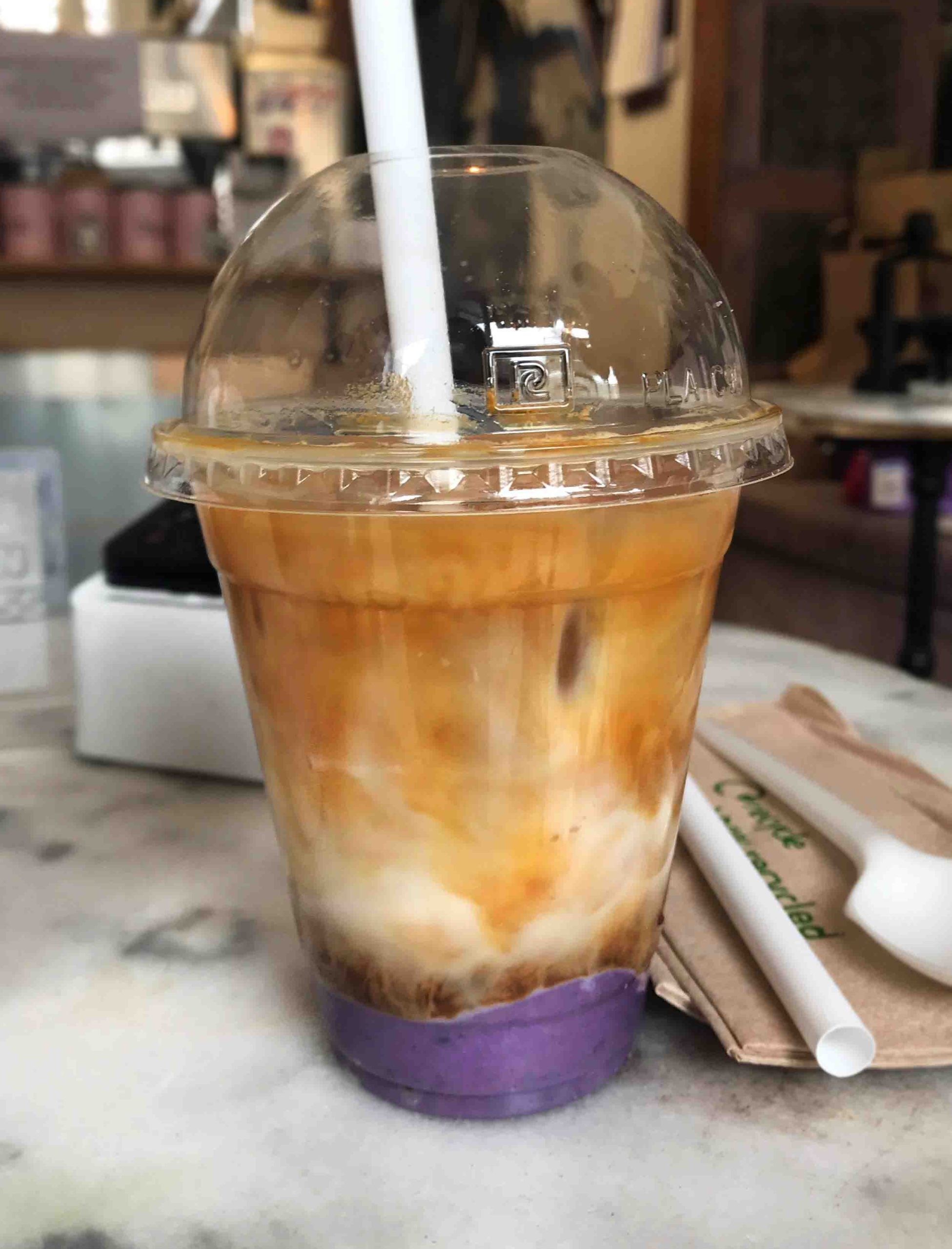 Kape Kulay – The layered iced coffee with espresso, condensed milk and ube syrup.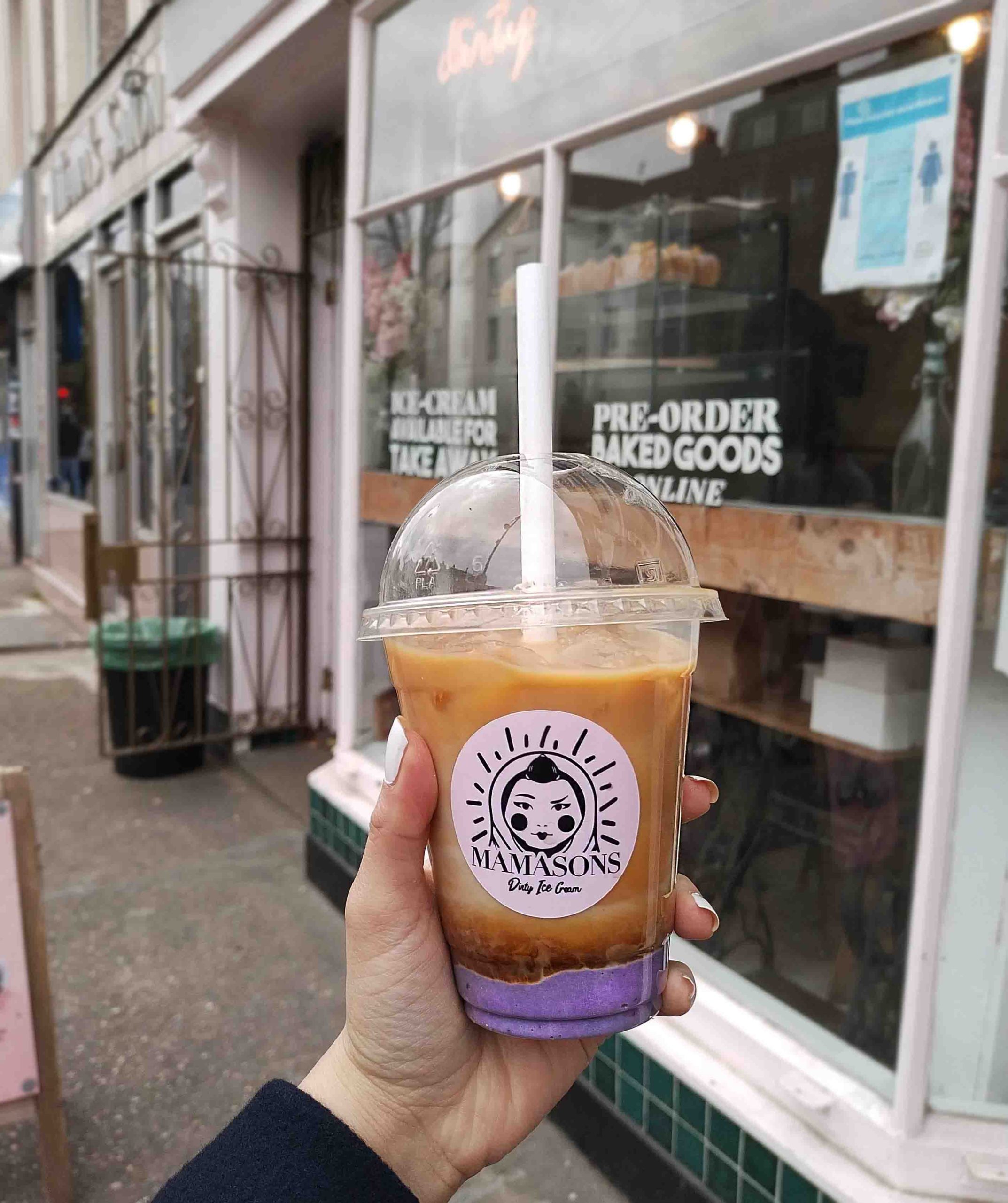 This refreshing and insta-worthy layered iced coffee was nice. A great rival for the iced matcha latte, no doubt. If you're not a sweet-tooth but love to test exciting coffee vecerages then this is the best option for you. The syrup in the bottom had a very peculiar yam or sweet potatoish flavour. Perfect as a warm spring day pick-me-up.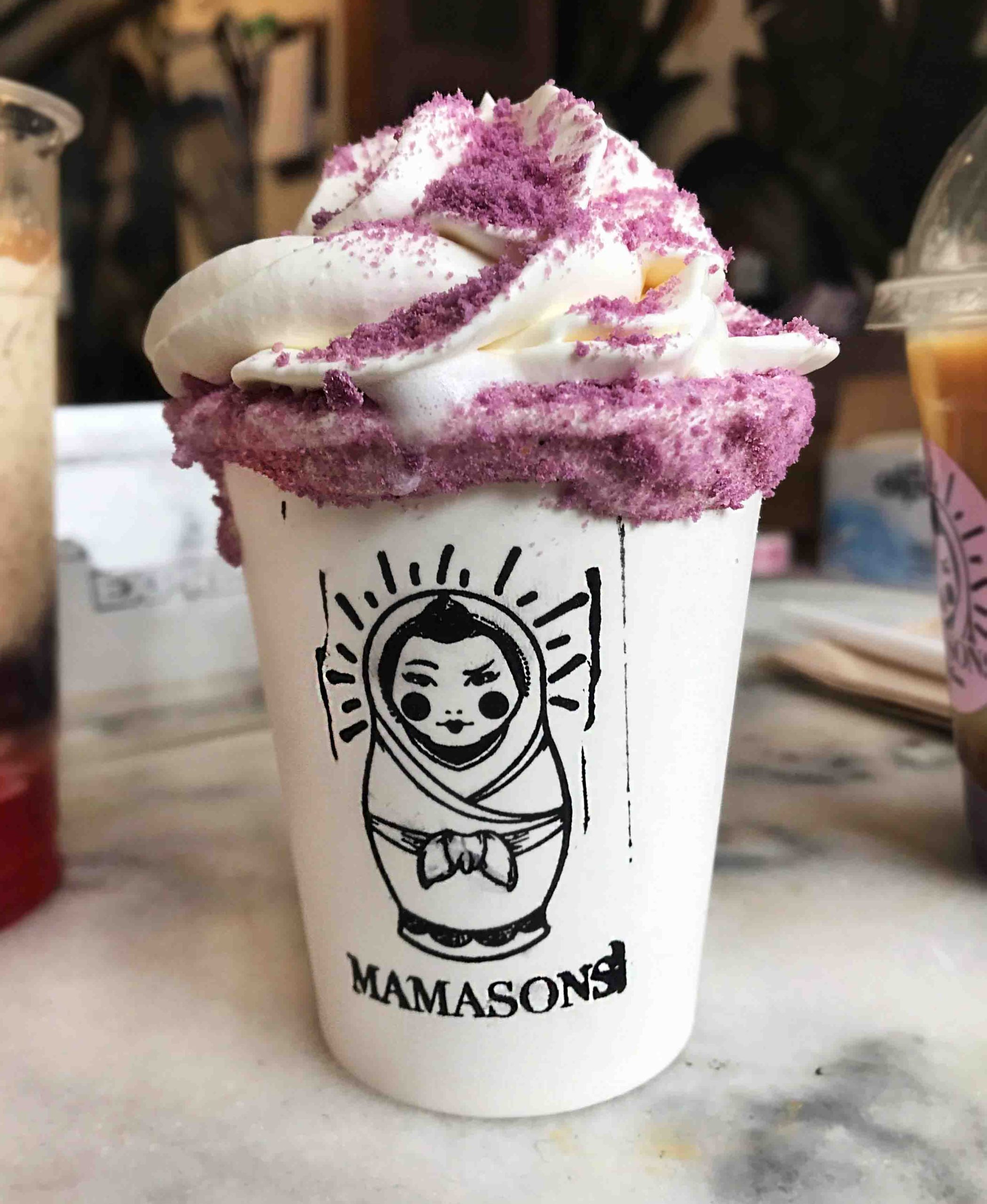 Ube Coco – Hot ube beverage with warm milk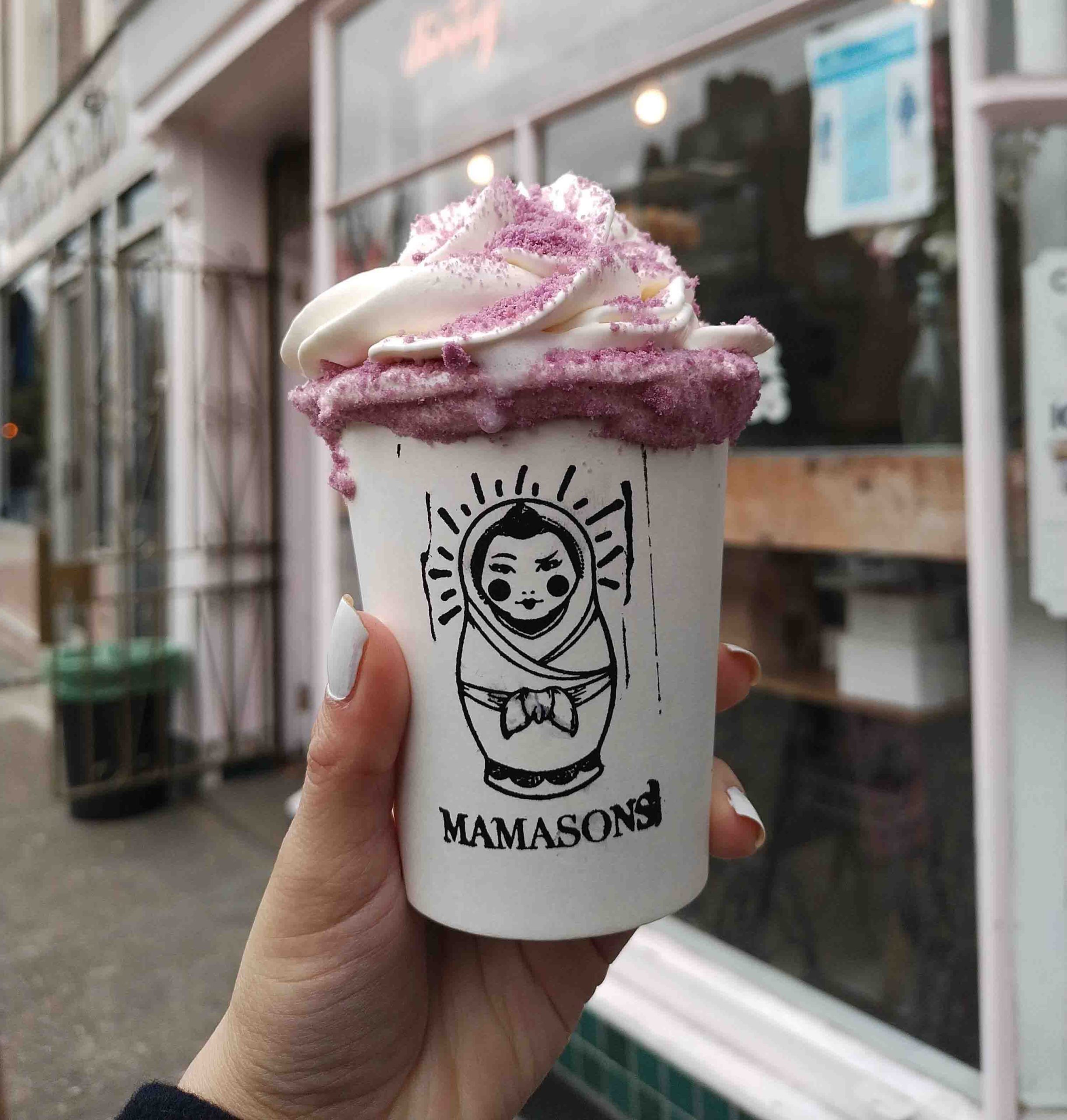 I'm a sucker for hot cocoa or warm matcha latte, so I obviously had to try this. It was nice, had a very milk ube flavour and lots of whipped cream. It was a cold day so I thought this is a good remedy for a brain freeze from the other things I ordered. I think I'll pass on this one and stick to my matcha lattes.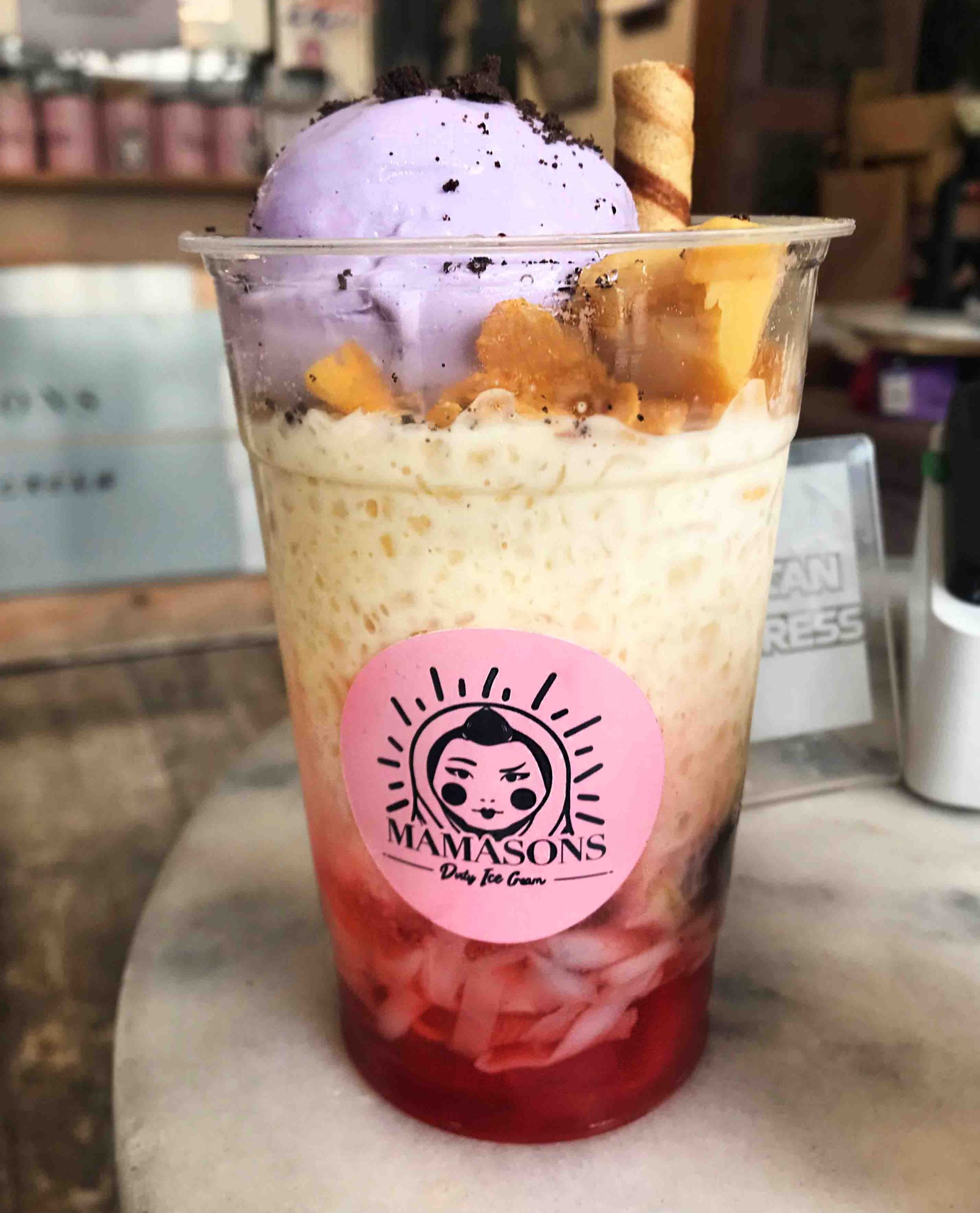 Halo Halo – Mixed and layered shaved ice dessert with fruit, coconut, condensed milk, syrup, ube ice-cream, corn flakes and sweet red bean paste.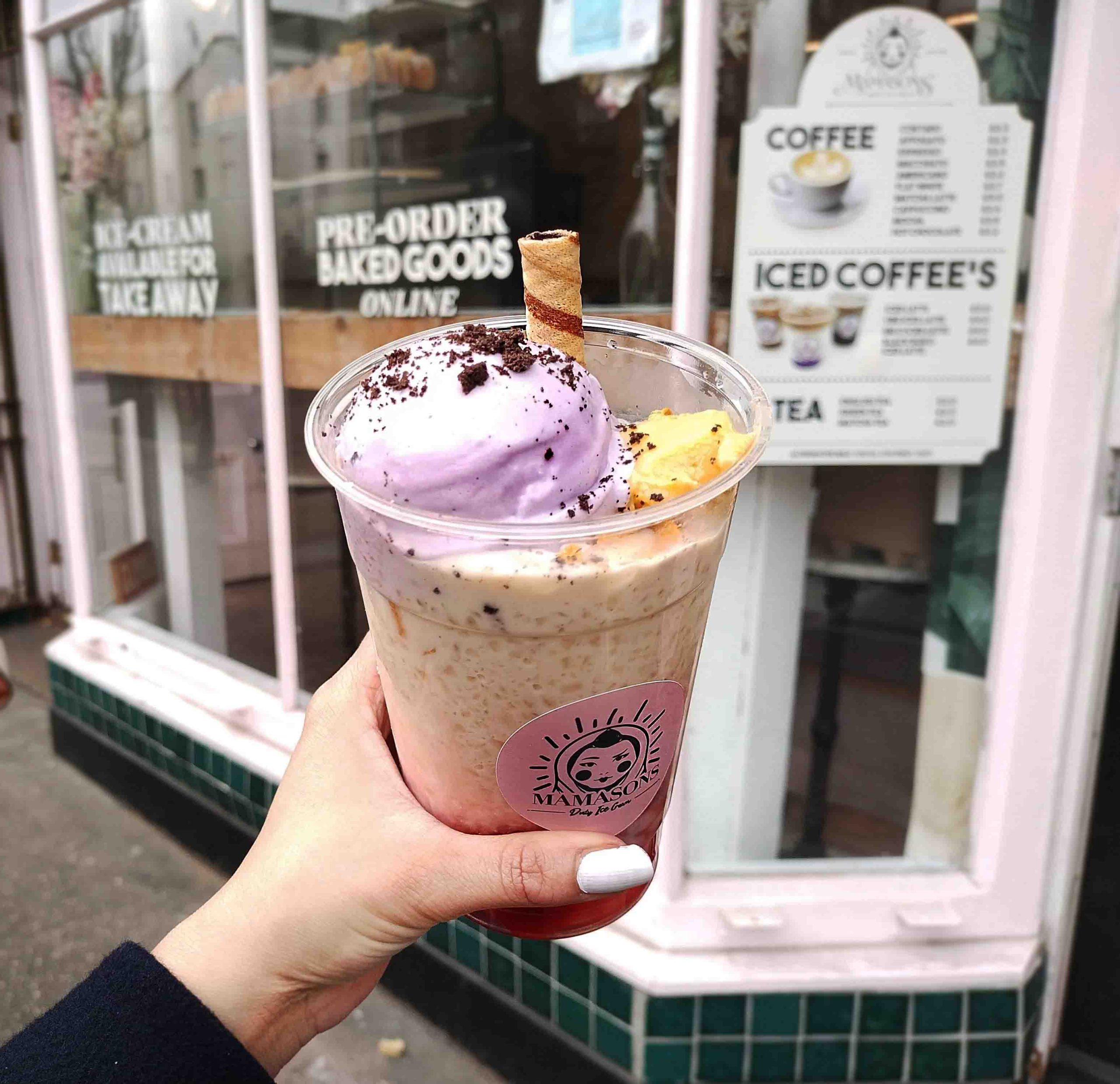 It's very refreshig. If you're a lover of coconut and tropical fruits, this is for you! For the average westerner, this combo of red beans, ice, syrup, cornflakes and fruits mixed together can be a bit 'foreign'. It's the perfect drink-dessert after a spicy lunch on a hot summer day.
I loved how all these flavours and textures all came together and perconally, I'm even more of a fan of this than the other traditional shaved ice desserts across Asia. My bias might be tied to the fact that I love tropical fruits.
It's deffinately a more decadent version to the Vietnamese Che-Thai dessert drink.
I highly recommend this if you're a fan of coconut, ice-cream beverages or enjoy trying new things.
I'll be back for more by July for sure!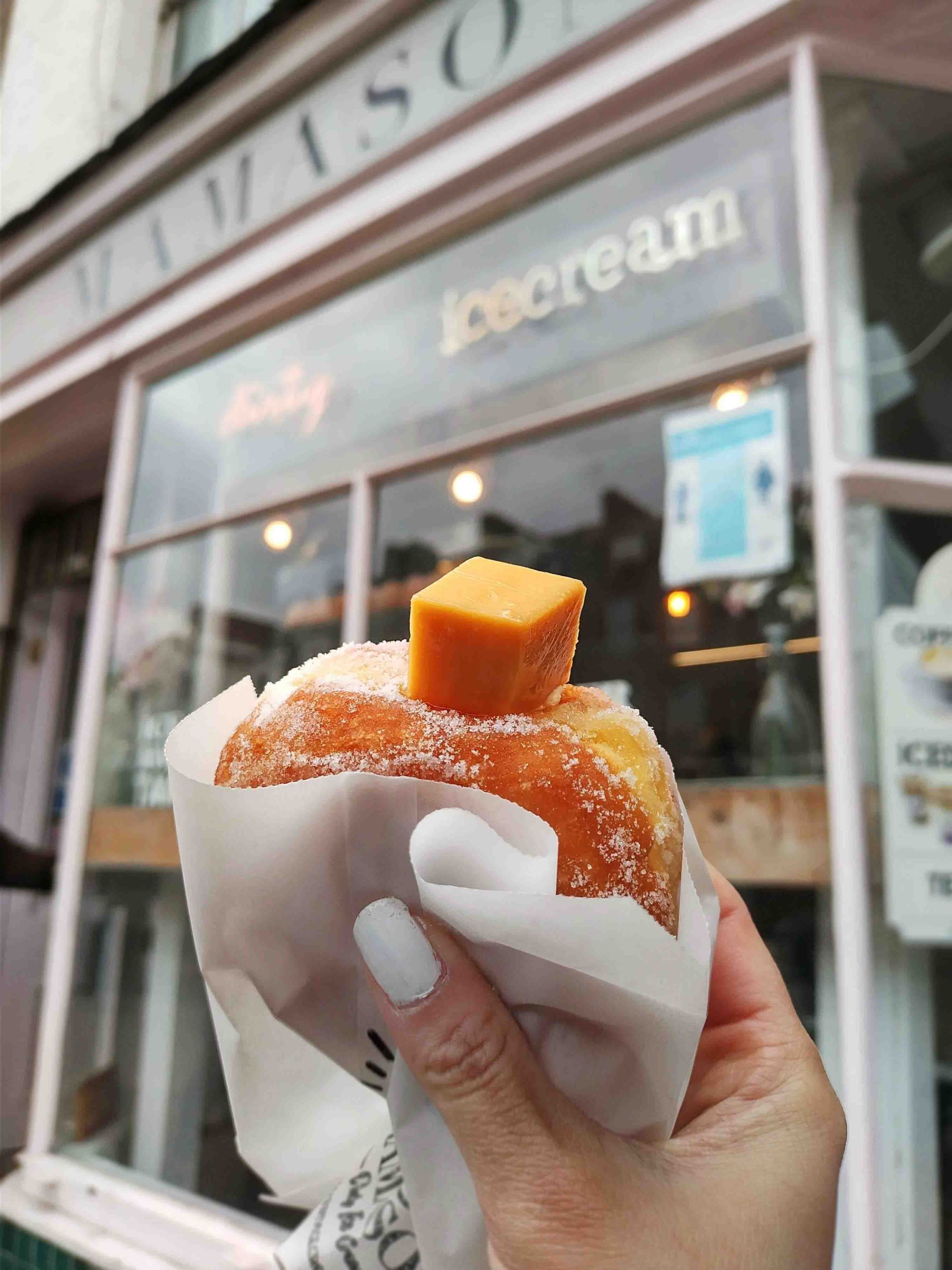 The last lover of this trip was the leche flan flavoured doughnut. Leche flan aka caramel custard flavoured doughnut with a nice soft and creamy filling, topped with a flan cube was a great way to finish off my trip to the Mamason's Dirty Ice-cream shop in Kentish Town. Have you been to Mamasons shop? There's also one in China Town, Central London.
Stay tuned for part two, with the ube ice-cream, purple ube brownies and of course that enticing buko pie!
More about this kitsch-like contemporary ice-cream and sweets ship on their website here.
Address: 91 Kentish Town Rd, London NW1 8NY
Lots of love and stay safe,