The age of 25. It's that age that you're already an adult, you act like an adult, you think (quite often) like an adult, but you don't really want to be one. Or do I? 
Actually, I'm kind of relieved that I'm closer to thirties than twenties. Every year I find myself stronger and more reasonable what comes to living and realizing life itself. But how could I be an adult without becoming a boring adult? That's the thing – I'am and want to be an adult, but don't want to be a boring one. That's not me, never has been. 
​I want to be a child forever, and ever.
I've always got the chance to be myself. Act like I want to, dress just like I want to, hang out who ever I want to – what so ever. No one, my family or friends ever judge(d) me. Never. "Like a horse running wild and free on the meadow" – that would descripe my life back then and also now. I'm a free spirit and I'm hard to catch. But yes, ofcourse, there was a few boundaries in my childhood which I had to obey, but 'cause I was a "good" girl I never did anything so "stupid". Reasonable living, they say.
I found it as a richness – the chance to be yourself and learn mistakes yourself if you did/do some. Because you only learn by doing mistakes.
Everyone doesn't have the opportunity to be himself/herself.

Before I started school – all the way to the age of six, I hanged out with boys only. I did "boys stuff", or what it's boys stuff nowadays? Maybe there's non. Anyways – playing with cars, building tents, football and other ball games was part of me. And yes, sometimes I did something really stupid with the boys like throw a rock over moving car but that's other story that. "Two wild mind come together".., the end of story. 
First it was quite weird to hang out with girls, do "the girls stuff", but I really was lucky to meet some amazing girls when we moved to another city the age of six. These girls was my neighbours – there was plenty lovely girl living in my neigbour. I was so blessed when we met. Just on that day when you came to our door to ask me out with you – my childhood got the gold rims, or how can I say – maybe that's the right meaning of that. I remember how shy I was, I was hiding behind my mother and lurking there. But thank God I met you. My childhood was so safety and full of love and joy 'cause of you. Thank you for taking me as one of you.
That's why I've never felt lonely. You were always there.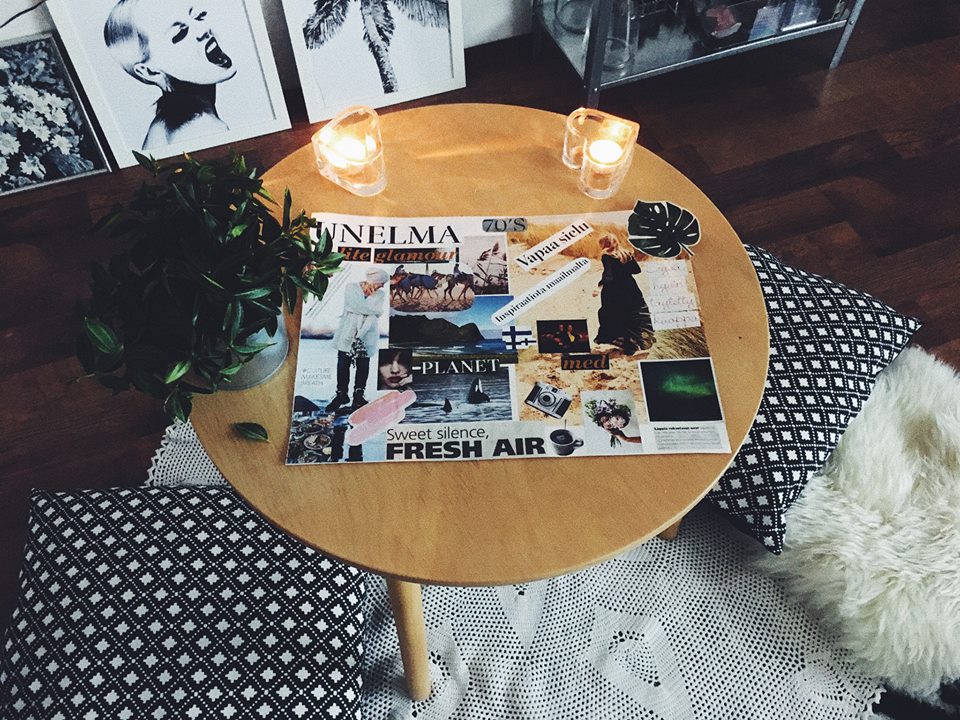 And now, back in this day – what kind of life I want to live? In what kind of life I want to live? 
Me and my friend did a map on my birthday night, we both did our own. I, by the way, love to do maps and all kind of lists about things! Two scissors, lots of magazines, a glue and cardboard – that's only what you need to create a map which shows a way to your inner world. And time, you need time. And maybe a hint of creativity, too. 
And here it is, my dream world, 'cause "every dream girl should live in a dream world":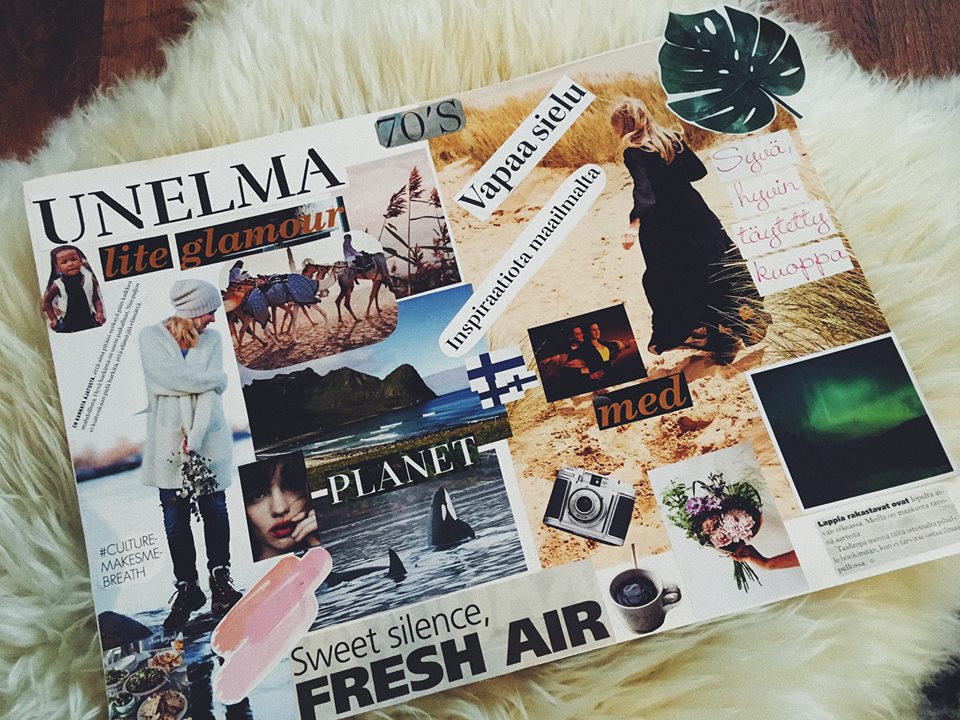 • Free wandering soul, and inspiration all over the world when you travel and familiarize yourself with the new culture
• Deep hole which is fulled with all goodness – I mean by this that my life is that hole and I want to full that hole with memorable experiences, 'cause experiences makes me rich, not money
• 70's – 'cause hey, so much inspiration from that decade
• Planet – important to all of us, our planet are amazing if you haven't figured out it yet
• Sweet silence and fresh air – my place-to-be and that kind of places I empower myself mentally
• Little glamour  – everyone needs it sometimes, it makes life extra special
• #culturemakesmebreath – true! Love to explore new cultures and absorb new information
• Photographing – my special thing and gift, that also gives me power
• Mountains, the ocean and water as an element, diversity of nature,.. = <3
• Relationship – it's very important to me that we both have also our own things and interest, and keep a freedom in relationship. But confidence is the key – it must be 100% (that pic from Titanic -movie descripes it well – trust and freedom)
• A child, or children – how I love to be with children, and I just wish that someday I'll have my own (luckily now I have plenty children around me, my sisters, friends and relatives)
• Aesthetics, beauty, coffee, food parties with group – those simple things in life what just makes happy
• And Finland – my land, my home, my heart. Wherever I go or end up, Finland is big part of me – my roots are always here and I'm so blessed by that
​And yes, my life's going to be like that.  If I can affect my life somehow, with destiny beside it, this it is. That's me.
You all should do this kind of map. A map about your dream life, what could it look like? What is you? Who you really are when you look at yourself and listen that inner you? Where or what is the place where your soul shines? Shines truly.
This is it, this makes you think about if you truly live a life you want to live. I think this is useful to everyone – 'cause this cliché "you only live once". Even though your spirit might keep going when your body doesn't anymore.
You just have to make sure you live the life where you smile more than cry.
/ Unelmakarttani sisältää vapautta, matkailua, uusia kulttuureja, uusia kokemuksia, paljon erilaisia muistoja, 70-luvun ihannointia ja inspiraatiota sieltä, upean maailmamme ihailua ja rakastamista, puhdasta luontoa, vuoria/tuntureita/ylänköjä, hiljaisuutta, raikasta (meri)vettä ja suolaisen meren tuoksua, valokuvausta ja sen harjoittelemista, kimallusta ja vähän glamouria, parisuhteessa vapautta ja luottamusta, lapsihaaveita, (ruoka)juhlia läheisten kanssa, pitkiä hitaita aamuja hyvän kahvin kanssa, estetiikkaa, sisäistä kauneutta ja tietenkin sydämen, joka on aina Suomessa.
Suosittelen tekemään samanmoisen. Ei taas vienyt kuin aikaa, mutta antoi paljon. Sellaisenkin asian, jota en tajunnut edes kaipaavan.
xx Vilhelmiina