Peace Train between Ukraine and Berlin
When I was younger, I used to be very active in Couchsurfing and several other hospitality networks. Dozens of people have stayed in our home and sometimes still do. Even when travelling with children, we have extremely rarely stayed in a hostel. For me, it's a bizarre idea to spend time in a foreign country without getting to know its people.
Thus, it's the natural thing that comes to my mind when the news of the war break out: we could help people by hosting anyone fleeing from Ukraine. I post the offer on FB, but already the next day, there are proper websites being coded for connecting hosts with guests. (Two days later, more than 100,000 people march in Berlin for peace.)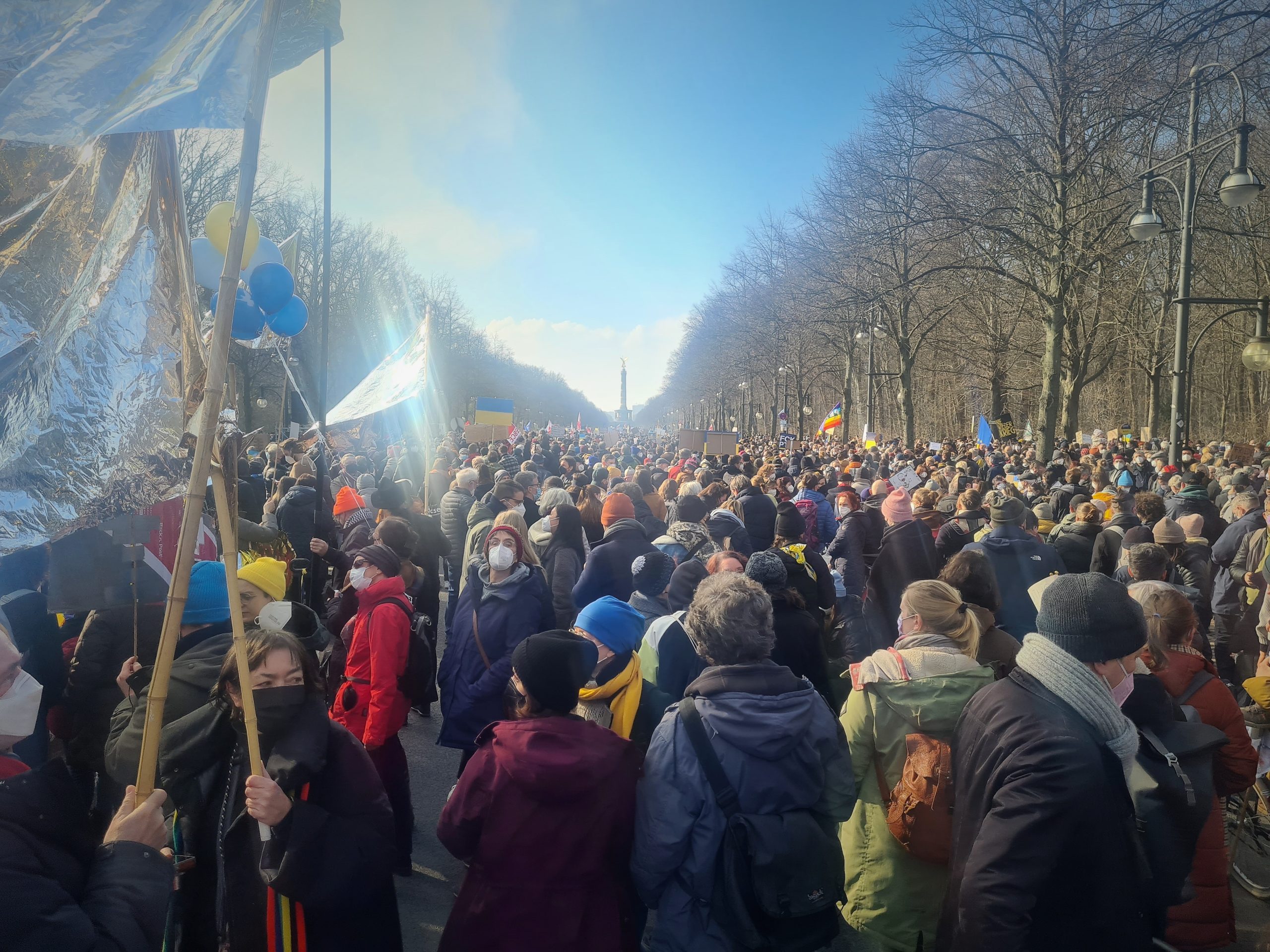 People are often quicker than governments. Governments have to organise meetings, make decisions, establish budgets, divide responsibilities. People just act. It seems like within hours, there are dozens of Telegram groups, editable spreadsheets, FB groups and hospitality networks being set up without anybody asking for anyone's permission.
I join all the channels. I follow the volunteers at the railway stations, who quickly set up provisional welcoming centres and are in urgent need of more sandwiches, or translators, or sim cards, or simply more volunteers, especially for the night shifts. I follow the hosting requests, trying to coordinate with other helpers whether this or that family could come to us, whether someone could go and pick them up, whether I could take another group instead as the first family has now been picked up by someone else.
I follow general aid channels, which report that BIPOC refugees have immense difficulties in leaving Ukraine, or send out calls for medical utensils for recently started field hospitals that don't have anything and need everything. In our tiny local group, I am writing back and forth about finding places for families or groups of friends that are almost always too big for our not-so-spacious homes. And as a doula, I start a group of my own, a support channel for pregnant refugees, with the idea of providing information for mothers-to-be in a foreign country and a possibly frightening situation.
I last only a few days until it feels like my head is about to burst. I erase all my groups. The next day, I join them again. It seems impossible to live knowing that there is need and that I could help, but will choose to do nothing. Choose to decide that it is none of my business. The volunteer channels are all extremely chaotic, there are hundreds of messages every hour, and even though I'm not at the stations myself, I can see things are being run just as chaotically there. Still, simple untrained dedicated people are getting things done. They are finding the newcomers homes, clothes, food, medical help – and those important sim cards that enable communication with people left back home.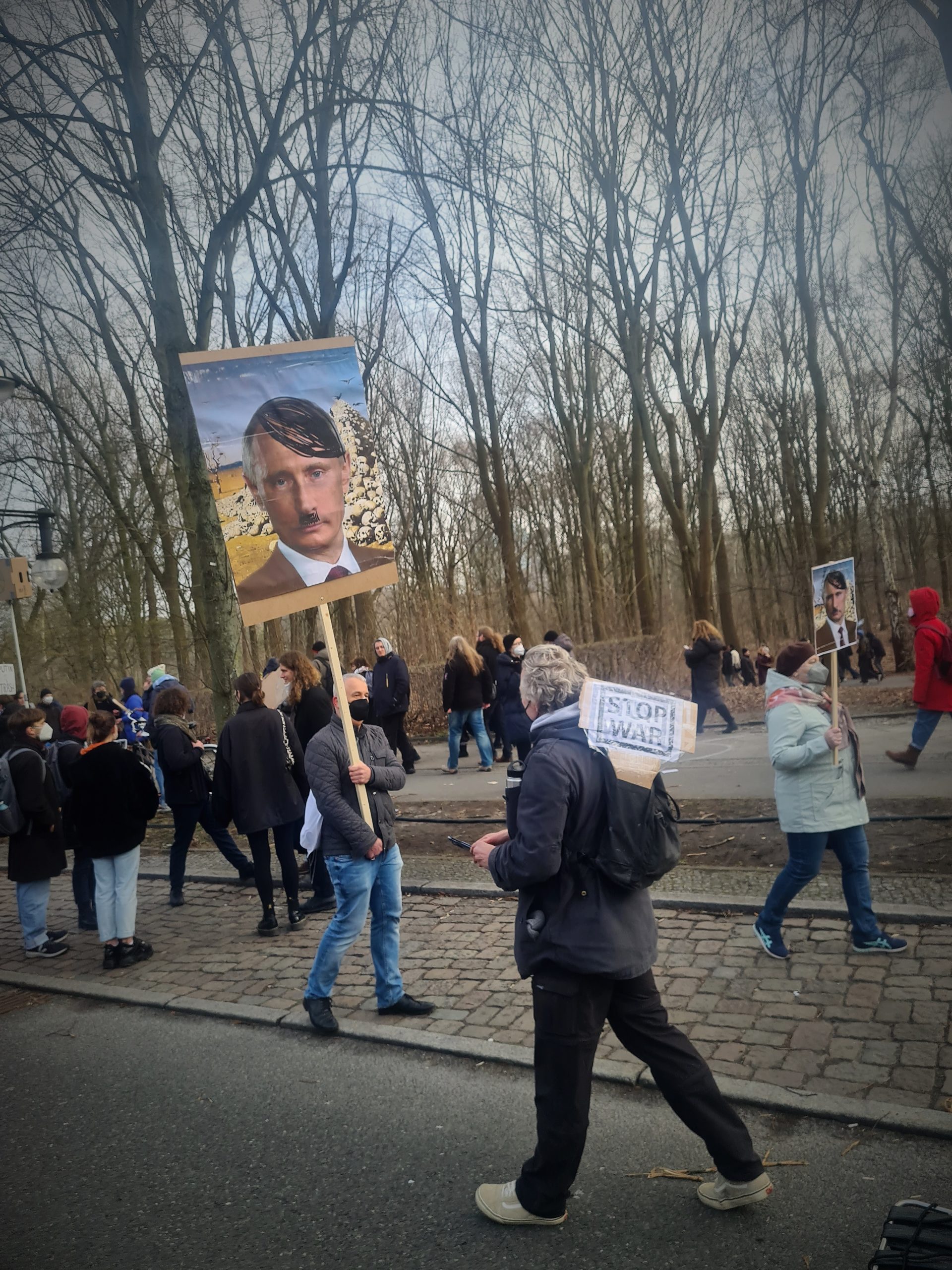 The refugees are now coming in floods. On Thursday, the 3rd of March, around 6,000 people reach Berlin; the next day, the number or arrivals is already over 10,000 per day. The city is struggling. The Office for Refugee Issues admits being on the limit of their capacities: "We are working feverishly to organise new shelters. That is why private accommodation is extremely important at the moment. – – –  We are infinitely grateful for the incredible solidarity." During the Syrian crisis, only about 1,000 people had arrived daily. We are told that already two million Ukrainians have left their country.
Now, I've often felt like German activists are pretty good in taking things into their own hands. Most importantly, here anyone can be an activist – it's not considered extreme or scary or crazy. Activism is simply acting, and acting in a pressing situation is smart and needed.
For some people, direct action is also the only way they can breath. Late in the evening, Red gets a phone call from a friend in Edinburgh: "I can't take this any longer. I'm coming over." He's been reading the news of people sitting at the border, unable to flee, for days on end, and he's bought his tickets to Berlin. It's a spontaneous and reckless act, very much like the acts taken up by hundreds of individuals who've shown up at the Berlin stations in the past week, found out the arrival times of the Ukrainian trains and started figuring out what needs doing. He's asking Red to join him on a journey to go and drive people to safety.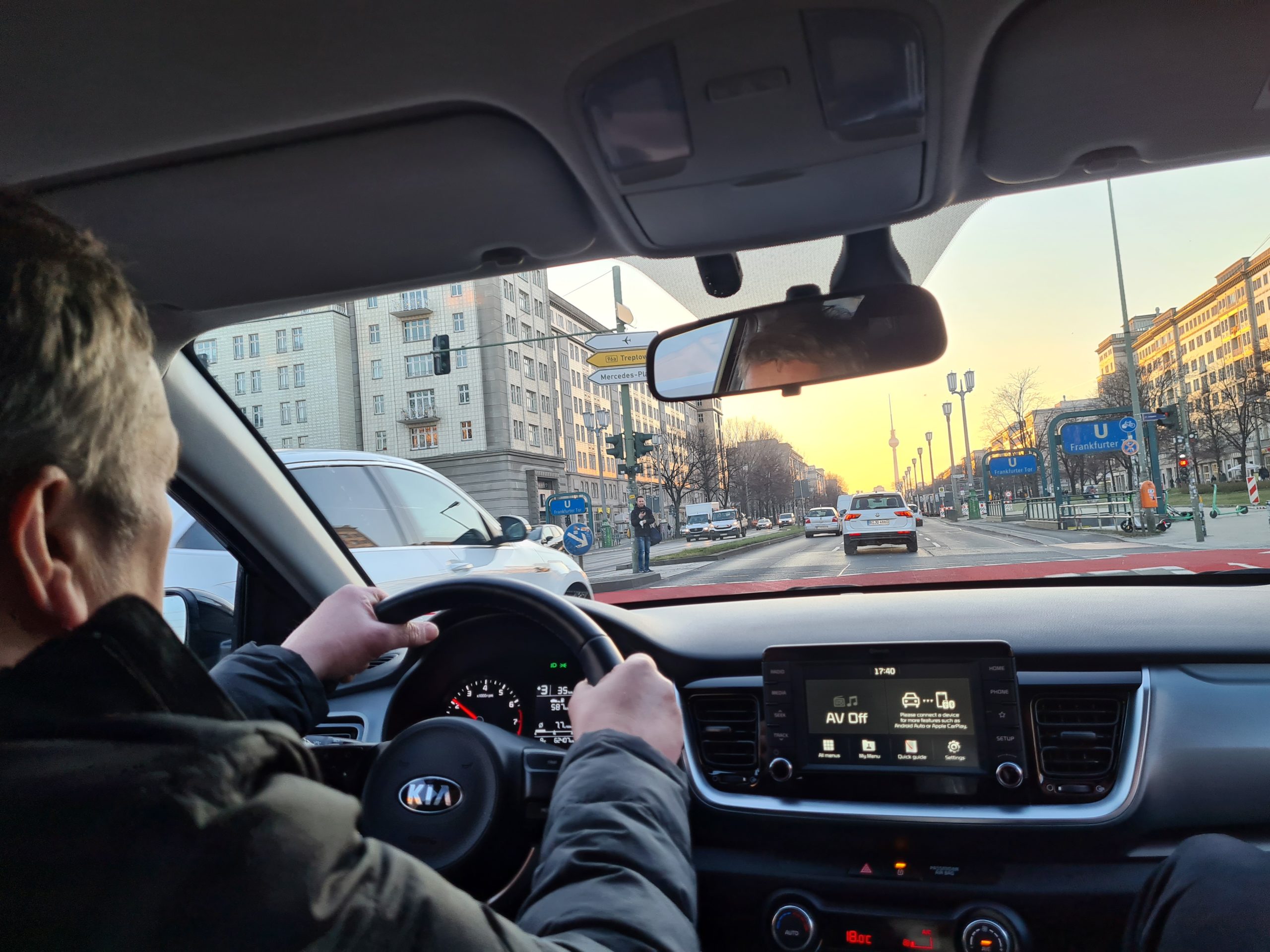 Four days later, when three rental vans take off in Berlin in the early hours of a Friday, a lot has already been done. Three helpers have been found, the route has been chosen, the vans loaded with medical and other aid supplies. But most importantly, all the volunteer channels have been plumbed once more, concrete needs lists compiled, information exchanged, advice received from people who've already done this before; contradicting information, contradicting advice, as always.
It's still hard to know what's ahead. After a long day's drive and a short night's sleep, the three vans with their four comrades arrive at the Medyka border crossing and are pointed to an old abandoned school. The school appears to been turned into an impromptu refugee gathering point. A lot of tired, wary faces; mostly no common language; hopeful eyes and then hesitantly raised hands, when the word Berlin is mentioned. The vans fill up slowly and start their long journey back one by one.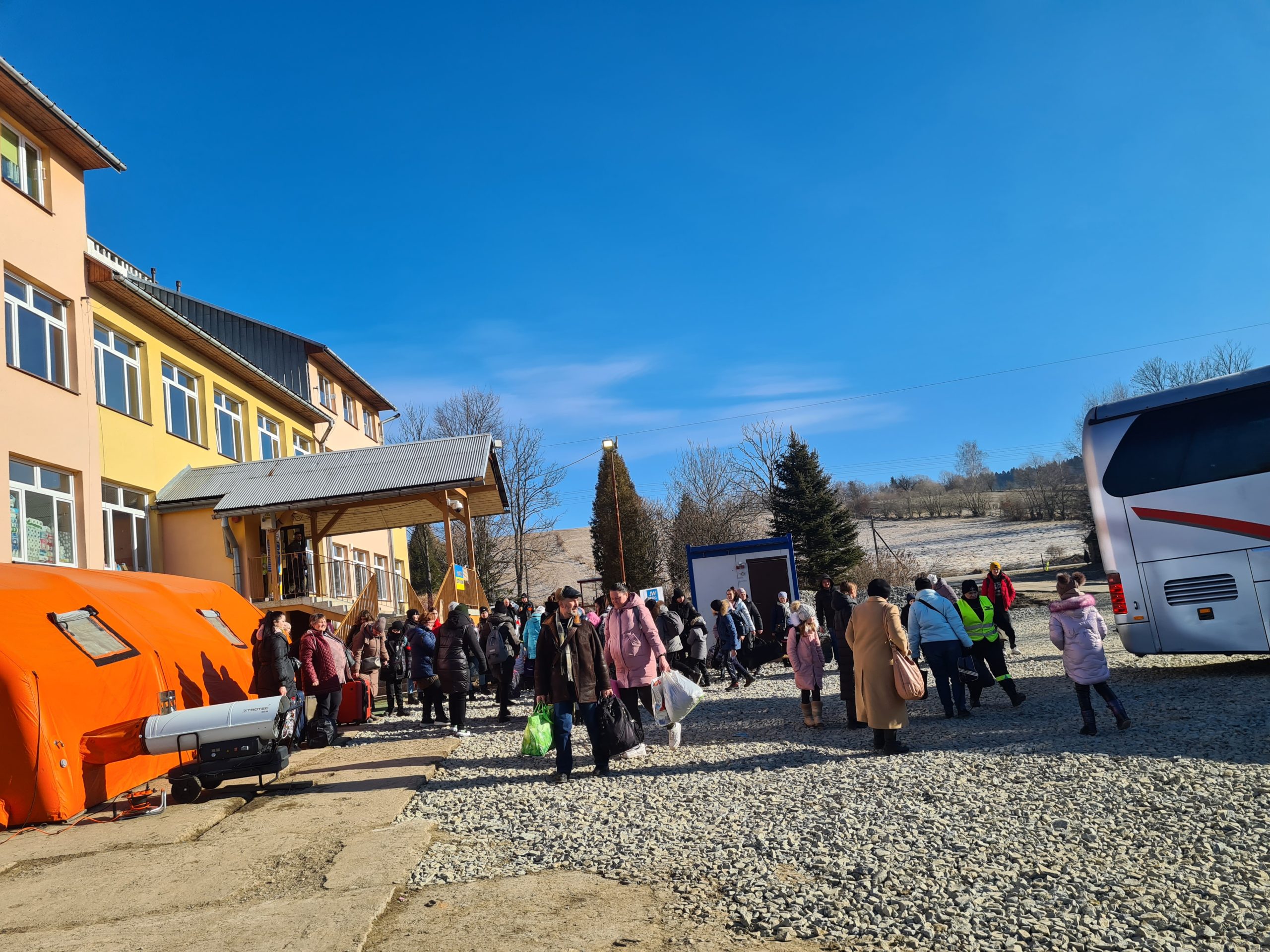 Back home, I'm on the phone all day long, trying to find hosts for all the twenty-five people my friends are going to bring back the same night. The first van arrives in the early evening, and the passengers are brought to their hosts. The second one only has people with connections in Berlin; they're driven straight to their acquaintances. The last eight people arrive at half past one in the morning, and we make beds for them on the floor in our house.
In the morning, I wake up weary and make my way down with my youngest one. Lying awake at night I've had foolish dreams of sending the big kids to the bakery in the morning and laying out a lovely breakfast for the mothers and children who've been on the road for days and possibly haven't had anything proper to eat. That's how we are, so eager to give, so truly clueless of how to do it right, how not to overstep boundaries. Us privileged people who really know nothing about war and running away.
I meet some of our guests in the hall, they're already carrying their bags down. Are you leaving already? I try to ask, but I get no answer. I know most of them are continuing to other parts of Germany, as Berlin is already full. A woman comes to get some hot water for a tea but refuses to take anything to eat. They all flock together in the tiny room where some of them have slept, close the door, shut us off. Their countrywomen are their safety, not us. There will be no big breakfast around a table together, I realise, no shared sigh of relief, now that they've made it here. For them, this is only the beginning.
I send my kids down to  bring some fruit to the children, at least. When I meet a woman on the stairs, I try to give her a reassuring smile – to give at least that, since there's so little I can say without a common language. I'm met with an icy stare, and it occurs to me that I have no idea of what she's going through here, in a strange country amongst strange people and a strange language. Perhaps she had to see her home being destroyed. Perhaps she hasn't heard from her brothers for a week. Perhaps she's just received a message that her husband has died. Who am I to reassure her?